Looking to transport your car to or from California? Whether you're moving to the Golden State or need to ship your vehicle somewhere else, California car shipping services can make the process easier than ever. In this article, we will explore the top-rated car shipping experts in California, discuss the cost and time it takes to ship your car, and provide valuable tips on how to save money on car shipping. Additionally, we will cover how to prepare your vehicle for transportation, what to expect when receiving your vehicle in California, and provide information about the trusted California car shipping company, RoadRunner Auto Transport. We will also provide resources about the state of California, answer frequently asked questions, and guide you through the car shipping process. Let's dive in!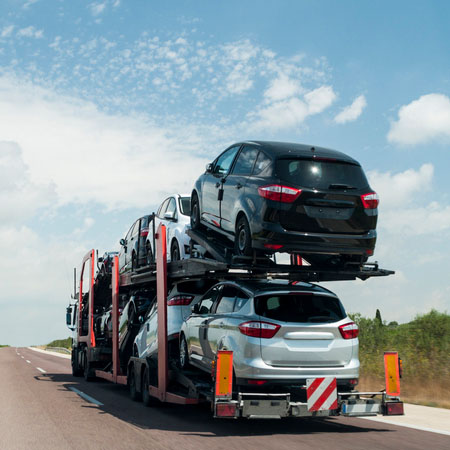 Auto Transport Service: The Easy Way to or From California
Your car is one of your most valuable assets. Whether you're moving across the state, across the country to California or you're a California native moving elsewhere, you need the best auto transport services to ensure your vehicle reaches its destination safely and in the same condition you left it. This is where RoadRunner Auto Transport comes in. We offer unbeatable car transport services across the United States. With our vehicle transport services, moving your car to or from California doesn't have to be a stressful task.
California's Top Rated Car Shipping Experts
As experts in car shipping, RoadRunner Auto Transport has honed in on delivering top-notch vehicle transport services over the years. Thanks to our unparalleled expertise in the industry, we're confident in offering you a seamless vehicle transport experience.
Our California car transport services include both open and enclosed auto transport. While the open shipping method is cost-effective and ideal for most vehicles, enclosed car transport provides the utmost care and protection, particularly befitting of classic, luxury, or exotic cars.
California Car Shipping Cost & Time To Ship Your Car: Location Examples
The cost and time required to ship your car greatly depend on multiple factors such as the distance of the move, the type of your vehicle, and the type of service you opt for (open or enclosed car transport). For example, standard car shipping from San Francisco to Los Angeles might cost around $500 and take 1-2 days, while shipping the same car from Los Angeles to New York might cost approximately $1,200 and take 7-10 days.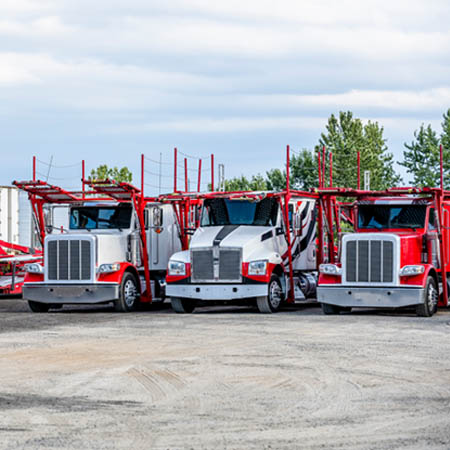 How Does California Auto Shipping Work?
Still puzzled by how auto transport works? Let's break it down for you. Once you reach out to a car shipping company, they first evaluate the details of your move. Next, they pair you up with an appropriate auto transporter who carries out the move. Finally, your car is delivered to the specified location within the agreed timeframe.
The exact process can vary based on the specific details of your move, the auto transport service you choose, and the policies of the car shipping company. The car transport process for RoadRunner is simple: We give you an instant quote, pick up your vehicle, and deliver it safely to your destination.
California Car Transportation Companies Near Me
When you're looking for auto transport services in California, it's essential to consider the proximity of the car shipping companies. RoadRunner Auto Transport is one of the most trusted names in vehicle transport services. We offer car transport in and out of the state of California to all corners of the US.
We pride ourselves on being one of the leading car shipping companies in the area, thanks to our commitment to quality, flexible service options, and excellent customer service. Our team has many years of experience, which allows us to handle any auto transport requirement. Whether you are moving to a different city, buying a car online, or shipping a classic car to a car show, RoadRunner Auto Transport is your go-to auto shipping company in California.
Types of Car Shipping Services in California
As car transport experts, RoadRunner Auto Transport has a variety of car shipping options to meet your auto transport needs, including open carrier transport, enclosed carrier transport, and cross-country car transport. Here, we will discuss each service in detail.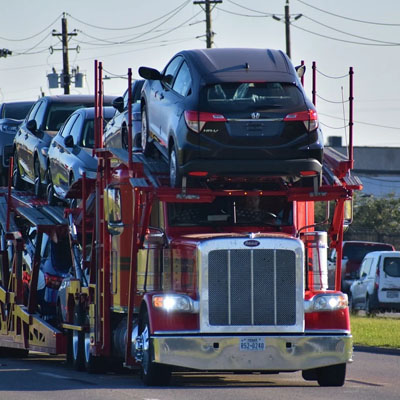 Open Carrier Transport
During open carrier transport, your vehicle is transported on an open car hauler. This is the most common and cost-effective type of car transport. Open car transport makes it easy to ship multiple vehicles simultaneously, which is why many Californians choose this option for their car transport needs.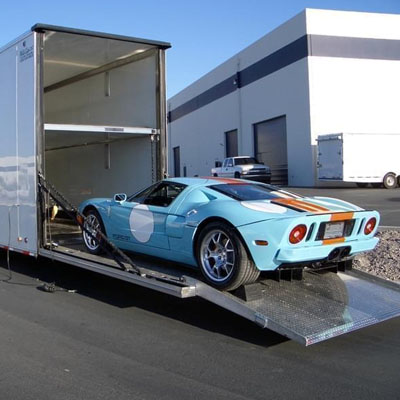 Enclosed Carrier Transport
If you need a higher level of protection for your vehicle, enclosed carrier transport is the way to go. In this form of vehicle transport, your car is delivered in a fully covered truck, shielding it from external factors such as weather conditions and road debris. It's the top choice for transporting classic cars, luxury vehicles, and any cars with high sentimental value.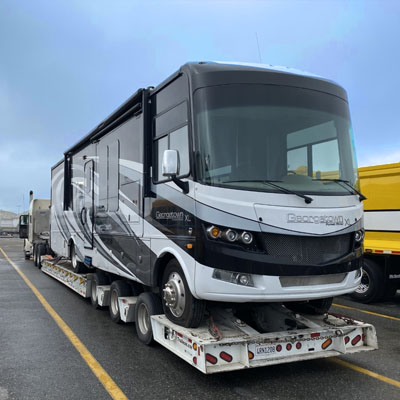 Cross-Country Shipping
Cross-country car shipping provides a convenient and efficient way to transport your vehicle across long distances. With these services, your car can be securely transported from coast to coast, eliminating the stress and hassle of driving it yourself. Professional car carriers like RoadRunner use specialized equipment and trained drivers to ensure your vehicle reaches its destination safely and on time.
Choosing the Best Car Shipping California Service
While price is a critical factor when choosing a car shipping service, it's not the only thing to consider. The quality of service, reputation of the car shipping company, and available transport options should also be part of your decision-making process.
RoadRunner Auto Transport is a leader in California car shipping because of our commitment to excellence, broad range of service options, and positive customer feedback. Regardless of your vehicle type or transport needs, we have you covered.
How to Save on Car Shipping in California
California is a popular destination for auto shipping. Auto shipping services are often sought for a variety of reasons, whether you're moving to the sunny coast, relocating for the season, buying a vehicle out of state, or sending your automobile for a show. But these services can be pricey, especially considering factors such as distance, vehicle type, and time of the year.
Don't let the high costs deter you from using the convenience of car shipping. Here are some tried and true ways to save on car shipping in California:
Choosing the Right Car Shipping Service
Your choice of car shipping companies can significantly impact your expenses. When selecting a company, you must ensure that they offer services that align with your needs. Are you looking for enclosed carrier transport or standard vehicle shipping? Are they reputable and provide insurance during transit? Do they have positive reviews? These are some factors to consider when selecting your service provider.
Planning in Advance
A well-known frugal tip in the auto transport industry is advanced planning. If you give adequate notice for your car transport, you can often secure a more reasonable rate than last-minute bookings. Companies appreciate the ability to streamline their schedules, and they usually reward this with lower rates.
Off-Peak Shipping
Just as airlines and hotels do, auto shipping services often have peak and off-peak seasons. Planning your vehicle transport during the off-peak season could save a considerable amount. Summer is peak season for California car shipping, so the ideal times of year in terms of cost, scheduling, and weather conditions are spring and fall.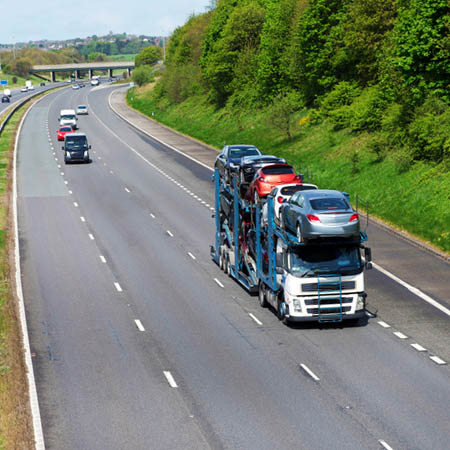 How to Prepare Your Vehicle for California Car Transportation
Getting your vehicle ready for car transport is important for ensuring a smooth delivery. Proper preparation safeguards your vehicle and could also reduce the cost of car shipping.
Document Vehicle Condition
Experts highly recommend that you accurately document the condition of your vehicle before shipping. Taking pictures and noting existing damages will help if there's a dispute about additional damage during transport.
Clean Out the Vehicle
Your vehicle should not contain any personal items during shipment. Not only do these items add to the weight (and possibly the cost) of your shipment, but car shipping companies are not responsible for the loss or damage of personal items left inside.
Efficient Use of Fuel
You don't need to fill up the tank for car shipping. In fact, it's better to have around a quarter tank of fuel during transit. This tactic lowers the weight and could lead to cost reductions.
Receiving Your Vehicle in California
California, renowned for its beautiful coastline and famous landmarks, is also a hub for vehicle transportation. Car shipping is a thriving industry, with a multitude of car shipping companies offering a wide range of services. Once your car arrives at its destination, you'll want to take a few steps to ensure the delivery was successful.
Inspection for New Damage
When your vehicle is offloaded, inspect it carefully for new damages. Look for dents, scratches, or any signs of distress. Reputable car shipping companies like RoadRunner Auto Transport will conduct thorough inspections before and after the vehicle is delivered, so you will be the first to know about any new damage to your car.
Checking for Missing Accessories or Belongings
Make sure to check for any missing accessories or personal belongings from your vehicle post-delivery. Auto transport services typically recommend removing all personal items before car shipping to prevent loss or damages.
Signing Delivery Paperwork
After a successful and satisfactory inspection, the final step is to sign the delivery paperwork. This essential final step closes the transaction and certifies the receipt of the vehicle in its expected condition.
California Car Shipping Distance & Time to Ship Your Car Examples
Top California Shipping Locations
Distance
Estimated Transit Time
California to New York
2,846 miles
6 - 8 days
Get Quote
California to Florida
2,658 miles
6 - 8 days
Get Quote
California to Texas
1,782 miles
4 - 6 days
Get Quote
California to Pennsylvania
2,688 miles
6 - 8 days
Get Quote
California to Georgia
2,465 miles
5 - 7 days
Get Quote
California to Virginia
2,789 miles
6 - 8 days
Get Quote
California to Illinois
1,961 miles
4 - 6 days
Get Quote
California to Ohio
2,339 miles
5 - 7 days
Get Quote
California to Michigan
2,247 miles
5 - 7 days
Get Quote
California to North Carolina
2,790 miles
6 - 8 days
Get Quote
**It is important to note that the prices and times listed are only estimates and will vary depending on factors such as the season and the type of vehicle being shipped. Use our car shipping calculator to get an instant price quote for your exact type of shipment.
RoadRunner Auto Transport Reviews
RoadRunner is among the top-rated car transport services in California. The company offers high-quality vehicle shipping options, including enclosed auto transport, adding an extra layer of security to your vehicle during shipment.
The Trusted California Car Shipping Company
When shipping a car to or from California, you want to entrust it to a reliable company like RoadRunner Auto Transport. With positive customer reviews and years of experience, it's the preferred choice for many.
Information About The State Of California
California, also known as the Golden State, is located on the west coast of the United States. With a population of over 39 million people, it is the most populous state in the country. Known for its diverse culture, stunning landscapes, and thriving economy, California offers something for everyone.
From the beautiful beaches of Los Angeles and San Francisco to the breathtaking Yosemite National Park and the iconic Golden Gate Bridge, there is no shortage of natural beauty and tourist attractions. The state is also home to Hollywood, the hub of the entertainment industry, as well as Silicon Valley, the global center of technology and innovation. With a strong emphasis on education, California boasts world-renowned universities such as the University of California system. The state continues to be a popular destination for people seeking new opportunities and a new start.
Still have questions about shipping a car?
Our team of experts is always ready to assist and answer all your queries on auto transport and more.
How It Works
We provide a seamless and efficient process for car shipping. From acquiring the quote, vehicle pick-up, to the final delivery, we ensure a hassle-free experience.
Our Advantage
As one of the top auto shipping companies in California, we provide top-notch services, ensuring safety, efficiency, and complete customer satisfaction.
Transport Services
We offer a variety of transport services including, open and enclosed auto transport, door-to-door car shipping, classic car transport, motorcycle shipping, and more.
California Car Shipping Locations
Where Does RoadRunner Auto Transport Offer Car Shipping in California?
RoadRunner Auto Transport offers services across the entire state of California. From urban areas like Los Angeles, San Diego, and San Francisco to smaller cities and towns, our extensive network ensures we've got you covered.