Are you moving across the country and wondering if you can ship your car and some of your belongings? Or do you need to transport your vehicle to a new location and want to pack it with some extra items to save on moving costs? In this article, we explore the ins and outs of shipping your car with stuff inside and answer some frequently asked questions about the process. From understanding how car shipping works to learning about different methods of car shipping, this guide will help you decide if shipping car with stuff inside is the right choice for you.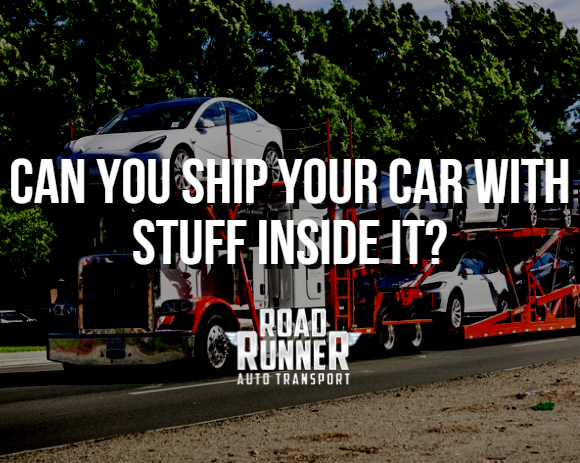 How Car Shipping Works

Auto transport is essential for many people who must move their vehicles from one location to another. This might include moving due to a job relocation, purchasing a car from a far-off dealership, or relocating to attend school in a distant city. In these cases, and many others like them, car shipping companies can help people transport their vehicles safely and efficiently.

The first step in auto-shipping is to research and choose an auto-shipping company. When searching for a car transport service, it's important to consider factors such as pricing, customer reviews, and the company's experience in the auto transport industry. Once you've found a reputable transport company, you'll want to request a quote and book the shipment.

Preparing your car for shipping is an essential step in the auto-shipping process. This includes cleaning the exterior, checking for any existing damage, and documenting the vehicle's current condition. You'll also want to remove personal items, such as valuables and aftermarket add-ons, before handing the keys to the auto carrier.

Once your car is prepared and ready for shipping, the auto transport company will pick up your vehicle at the designated location. It's crucial to communicate specific needs or accessibility requirements to the auto carrier beforehand. These may include street size restrictions, narrow driveway access, or needing a specialized cargo area to accommodate a modified vehicle.

The shipping process will begin after your vehicle has been loaded onto the auto carrier. The car shipping company will transport your car using their designated route and ensure that it arrives at the destination promptly. Many auto transport carriers provide tracking information, which allows you to monitor the progress of your vehicle shipping throughout the entire process.

Upon arrival at the destination, the auto shipping company will unload your vehicle and conduct a final inspection to ensure no damage occurred during transportation. You must be present during this stage to verify the car's condition and, if any damage has occurred, to file a claim immediately with the shipping company and their cargo insurance provider.

Can You Ship Your Car with Stuff Inside It?

Transporting household items and other belongings inside a vehicle during auto transport is a common question among customers. Although some auto transport companies allow certain items to be transported inside the car, there are specific weight limits and restrictions to keep in mind.

Car shipping companies must follow regulations set by the Department of Transportation (DOT) regarding the weight limits for each auto transport carrier. Exceeding these weight limits can lead to violations, fines, inspections, and delays. For this reason, auto transport companies often have guidelines regarding the type and quantity of items that can be transported inside a vehicle. They may require that the vehicle's cargo area remains empty during shipping.

Shipping a car with stuff inside may also introduce a higher risk of damage to the vehicle during transit. Unsecured items can move around in the vehicle, causing scratches, dents, and other forms of damage. Additionally, items left inside the car may not be covered under the shipping company's cargo insurance policy, as most policies only cover damage to the exterior and structure of the vehicle.

However, certain auto shipping companies, such as DreamLine Logistics, allow customers to store limited personal items inside their vehicles during transport. These auto transport companies may accommodate a little weight inside the car – typically around 100 pounds – and request that the stored items are secured in the trunk or cargo area below the window line.

You must communicate your needs and expectations to the auto transport company beforehand. If you plan to ship your car with stuff inside, inquire about the company's specific policies, weight limits, and cargo insurance coverage.

In conclusion, while shipping a car with stuff inside is possible, it's essential to be aware of the potential risks and restrictions. Communication with your chosen auto transport company and understanding their policies can help ensure a smooth and successful shipping experience.

Different Methods of Car Shipping

When transporting your car from one location to another, you might consider using one of the many car shipping companies. But do you know the different methods available for shipping your car? This section will discuss some of the most common ways to ship personal items and cars.

One popular method used by auto shipping companies is open car transport. This method loads your car onto a typical auto carrier and other vehicles. The auto carrier is generally open on all sides, allowing natural elements to affect your vehicle in transit. This method is one of the most affordable options available, making it a popular choice among many customers of car shipping companies.

Enclosed car transport is another option offered by auto transport carriers. This method protects your vehicle from external elements as it is loaded into a fully enclosed protective carrier. Enclosed car transport is the preferred choice for those who own luxury, exotic, or classic cars. Although it is a more expensive option, it ensures your valuable vehicle will be well-protected throughout its journey.

Door-to-door shipping is a convenient service offered by many auto shipping companies. This method involves the auto transport company picking up your car directly from your home or specified pick-up location and delivering it to the destination of your choice. This personalized service reduces the hassle of dropping off and picking up your car from shipping company facilities. However, the convenience of door-to-door shipping can come at a higher price than other shipping options.

Another method used by auto carriers is terminal-to-terminal shipping. This suits those who don't mind dropping off and picking up their car from predetermined locations. Terminal-to-terminal shipping can be more cost-effective than door-to-door shipping because the auto transport carrier handles multiple vehicles simultaneously, reducing overall costs. However, this option may require traveling significant distances to reach the shipping terminals, making it less convenient for some customers.

Car Shipping Pros and Cons

Now that you are familiar with the different methods of car shipping let's discuss the pros and cons of using a car shipping company for your auto transport needs.

Pros of Car Shipping
Saves time and energy: One of the major advantages of using shipping companies is that they save a substantial amount of time and effort that would otherwise be spent on driving your car to its destination. This can be especially helpful when relocating to a new city or moving across the country.
Professional service: Car shipping companies have experience and expertise in handling various types of vehicles, ensuring that your car is transported safely and efficiently. They also have the necessary equipment to handle your vehicle carefully, such as auto carriers and enclosed trailers.
Insurance coverage: Auto transport companies usually include insurance coverage in their services, providing peace of mind knowing that you are financially protected in case your car gets damaged during transit. You can also choose to purchase additional coverage if you feel it is necessary.
Flexible options: Most car shipping companies offer options, such as open or enclosed transport and door-to-door or terminal-to-terminal shipping, allowing you to choose the service that best meets your needs and budget.
Cons of Car Shipping

Cost: For many people, using a car shipping company can be a major drawback. Prices can vary depending on several factors, including the distance, size, and weight of your vehicle and the shipping method you choose. However, you may find the cost worth it for the convenience, safety, and professional service you receive in return.
Limited personal belongings: Auto transport companies generally do not allow you to ship personal or household items within your car during transport. Most carriers have strict weight limits and prefer not to risk damage to your belongings during transit. If you are relocating, you must arrange for a separate shipment of your household goods.
Discover How RoadRunner Can Help You

When it comes to auto transport, choosing the right car shipping company is crucial for a smooth and hassle-free experience. RoadRunner Transport Company has established itself as a reliable and trusted auto transport carrier in the auto transport industry.

What sets RoadRunner apart from other transport companies is their commitment to providing top-notch customer service and ensuring the safety of your vehicle at all times. With a team of experienced and professional auto carriers, you can trust that your car will be safe during auto shipping.

RoadRunner offers various car transport services to cater to your specific needs. Whether you require door-to-door delivery, enclosed carriers for added protection, or expedited shipping for urgent transportation needs, RoadRunner has covered you. Additionally, they offer cargo insurance to give you peace of mind knowing your vehicle is protected throughout the journey.

Moreover, RoadRunner is known for their transparent pricing and flexible scheduling options, adding an element of convenience to your car shipping experience. As an auto shipping company that cares about its customers, RoadRunner tailors their services to suit your requirements.

With years of experience in the auto transport industry, RoadRunner has a vast network of auto carriers and a deep understanding of the complexities of car shipping, making them the ideal choice as your auto shipping partner.

Contact Us to Learn More or Get Started

If you're looking for the best auto transport company, look no further than RoadRunner. With exceptional customer service, flexible scheduling options, transparent pricing, and a commitment to vehicle safety, RoadRunner's reputation as a reliable auto carrier speaks for itself.

Don't hesitate to contact their friendly and knowledgeable staff for further information or to get a personalized quote for your car shipping needs. Whether transporting your vehicle, moving households, or requiring auto transport services for your business, RoadRunner Auto Transport has the expertise and resources to ensure a seamless car shipping experience.

Contact RoadRunner today and take the first step toward a hassle-free auto-shipping process. As a top-quality auto transport carrier, they're committed to making your car shipping experience as smooth and efficient as possible.

FAQs
Can you put stuff in your car when it gets shipped?

While some car shipping companies may allow light personal items in the vehicle's cargo area, it's generally not recommended to load your car with household items when shipping it. If you're considering shipping your car with stuff inside, remember that auto carriers are only licensed to carry vehicles, not personal property. Moreover, the cargo insurance provided by the auto transport company often does not cover your personal belongings inside the vehicle.

Moreover, excess weight from household items may negatively impact the transport vehicle's fuel efficiency and potentially lead to additional costs. To ensure a smooth auto shipping experience, it's advisable to avoid shipping your car with stuff inside and explore alternate ways of transporting your personal property, such as engaging a professional moving company.

Is it a DOT regulation that car carrier drivers cannot transport vehicles with personal belongings inside?

According to the Department of Transportation (DOT) regulations, auto carriers are only licensed and insured to transport vehicles, not personal property. As such, car carrier drivers cannot transport vehicles with personal belongings inside. This is because the cargo insurance that covers the shipment of vehicles does not extend to any personal items stored in the car during transit.

Furthermore, shipping vehicles with personal items can pose safety risks and negatively impact the fuel efficiency of the transport vehicle, ultimately affecting the overall auto-shipping process. It is in the best interest of both the car shipping company and the customer to adhere to DOT regulations and not ship cars with personal belongings inside.

What is the best way to ship a car?

There is no one-size-fits-all answer to this question, as the best way to ship a car depends on various factors such as your budget, vehicle type, desired delivery time, and distance. The most commonly offered car shipping options by auto transport companies include open transport, enclosed transport, door-to-door delivery, and terminal-to-terminal delivery.

Open transport, which involves shipping your car on an open carrier, is the most cost-effective option and suitable for most vehicles. However, if you have a luxury or classic car, you may opt for enclosed transport, which provides additional protection from the elements and road debris. Enclosed transport, while offering more protection, may come at a higher cost.

Ultimately, the best way to ship a car depends on your needs and preferences. Discussing your options with a reputable auto transport company, like RoadRunner, can help you decide and choose the most suitable shipping method for your vehicle.

How long does car shipping take?

The duration of car shipping can vary greatly depending on factors such as the distance, transport method, scheduling, and external factors like weather and traffic conditions. On average, auto shipping within the United States can take anywhere from 1 to 7 days for shorter routes and up to 14 days for coast-to-coast transportation.

It's important to plan and coordinate with your chosen car shipping company to get a more precise estimate of your vehicle's delivery timeframe. Keep in mind that unexpected delays might occur, and factor in some flexibility when scheduling your car shipping to ensure a smooth and hassle-free experience.