Jump to section:
Enclosed auto transport
Open auto transport
Which one should you choose?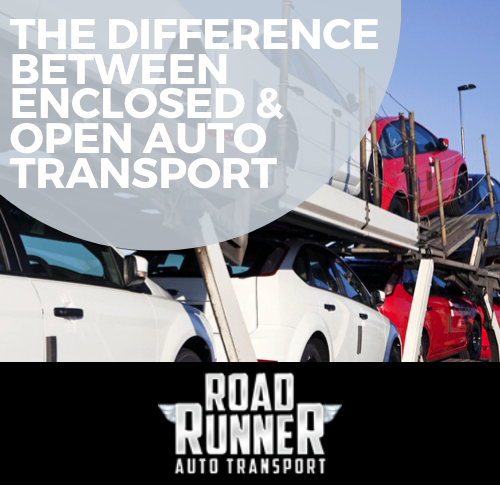 Enclosed auto transport
Enclosed auto transport is when your car gets shipped on a trailer that is completely covered on the top, bottom and sides. This will offer protection for your vehicle from any road debris as well as from the elements like rain and snow.

However, enclosed auto transport (otherwise known as covered auto transport) is always the least frequently used type of auto transport. This is due to the additional cost of this type of auto transport as well as the decreased availability for these types of carriers.

Typically, enclosed auto transport will cost an extra $400 – $700 depending on how far you are shipping your car, what type of car you are shipping and whether or not you chose a multi-car enclosed carrier or single car enclosed trailer. Single car enclosed trailers cost even more because your car is the only vehicle being shipped.

Generally, people only use enclosed auto transport if they are shipping higher-end luxury or classic cars. Although, if you have any car that's very important to you and you can afford the extra fee than you could opt to go with enclosed shipping for your vehicle.

The only exception might be wider vehicles, these trailers tend to be slightly slimmer than open-air trailers thus some vehicles end up being too wide to qualify for transport on these haulers. Ask your car shipping expert about your cars width before you book your enclosed shipment.

Enclosed auto transport will almost always take longer to deliver your car. There are way fewer of these carriers available thus you will have to wait a bit longer for a spot to open up for your car. Although, if you want to be certain that your car is completely protected from the elements and road debris, then the additional wait will be well worth it.

Realistically, you should try and book your enclosed car shipment as far in advanced as you possibly can. However, this goes for all forms of auto transport. The sooner you book your shipment, the better the chance that you will get the delivery window that you want.

Enclosed auto transport also includes drivers who are more experienced with higher-end vehicles such as classic cars. This helps ensure that your car is treated with the utmost care during transport.

There are two primary types of enclosed auto transport:
Soft-sided enclosed transport is when a canvas is placed on the side of the trailer like curtains pulled tightly to protect your vehicle. The trailer will have a hard roof in addition to the canvases on the sides.

Hard-sided enclosed transport is when the trailer itself has outside walls to protect your vehicle from all of the elements and road debris such as pebbles or tree branches. It is best for high-end cars.
For our purposes, we are always referring to hard-sided enclosed transport when we say, "enclosed auto transport." Soft-sided enclosed transport doesn't provide the absolute maximum level of protection you would want from the elements and road debris.

It does, however, still provide better protection than an open-air transport trailer. These are primarily used by car dealerships like Mercedes Benz. This is another question you should ask your auto shipping company if you are considering enclosed auto transport: "Is the enclosed transport soft-sided or hard-sided?"



Open auto transport
Open auto transport (also known as standard car shipping) is the most common type of auto transport by a long shot. 90% of car shipments are made via open auto transport. This is almost always the type of auto carriers you'll commonly see out on the highways with two decks of cars. This type of truck is typically about seventy-five feet long and it hauls a two-level trailer with a row of vehicles on the top and a shorter row of vehicles on the bottom.

This type of car shipping is considerably cheaper than enclosed auto transport and that's mainly because there's so many of these carriers available out there. A larger supply being available drives prices down.

There are 3 types of open carriers which transport vehicles:
Trailers with a one level
Trailers with two levels
Dolly trucks, which carry one vehicle using a tow trailer
Open auto transport will also be moderately faster than enclosed auto transport because the large number of open carriers available and the general ease involved in the process. These carriers are in high demand too, so it's easy for them to fill the trailer with a maximum of seven to ten cars thus making them a max amount of money for the haul. That means that open auto transport carriers can routinely hit the road a bit sooner than enclosed transport carriers.



Which one should you choose?
In the end, whether you choose open or enclosed auto transport is up to you. So, to sum up the differences:

Enclosed shipping:
Costs a bit more
Takes longer for your car to be delivered
Offers complete protection for your car during transport from the elements and road debris as well as any possibility of theft
Open auto transport:
Is always the cheaper option
Will get your car delivered the fastest of any option
Offers less protection from the elements and road debris

If you have a very expensive car, you might want to consider enclosed auto transport because that would be the highest level of protection that you can get for your high-end car.

If you have a car with a low ground clearance, your car may not qualify to ship on any open carriers. In this case you will need to find an enclosed auto transport that has special hydraulic ramps in order to get your car on board and shipped. Any sort of "low-rider" vehicle would likely end up in this predicament in regard to being shipped.

Otherwise, open auto transport is the option that the vast majority of people who ship their car end up choosing.

You can always call your auto shipping company first to consult with them about which option is the best for you and your vehicle. You can contact RoadRunner Auto Transport at (888) 777-2123.