Are you in need of reliable car shipping services to or from Florida? Look no further than RoadRunner Auto Transport. In this article, we will provide you with all the information you need to know about Florida car shipping services. From finding top-rated experts in the field to understanding the cost and time it takes to ship a car in Florida, we have you covered.
We will also explore different types of car shipping services available in Florida and provide tips on how to save on car shipping. Whether you are looking for information on how to prepare your vehicle for transportation or want to know what to expect when receiving your vehicle at its final destination, we have all the answers.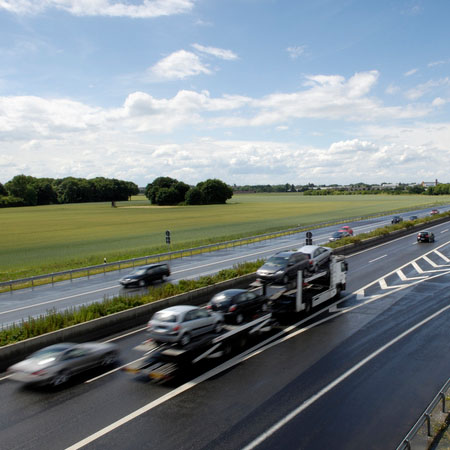 Auto Transport Service: The Easy Way to or From Florida
Finding the right auto transport company can simplify the process of moving your car in and out of Florida. With a professional car shipping service, you can rest easy knowing your vehicle is in good hands.
This service is a hassle-free solution, especially for long-distance moves, when you cannot drive the car yourself. Whether it's an open carrier transport or an enclosed carrier transport, a reliable transporter can save you time and money.
Top-Rated Florida Car Shipping Experts
Florida car shipping is made easy with the help of top-rated auto transport companies like RoadRunner Auto Transport. Our expert team has a thorough understanding of car shipping processes and regulations and can protect your vehicle during transport.
With an array of services, including open carrier shipping, enclosed carrier shipping, seasonal relocation, military shipping, and more, we are equipped to handle any of your vehicle delivery needs. We even offer up-to-date tracking information on the location of your vehicle during transit.
Your choice of car transport services should be based on exceptional customer experiences and reviews, which is why you can trust RoadRunner to handle your vehicle with care. After all, finding a trustworthy transporter is just as important as insuring your car.
Florida Car Shipping Cost & Time To Ship Your Car: Location Examples
The cost and time it takes to ship your car in Florida greatly depend on factors such as the transport distance, vehicle size, and type of shipping service you opt for. For instance, if you're shipping from Cape Coral to Coral Springs, the total cost will be lower than shipping across several states.
Costs also fluctuate based on whether you choose open car transport or enclosed auto transport. The latter, while providing additional protection for your vehicle, can be more expensive.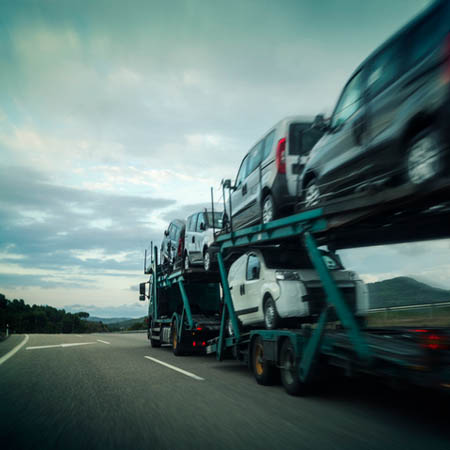 How Does Florida Auto Shipping Work?
When you work with RoadRunner Auto Transport, the car shipping process is simple. First, you will need to contact the auto transport company and provide details such as your vehicle type, pick-up and drop-off locations, and your preferred shipping method.
Following this, your car transporter will provide a quote. RoadRunner offers instant quotes for your convenience. Once the agreement is finalized, the shipping company will schedule a pickup date and time for your vehicle. It's then transported using either open or enclosed auto transport, depending on your preference.
Auto transport companies typically include basic insurance coverage with their services, but it's recommended to look into their additional insurance options and check your own car insurance policy to see if your vehicle is fully covered during the car transport service.
Florida Car Transportation Companies
There are several things you need to consider when choosing a vehicle transport service, such as cost, shipping time, type of service, and insurance coverage. A top-rated auto transport company is the easiest way to move your car with peace of mind, regardless of whether you're in Fort Lauderdale, Cape Coral, or anywhere in the surrounding areas.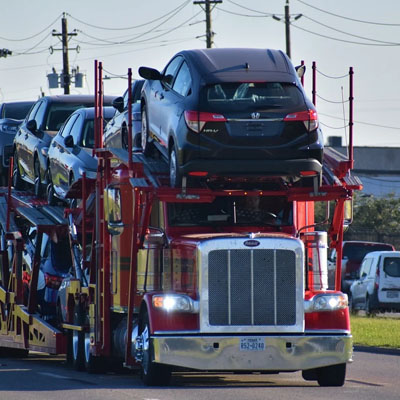 Open Carrier Transport
Open carrier transport is the most common and affordable type of vehicle shipping option available. As the name suggests, in this method, cars are transported on open carriers, typically double-decker trailers with a capacity of up to 10 cars. This method offers reliable and affordable auto transport, but your vehicle will be exposed to the elements and road debris.
However, it's worth noting that the risk of damage is relatively low, and reputable car haulers take every precaution to ensure the safety of your vehicle during transit. Basic liability coverage is always included in the service.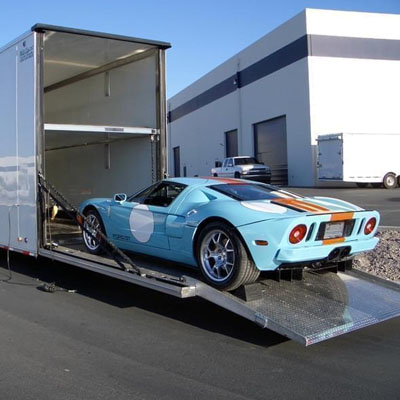 Enclosed Carrier Transport
For those seeking extra protection for their vehicles, especially for luxury, classic, or exotic cars, enclosed carrier transport is the perfect choice. With this service, the cars are transported in a fully enclosed trailer, protecting them from the elements and road debris.
Enclosed car transport is more costly than open car transport. However, the extra cost may be justified for high-value cars. Most enclosed car transport companies also offer higher insurance coverage options given the high value of the cars they often transport.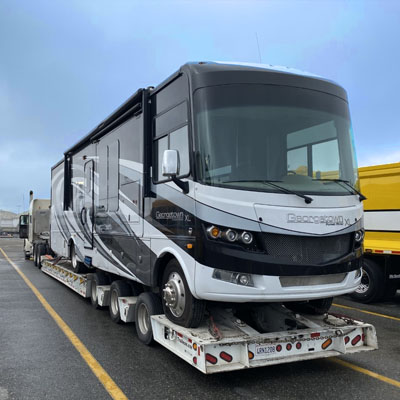 Cross-Country Shipping
Cross-country car shipping is a convenient and efficient method of transporting vehicles across long distances. This service offers several advantages, including saving time and reducing stress. Instead of embarking on a long road trip, car owners can simply have their vehicles picked up by a trusted auto transport company and delivered to their desired destination.
Additionally, car shipping helps to reduce wear and tear on the vehicle, as well as the risk of accidents and breakdowns that can occur during long road journeys. It is a cost-effective solution for individuals relocating to a different state or purchasing a vehicle from a distant location, as it eliminates the need for expensive fuel costs and possible overnight accommodations. Overall, cross-country car shipping offers a hassle-free and reliable way to transport vehicles efficiently, making it a popular choice among car owners.
How to Save on Car Shipping in Florida
Florida, famously known for its beautiful beaches and sunshine, is a state where car transport services are highly sought after. Whether you're a resident looking to move or a car dealer shipping vehicles, you may be familiar with the costs of Florida car shipping. Luckily, there are a few ways to save money on auto shipping without compromising the safety and security of your vehicle.
Tips For Florida Car Shipping Services
The first tip for reducing costs is to use open carrier transport. This is the most cost-effective method offered by auto transport companies. Considering the generally pleasant weather condition in cities such as Pembroke Pines or West Palm Beach, you could certainly benefit from open car transport, especially if you're under budget constraints. However, if your vehicle is a classic, antique, or high-value car, the extra cost for enclosed car shipping may be a wise choice.
Another tip is to plan and book your shipping service well in advance. Like many services, car shipping rates fluctuate based on demand. During the peak moving season, or if there's a sudden mass request for auto shipping services due to events like auto expos, prices can surge drastically. Booking in advance and during the off-season can help you lock in a more economical rate and ensure availability and flexibility in scheduling.
Finally, make sure you understand your car insurance policy. Most auto transport companies provide basic liability coverage for your vehicle during the transportation process. However, getting comprehensive knowledge about your car insurance coverage can give you the peace of mind you need. You can also evaluate if purchasing additional coverage is necessary based on the value of your vehicle and the risk involved during the trip.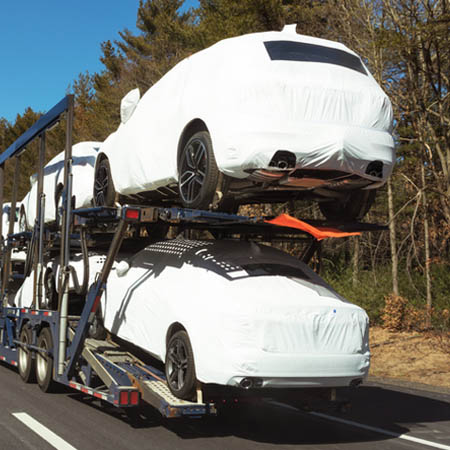 How to Prepare Your Vehicle for Florida Car Transportation
Proper preparation of your vehicle for transportation is crucial to ensure a smooth and hassle-free shipping experience. First, remove your personal belongings from the vehicle. Car hauling services are not responsible for the loss or damage of personal items left in the car. Not to mention, these items can add extra weight, potentially increasing your shipping costs. In general, it is advisable to clean the interior thoroughly to prevent any unnecessary headaches later on.
Next, assess and document the present condition of the vehicle. Take comprehensive pictures, make notations of any pre-existing damages, and share this information with the car shipping company you chose. Doing so will be helpful in the unlikely event that damage occurs during transit due to unforeseen circumstances, and you need to make an insurance claim.
Finally, make sure to empty your fuel tank to about a quarter full. This is not only a safety measure but can also reduce the total weight of your vehicle, which can lower your car shipping bill. Remember, most car transport services charge based on the weight of the vehicle being transported.
Receiving Your Vehicle in Florida
When using auto shipping services in Florida, receiving your vehicle is more than just getting your keys back. There are a few critical steps you need to follow to ensure that your car transport was carried out to your satisfaction.
Inspecting for New Damage
When your car arrives, take the time to thoroughly check your car for any new damage that might have occurred during transportation. Take note of any dents, scratches, or damages to the windshield. Your shipping services should include liability insurance for any damage that your vehicle incurs during transit, so it is crucial to perform this step carefully.
Checking for Missing Accessories or Belongings
Make sure to also check for any missing car accessories or belongings. Auto transport services advise clearing your car of personal belongings before shipping, but in case you left anything, double-check their presence now.
Signing Delivery Paperwork
Last but not least, the delivery paperwork. This is your agreement with the car shipping company that states that the vehicle was delivered successfully, so read it start to finish. Make sure any existing damage is noted and make sure the auto transport company has fulfilled all its duties before you sign off.
Florida Car Shipping Distance & Time to Ship Your Car Examples
Top Florida Shipping Locations
Distance
Estimated Transit Time
Florida to California
2,657 miles
6 - 8 days
Get Quote
Florida to Texas
870 miles
2 - 4 days
Get Quote
Florida to New York
1,233 miles
3 - 5 days
Get Quote
Florida to Washington
2,969 miles
6 - 8 days
Get Quote
Florida to Illinois
852 miles
2 - 4 days
Get Quote
Florida to Arizona
1,882 miles
4 - 6 days
Get Quote
Florida to Colorado
1,617 miles
4 - 6 days
Get Quote
Florida to Ohio
826 miles
2 - 4 days
Get Quote
Florida to Virginia
759 miles
2 - 4 days
Get Quote
Florida to Oregon
2,909 miles
6 - 8 days
Get Quote
**It is important to note that the prices and times listed are only estimates and will vary depending on factors such as the season and the type of vehicle being shipped. Use our car shipping calculator to get an instant price quote for your exact type of shipment.
RoadRunner Auto Transport Reviews
If you're looking for reliable Florida car shipping, it's a good idea to read through customer reviews and ratings to understand better the kind of service provided. The consistent positive experiences shared by many customers make RoadRunner Auto Transport a trustworthy service in auto transport.
The Trusted Florida Car Shipping Company
RoadRunner Auto Transport stands out with our end-to-end auto delivery services. We offer both open car transport and enclosed auto transport and cover every major hub in Florida, making us a one-stop solution for all your car transportation needs.
Information About The State Of Florida
Florida, famously known as the Sunshine State, is one of the most car-centered states in America. With its vast network of roads and highways, understanding Florida's car shipping, insurance, and driving laws can be very advantageous.
The state boasts a diverse population, with a colorful mix of cultures and backgrounds. Florida is renowned for its beautiful sandy beaches, palm trees, and tropical climate, attracting millions of tourists each year. The state is home to several major cities, including Miami, Orlando, and Tampa, each offering unique attractions and vibrant nightlife. Moreover, Florida is known for its world-class theme parks such as Walt Disney World, Universal Orlando Resort, and Busch Gardens.
In addition to its tourism industry, Florida also thrives in agriculture, manufacturing, and aerospace, making it the fourth-largest economy in the United States. With its stunning natural beauty, thriving economy, and rich cultural diversity, Florida continues to be an enticing destination for both drivers of all backgrounds.
Still have questions about shipping a car?
How It Works
Whether you choose enclosed auto transport or an open one, the process is quite straightforward. After your booking, your car is picked up at the agreed location, shipped, and delivered to your selected Florida destination. It's as simple as that!
Our Advantage
RoadRunner Auto Transport offers an extensive network, insurance-covered services, and top-notch customer experience, among other benefits. We cover urban cities like Coral Springs to smaller towns in Cape Coral, making us a top choice for auto shipping in Florida.
Transport Services
No matter the nature of transport services - domestic or corporate, open or enclosed - RoadRunner strives to provide top-tier services catered to meet every individual's unique needs. Our goal is to make your car shipping a hassle-free experience.
Florida Car Shipping Locations
Where Does RoadRunner Auto Transport Offer Car Shipping in Florida?
RoadRunner Auto Transport offers statewide coverage in Florida, providing car transport services in all major cities and counties, including Miami, Tampa, Orlando, Jacksonville, as well as locations like Cape Coral and Coral Springs.