Our team at RoadRunner Auto Transport ensures a hassle-free experience for all your car shipping needs. Whether you need open car transport, enclosed car transport, or expedited car transport, we have got you covered. Read on to find out more about our Pennsylvania car shipping services, costs, and how you can save on car shipping with us.
Auto Transport Service: The Easy Way To Or From Pennsylvania
Are you thinking about relocating to the beautiful Keystone State or planning to move from Pennsylvania to another part of the country? Regardless of your situation, chances are you'll need reliable Pennsylvania car shipping services to ensure your vehicle arrives safely at its new destination.
Long-distance auto transport can be a daunting task, but here in Pennsylvania, we offer top-rated auto transport services designed to put your mind at ease and make car shipping a breeze.
Top Rated Pennsylvania Car Shipping Experts
When it comes to car transport in Pennsylvania, RoadRunner is the expert. Whether you're in Philadelphia, Pittsburgh, or Upper Darby, our premier car shipping services are readily available.
We employ experienced drivers proficient in navigating Pennsylvania roads and the surrounding areas. This, coupled with our use of only the best auto transport equipment and methods, ensures your vehicle arrives damage-free every time. From enclosed auto transport for your luxury vehicles to open-air hauling for everyday rides, you can trust our Pennsylvania car shipping experts to handle everything for you.
And don't just take our word for it. Customer feedback across all routes suggests our auto transport services are among the best. From compliments on our professionalism to the timeliness of our deliveries, our reputation speaks for itself.
Pennsylvania Car Shipping Cost & Time To Ship Your Vehicle
The exact cost and time it takes to ship your vehicle in Pennsylvania will depend on several factors, including the type of transport services you prefer (enclosed auto transport versus open-air hauling for example), the make and model of your car, the shipping distance, and the pickup and delivery locations.
Naturally, you'll find that car shipping services from Upper Darby, West Chester, or Pittsburgh to surrounding areas will be more affordable than, say, long-distance auto transport stretching from Pennsylvania to California. However, regardless of how far you need to transport your vehicle, rest assured you're still getting premium Pennsylvania car shipping services and plenty of value for your money.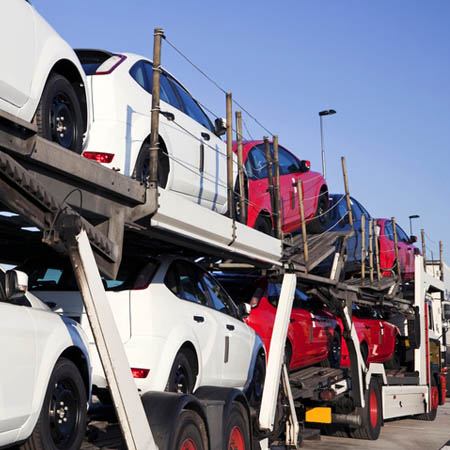 How Does Pennsylvania Auto Shipping Work?
The RoadRunner auto-shipping process is straightforward. Once you've chosen to work with us, the next step is to prepare your car for shipping. This includes actions like cleaning your vehicle inside and out and immobilizing your alarm systems.
Whether you're using our Pennsylvania car shipping services for the first time or a seasoned veteran, having a clear understanding of what goes on behind the scenes can give you extra comfort and assurance.
Types of Car Shipping Services in Pennsylvania
Pennsylvania car shipping services are customized to cater to the unique needs of each customer. The types of auto transport services vary, and the choice depends on the specific requirements of the customer such as the type of the vehicle, budget, and urgency.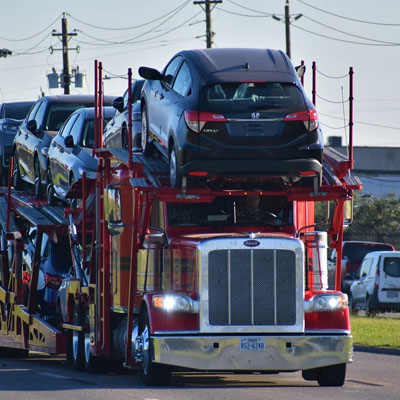 Open Auto Transport
Open auto transport is the most popular and economical car shipping option in Pennsylvania. In this type of vehicle transport, cars are loaded onto an open truck, often alongside several other vehicles.
While this option maximizes cost efficiency, it offers less protection from elements such as weather and road debris. However, damage from such elements is rare, making open auto transport a dependable choice for many customers seeking long-distance auto transport services.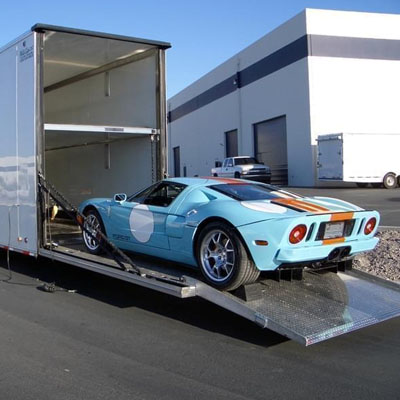 Enclosed Auto Transport
For customers seeking extra protection for their vehicles during transit, enclosed auto transport is the ideal choice. This type of car transport service involves shielding cars in a covered truck, protecting them from potential harm related to weather and road conditions.
Enclosed auto transport services are particularly beneficial for antique, luxury, exotic, or any other cars of significant value. As a result, this service is slightly more expensive than open auto transport but ensures peace of mind for the customer.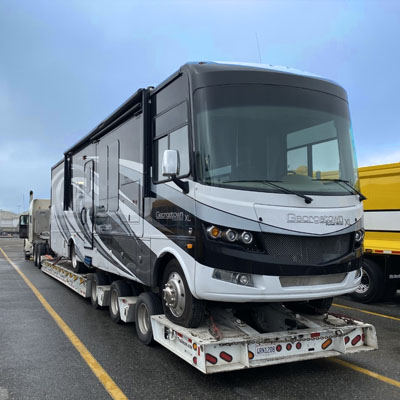 Expedited Car Transport
For customers in Pennsylvania who need their cars shipped as soon as possible, expedited car shipping services come to the rescue. While this service may come at a premium cost, it guarantees the prompt delivery of vehicles.
By choosing expedited auto transport, you can have your car shipped swiftly for whenever you need it without the standard waiting times prevalent in other transport services.
How to Save on Car Shipping in Pennsylvania
About to ship your car and wondering how to save on Pennsylvania car shipping services? Here are some expert-approved tips:
Tips For Pennsylvania Car Shipping Services
Plan ahead: Scheduling your car shipping in advance can save you from paying rush fees associated with last-minute bookings. It gives car transport services ample time to plan the most economical route.
Compare quotes: Don't settle for the first quote you get. It helps to compare quotes from different Pennsylvania car transport services to find the one that offers the best value for money.
Opt for terminal-to-terminal delivery: If you can afford some extra time and effort, picking up and delivering your car to a shipping terminal might save you on door-to-door transport costs.
Take advantage of discounts: Many auto transport services offer discounts for military personnel, students, or for shipping multiple cars. Make sure to ask about available discounts.
Your Guide to Pennsylvania Car Shipping Services
Your cars are a significant investment and moving them long distance can be a daunting task. However, RoadRunner auto shipping services ensure that the transport process is as smooth as possible for you. This guide will walk you through the steps on how to prepare your vehicle for transport and what to expect when receiving your vehicle.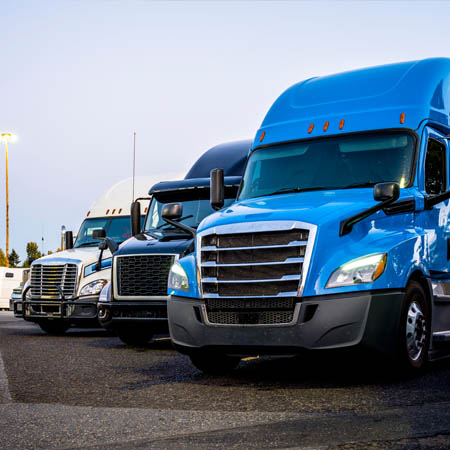 How to Prepare Your Vehicle for Pennsylvania Car Transportation
Preparing your vehicle for transport is a critical step in the auto transport process. Here are the steps to do so effectively.
First, clean your car. A clean vehicle makes it easier to identify any scratches, dents, or damage that your car might sustain during car shipping. This will be useful when you perform a vehicle inspection before and after the transport service.
Second, remove personal belongings. Car hauling services are licensed to transport vehicles, not personal items. These items can be damaged or lost during transport. Moreover, additional items might add weight to your vehicle, possibly leading to extra charges from the transport services.
Third, check the fluid levels and battery charge. If the car cannot start or drive on and off the carrier, there may be additional fees for special equipment used during loading and unloading.
Finally, if your car has any quirks, such as a tricky ignition or sticky door, let the trucker know. They will appreciate the advance notice and it will ensure further safety of your car.
Receiving Your Vehicle in Pennsylvania
Now that your vehicle is prepared for shipping, let's have a look at what you should do when your car arrives at its destination.
Inspection for New Damage
Damage during vehicle transport is rare, but it does occur. Therefore, inspecting your vehicle for new damage before and after the auto transport is crucial. This includes checking the bodywork for scratches and dents, as well as the underneath for any potential leakage. If you notice any new damage, make sure to note it on the condition report before you sign.
Checking for Missing Accessories or Belongings
After long-distance auto transport, ensure that no accessories or parts of the car have gone missing during transit. This may include wheel covers, mirrors, radios, etc. If you find something missing after the vehicle transport, contact RoadRunner immediately.
Signing Delivery Paperwork
Once you have inspected your car and are satisfied with the car transport service, it's time to sign the bill of lading. This document serves as a receipt of the transaction between you and the auto transport company. Make sure all the details on the bill of lading match up with your original contract before signing.
Feel free to ask any questions or voice any concerns you may have before, during, or after the car transport process. The team at RoadRunner welcomes and appreciate their customer feedback. It's what helps us improve!
Pennsylvania Car Shipping Distance & Time to Ship Your Car Examples
Top Pennsylvania Shipping Locations
Distance
Estimated Transit Time
Pennsylvania to California
2,687 miles
6 - 8 days
Get Quote
Pennsylvania to Florida
982 miles
2 - 4 days
Get Quote
Pennsylvania to Texas
1,576 miles
4 - 6 days
Get Quote
Pennsylvania to Washington
2,760 miles
6 - 8 days
Get Quote
Pennsylvania to Illinois
748 miles
2 - 4 days
Get Quote
Pennsylvania to Arizona
2,286 miles
5 - 7 days
Get Quote
Pennsylvania to Georgia
716 miles
2 - 4 days
Get Quote
Pennsylvania to Virginia
219 miles
1 - 3 days
Get Quote
Pennsylvania to Ohio
367 miles
1 - 3 days
Get Quote
Pennsylvania to Michigan
545 miles
2 - 4 days
Get Quote
**It is important to note that the prices and times listed are only estimates and will vary depending on factors such as the season and the type of vehicle being shipped. Use our car shipping calculator to get an instant price quote for your exact type of shipment.
RoadRunner Auto Transport
If you're in search of reliable Pennsylvania car shipping services, look no further than RoadRunner Auto Transport. With a proven track record of quality and customer satisfaction, RoadRunner has established itself as a trusted name in Pennsylvania car shipping and auto transport services.
What sets RoadRunner apart from other auto transport services is not just our car shipping prowess but also our commitment to providing a seamless customer experience. From excellent customer service, secure vehicle transport to punctual delivery, we secure top-notch customer feedback.
The Trusted Pennsylvania Car Shipping Company
RoadRunner provides diverse car transport services, including but not limited to long-distance auto transport, car shipping to and from Upper Darby, and services in surrounding areas. For valuable or classic cars, we even offer enclosed auto transport, ensuring your vehicle remains in pristine condition throughout the journey.
Pennsylvania Auto Transport Resources
In addition to car shipping services, RoadRunner also provides a robust host of resources to aid your auto transport journey in Pennsylvania. These include useful tips on preparing your vehicle for transport, navigating Pennsylvania's auto transport regulations, and more.
Information About the State Of Pennsylvania
As one of the major hubs for auto transport, Pennsylvania's unique geography and extensive highway system make it an ideal state for vehicle transport and car hauling services. Its strategic location in the northeastern US provides easy access to major cities, thus attracting auto transport services like RoadRunner to operate extensively in the region.
Contact RoadRunner to Learn More or Get Started
With over 30 years of reliable nationwide vehicle shipping services, RoadRunner Auto Transport has earned our reputation as one of the US's most trusted car transport companies. Our experienced team of shipping experts strives to exceed our customers' expectations and deliver outstanding service at every part of the vehicle delivery process.
From complete vehicle coverage to 24/7 online shipment tracking, we give you professional auto shipping services that you can depend on.