Are you planning to move to another state but worried about how to take your car with you? Or maybe you've just bought a car from a nationwide dealership? Whatever your reason for needing to ship your car, RoadRunner Auto Transport has got you covered. This guide provides a simple 3-step plan to ship your car safely and stress-free. From learning how car shipping works to picking the right shipping method and preparing your car for transport, we answer all your questions and provide you with invaluable tips to ensure your car arrives at its destination in the same condition it was when you handed it over.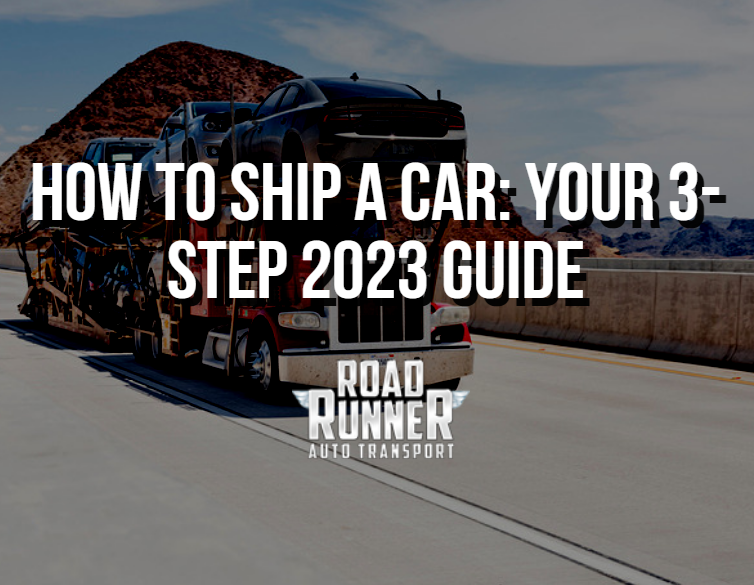 How Does Car Shipping Work?

Car shipping is transporting a vehicle from one location to another, usually through an auto transport company. It's a popular option for people who need to relocate their vehicles without driving them long distances. Professional car shipping companies typically use specially designed carriers to transport cars safely and efficiently. This section discusses how to ship cars and various factors when choosing a transport method.

First, choose the best car shipping company that meets your needs. Different car shipping providers offer various services and have other policies for their customer service. Research the companies and read editorial content that reviews their services to help you make an informed decision.

Once you have chosen the auto transport company, you must select the transport method you want. There are mainly two shipping options: open transport and enclosed transport. Open transport involves using an empty trailer to ship your car, exposing it to the elements. On the other hand, enclosed transport uses a covered trailer to ensure the vehicle is protected from weather conditions and debris. Open transport is often cheaper, but enclosed transport is the better option if you have a luxury or classic car that requires extra protection.

Next, contact the car shipping company for a quote and schedule the pickup date. The car shipping companies will provide a price estimate based on the distance, type of vehicle, transport method, and other factors. Remember that some car shipping providers may charge extra for door-to-door service or expedited shipping. Ensure you have your vehicle registration and auto insurance documentation handy, as the company may ask for this information.

Inspecting and documenting the vehicle's condition is vital before handing over your car to the shipping company to avoid potential disagreements later. Take photographs of your car from multiple angles and make a note of any existing dents, scratches, or chips in the paint. Remove any personal belongings from the vehicle, as the transport company's insurance policy usually doesn't cover these items.

Finally, on the scheduled pickup date, the transport driver will arrive to load your vehicle onto the carrier. They will again inspect the car and give you a Bill of Lading, which serves as a contract agreement and a document of your vehicle's pre-shipping condition. Ensure the driver follows any specific instructions regarding your vehicle's transport. Once the car is loaded, the driver will proceed to the destination to complete the delivery process.

When your vehicle arrives at its destination, take the time to inspect the car's condition thoroughly and ensure that it has not incurred any damages during transit. Confirm the vehicle's condition matches the documentation on the Bill of Lading and only sign the document if you are satisfied. Additionally, if you encounter any issues or discrepancies, report them immediately to the transport company and your car insurance provider.

Start Your Instant Car Shipping Quote Now

Finding the right car shipping company can be daunting, especially if you're new to the auto transport industry. However, with some research and due diligence, you can find a reliable and trustworthy shipping company that meets your needs. You can identify the best car shipping providers and streamline the decision-making process by getting an instant car shipping quote.

Consider using reputable companies for an instant car shipping quote. They all offer user-friendly websites with easy-to-use quote forms that provide accurate and timely quotes. This helps you make an informed decision while choosing an auto transport company for your car shipping needs. Customer service is essential when selecting a car shipping company. Always opt for a company with a proven track record in providing excellent customer support and addressing client concerns.

Before finalizing your quote, take some time to compare it with others in the market. Review the shipping method, transit time, insurance policy, and other critical aspects of the car shipping process. Understanding the breakdown of your quote will help you choose the ideal transport company that offers competitive rates without compromising on quality and service.

How to Pick a Shipping Method

When you're planning to ship a car, one crucial decision you have to make is selecting the appropriate shipping method. To ensure you make the right choice, consider the following factors when comparing different car shipping methods:

Budget: Your budget plays a significant role when deciding the shipping method. Options like open transport are usually more affordable than enclosed transport but might not offer the same level of protection. Be sure to weigh the cost against the benefits you get from each shipping method before choosing.

Vehicle type and value: Analyze the type and value of the car you want to ship. If you're shipping a luxury, classic, or custom vehicle, you may opt for an enclosed transport method offering additional protection. On the other hand, if you're shipping an average, regular-use vehicle, choosing open transport can help save costs while still ensuring the safe transport of your car.

Weather and route: Consider the weather and route your vehicle will travel. For instance, enclosed transport might be the safest option if you're shipping a car during winter or through areas known for harsh weather conditions. On the contrary, open transport could suffice for routes with predictable and mild weather conditions.

Insurance coverage: Always inquire about the insurance policy provided by the auto transport company. Understand the coverage limits and any exclusions before deciding on the shipping method. Ensuring that your vehicle has adequate insurance coverage throughout transportation is essential.

Delivery time: The delivery time may vary depending on your preferred shipping method. Discuss your specific time constraints with the car shipping company and ask if they can accommodate your requirements within the desired shipping method. If you need your car delivered urgently, you might opt for expedited shipping, which could be more expensive.

Once you've deliberated on the factors mentioned above, compare the available car shipping providers based on editorial content, customer reviews, and industry reputation. By doing so, you can rest assured that you'll make the best decision for your auto transport needs.

In conclusion, finding the perfect car shipping company and shipping method might initially seem overwhelming. However, by getting instant car shipping quotes and comparing various shipping methods based on budget, vehicle type and value, weather and route, insurance coverage, and delivery time, you can confidently select the right auto transport company that provides a smooth and stress-free car shipping experience.

What Factors Affect Shipping Costs?

Several factors can impact the cost of car shipping with auto transport companies. Understanding these factors can help customers better prepare for shipping and choose the best car shipping company.

Distance and Location: Distance and location play a significant role in determining the cost of trailer shipping. Longer-distance shipping generally costs more than shorter distances. This is because car shipping providers need to cover fuel and other associated transportation expenses. Also, shipping a car to remote locations might cost more than shipping to major cities and transportation hubs.
Vehicle Size and Weight: The size and weight of your car can also affect the shipping cost. Larger and heavier vehicles take up more space in the shipping trailer and consume more fuel. As a result, car shipping companies usually charge more for shipping heavier vehicles.
Season and Demand: Like other service industries, the car shipping and auto transport industry also experience seasonal fluctuations in demand. Generally, shipping costs tend to be higher during peak seasons, such as summer and early fall, due to increased demand. So, if you plan your car shipping in the off-peak season, you may get better rates from shipping companies.
Type of Transport: The transport you choose affects the shipping cost. There are primarily two types of transport methods – open and enclosed carriers. Open carriers are cheaper but offer less protection to your vehicle during transit. On the other hand, enclosed carriers provide better protection but can be more expensive.
Insurance Coverage: Auto insurance coverage included in your transport company's services can affect the cost of shipping. Some car shipping companies provide a basic range, while others offer more comprehensive insurance policies. Be sure to compare insurance offerings and choose a car shipping company that fits your needs and budget.
Additional Services: Additional services such as expedited shipping, door-to-door delivery, or guaranteed pickup and delivery dates can also impact the shipping cost. While these services offer convenience and flexibility, they come at an added expense that may be reflected in your final shipping quote.
Tips to Prepare Your Car for Shipping

Before handing over your car to car shipping providers, preparing your vehicle ensures a smooth car shipping process and reduces the risk of damage during transit. Here are some tips to help you prepare your car for shipping:

Clean and Inspect Your Vehicle: Thoroughly clean your car and perform a detailed inspection, including the exterior and interior. This will make identifying and recording any pre-existing damages easier before shipping. Some car shipping companies may require you to submit a pre-existing condition report as part of their customer service.
Remove Personal Items: Personal belongings and valuable items should be removed from your vehicle before handing them to the car shipping company. Shipping companies are not responsible when leaving personal items inside the vehicle, and they may not be covered under your auto transport company's insurance policy.
Check Fluid Levels and Tires: Ensure that all your car's fluids (except gas, as a nearly-empty tank is preferred) are at appropriate levels, including coolant, transmission fluid, and oil. Also, ensure that your tires are inflated to the recommended pressure levels, which helps prevent damage while the car is being loaded and unloaded from the transport truck.
Disable the Alarm System: Deactivate any alarm systems in your vehicle to avoid any unnecessary disruptions during the shipping process. If you cannot deactivate the alarm system, provide the transport company with detailed instructions on how to do so or manage the alarm if it's triggered during transit.
Prepare for the New Environment: If your car is being shipped to a different climate or region, it's essential to make necessary adjustments beforehand. For instance, if you're shipping your car from a warm region to a colder one, consider using engine oil and antifreeze appropriate for colder temperatures so your vehicle is ready to drive once it reaches its destination.
Document the Condition of Your Car: Take pictures and record your car's condition before shipping it. This documentation will serve as evidence in case any damage occurs during the shipping process. Share this information with your car shipping company to ensure a smooth and transparent handover.
Confirm Insurance Coverage: It is crucial to understand the insurance coverage offered by your car shipping provider. Verify the coverage details and ensure your car is adequately protected during transit. If necessary, consider purchasing additional car insurance to supplement the coverage offered by your shipping company.
Why Choose RoadRunner Auto Transport?

Finding the right transport company can make all the difference when shipping your car. RoadRunner Auto Transport stands out from their competitors for various reasons—its customer service, insurance coverage, transport method options, and industry experience. In this article, you'll learn why RoadRunner Auto Transport is an excellent choice for your auto transport needs.

One of the most significant factors in choosing an auto transport company is their customer service. RoadRunner Auto Transport is known for its exceptional customer service, ensuring clients have a smooth and hassle-free experience. Their team is always available to answer any questions, guide you through the process, and maintain open communication throughout the shipping process. This commitment to customer service sets RoadRunner apart from competitors like Sherpa Auto Transport, Nexus Auto Transport, and SGT Auto Transport.

Insurance coverage is another critical aspect to consider when choosing a transport company. RoadRunner Auto Transport offers comprehensive insurance coverage options, protecting clients against any potential damage during transit. This coverage allows you to have peace of mind knowing that your vehicle is covered throughout its journey. Not all transport companies offer the same diversity of insurance coverage options, so it's essential to verify the insurance policy details before making a decision.

In addition to its excellent customer service and comprehensive insurance coverage option, RoadRunner Auto Transport offers a range of transport method options, including open and enclosed transport options. Open transport is a more cost-effective method that exposes the vehicle to external elements while in transit. Enclosed transport, on the other hand, provides additional protection by placing the vehicle in a fully enclosed trailer. RoadRunner's transportation flexibility accommodates various customer needs and preferences, ensuring a tailored car shipping experience.

Experience and industry knowledge are crucial when selecting an auto transport company. RoadRunner Auto Transport has extensive experience handling various vehicles, including cars, trucks, motorcycles, and boats. With years of experience in the industry, RoadRunner has demonstrated their ability to provide reliable and efficient auto shipping services, solidifying their reputation among competitors like easy auto ship.

Lastly, it's essential to consider the editorial content provided by a transport company while researching your options. RoadRunner Auto Transport is dedicated to educating clients on the ins and outs of the auto transport process – from preparing for shipping to recording damage before and after transit. With their wealth of knowledge, you'll feel confident about entrusting RoadRunner with your vehicle's transport.

Contact Us Today to Learn More or Get Started

Now that you know why RoadRunner Auto Transport is an excellent choice for your auto transport needs, what's next? If you want to learn more about their services, insurance coverage, or transport methods, you can contact their customer service team through phone, email, or website. RoadRunner is committed to answering all your questions and making the process as transparent as possible.

Once satisfied with the information provided, you can initiate the car shipping process. RoadRunner Auto Transport's team will walk you through the entire process step by step, ensuring that you understand everything from insurance policies to transport methods to payment and pickup/delivery schedules. With their comprehensive services, you can trust that your vehicle is in good hands.