Jump to section:
Specialized vehicle shipping
Motorcycles
Oversized vehicles
Military vehicles
Inoperable vehicles
Conclusion
FAQs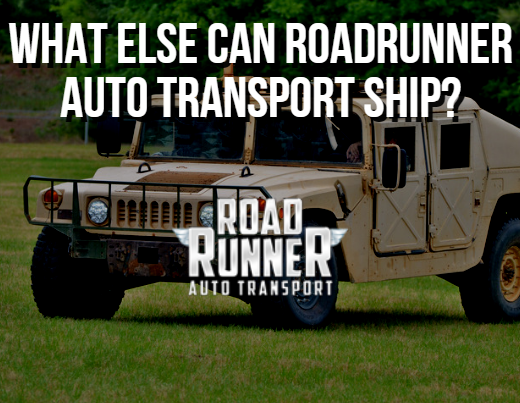 Specialized vehicle shipping

Car shipping companies can ship much more than just regular passenger cars. Several vehicle transport companies can ship almost anything from a moped to a massive crane. A car shipper's ability to ship other types of vehicles is known as "specialized vehicle shipping." Specialized vehicle shipping has several similarities with regular auto transport, but depending on the exact type of vehicle you are shipping, there can also be several differences.

One of the primary differences between shipping a regular passenger car and specialized vehicle shipping will be the ability to get an instant quote. For the most part, you will need to call a particular transport company on the phone to get specific vehicle shipping quotes. Unfortunately, there tend to be too many permutations with specialized vehicle shipping; thus, generating a quote using an online shipping calculator is impossible. So, transport companies take every specialized vehicle shipping quote request on a case-by-case basis. The bright side is that the car shipping expert you will talk to will be able to generate a quote over the phone for you in just a few moments.

There are very few vehicles that are unable to be shipped by a vehicle transporter. Even boats and construction equipment can easily be shipped. Unfortunately, vehicles used for air travel cannot typically be shipped by a car shipping company, including planes and helicopters. The unique dimensions and extreme aircraft value precludes most car shipping companies from shipping these vehicles.



Motorcycles

Motorcycles are the most commonly shipped type of specialized vehicle. Motorcycle shipping works precisely the same as regular car shipping in terms of price generation and required preparation, and, in most cases, you can get a free instant quote online. The main difference is that motorcycle transport will almost always occur in an enclosed trailer on a pallet. On rare occasions, motorcycles will be shipped on an open-air flatbed trailer. There is no way to correctly secure a motorcycle to a regular car carrier; thus, motorcycle hauling is done in this fashion.

Motorcycle shipping cost is determined much like car shipping cost by a set of frequently or constantly changing variables.

Scooters and mopeds

Scooters and mopeds such as Vespas are transported the same way motorcycles are shipped due to their similar dimensions and weight. Any reputable motorcycle shipping company can ship a scooter or moped without issue. The cost will be very similar to that of shipping a motorcycle.

Oversized vehicles

"Oversized vehicles" is a broad definition that includes any vehicle that is too large and or heavy to ship on a typical car carrier. An oversized vehicle can be an Escalade, a tractor, a bus, an RV, a boat , and more. Oversized vehicle transport will almost always occur on a flatbed trailer due to its ability to support tens of thousands of pounds.

Heavy equipment
Heavy equipment hauling rates tend to be more costly per mile because of the extra effort, time, and gas required to ship a huge vehicle like an RV. Heavy equipment hauling companies also must charge more for these shipments to make them financially viable because they can usually only transport one piece of heavy equipment at a time. Unfortunately, heavy equipment shipping calculators are incredibly scarce because of the much lower volume with which they are used. So, if you need a quote for shipping heavy equipment, your best bet is to call each shipping company.

Types of heavy equipment that a car shipping company such as RoadRunner Auto Transport can ship include:
Bulldozers
Excavators
Cranes
Compactor
Loader
Graders
Harvesters
Tractors
Plows
And more!
RVs

Recreational vehicles, or RVs, can be driven legally on streets and highways. Thus, you might wonder why someone would even need RV shipping. Well, RV transport is an excellent option if someone has purchased an RV online and they do not want to spend the time or the effort going to get it themselves. RV shipping companies also ship RVs for people who don't want to drive their RV to a destination; maybe they only want to use their RV to camp out at the destination and drive around locally.

Much like heavy equipment, there are no specific RV shipping calculators online. So, you should call a transport company for an RV shipping quote. Generally, RV shipping costs per mile are typically around $4 for the first 100 miles. After that, it gets a bit cheaper as it usually falls between $1 and $2.50 per mile to ship an RV.

Boats

Boat shipping is a specialty vehicle transport service more frequently requested than other special shipping services. Boat transport will require that your boat get placed onto a flatbed carrier using a crane or forklift as it will not be able to be driven onto the trailer like a car. The cost to ship a boat is usually between $1.50 and $4.00 per mile. It is a wide range because the size and weight of the boat will play a significant role in the overall boat shipping cost. Certain boats have stark differences in size/weight.

Buses

Shipping a bus is no issue for a vehicle transportation company like RoadRunner, even though it is one of the least requested shipments we deal with. If you ship a bus, it will be placed on a flatbed trailer because of its dimensions and immense weight. The cost to ship a bus will typically fall between $2.50 and $4.00 per mile.

Feel free to call and ask if we can have something else shipped, such as a limousine or trailer. RoadRunner has had various vehicles shipped and would happily work with you for all your shipping needs!

Military vehicles
Shipping a regular car as a military member

Vehicle shipping for military members is one of the more popular specialty vehicle shipping services out there. This is because military members are frequently involved in PCS moves to new bases based on their new or updated assignments. These shipments are almost always typical passenger cars. But we include military car shipping in the "specialty vehicle shipping" services list because the pickup or drop-off locations are often military bases, which is not typical for car shipping.

The cost for military car shipping will be the same as the cost for shipping a car normally. The main difference is whether the military covers any of the costs. We have seen every possibility occur; sometimes, the military covers the entire cost of shipping a car; other times, they will partially cover the cost of auto transport, and sometimes they will not cover any of it. It is all entirely dependent on your particular assignment and rank.

Shipping actual military grade vehicles
Auto shipping companies ike RoadRunner can also ship actual military vehicles when needed. This can come in handy for the actual military. However, individuals who collect military vehicles can use a car shipping service to get their military vehicle home from an auction or a private seller. For many military vehicles, driving them on the street is not legal, so you will have to have them shipped somehow.

Types of military vehicles that can be shipped with a car shipping company include:
Humvees
Utility vehicles
Tactical trucks

Reconnaissance vehicles

And more!

Inoperable vehicles

Inoperable vehicles are cars that are not running correctly or at all. Because they cannot be driven onto and off the car carrier like normal vehicles, they can only be transported using a special type of car carrier with a tool connected that can attach to a car and pull it onto the carrier called a winch. Since these types of carriers are in much shorter supply than typical car carriers, it will be more expensive to ship an inoperable vehicle than it is to ship a car that is running. When you ship a non-running car, the cost per mile will be the same as shipping a running car. The difference is that a $50 to $100 fee will be added to your final price to cover the additional cost of the special car carrier.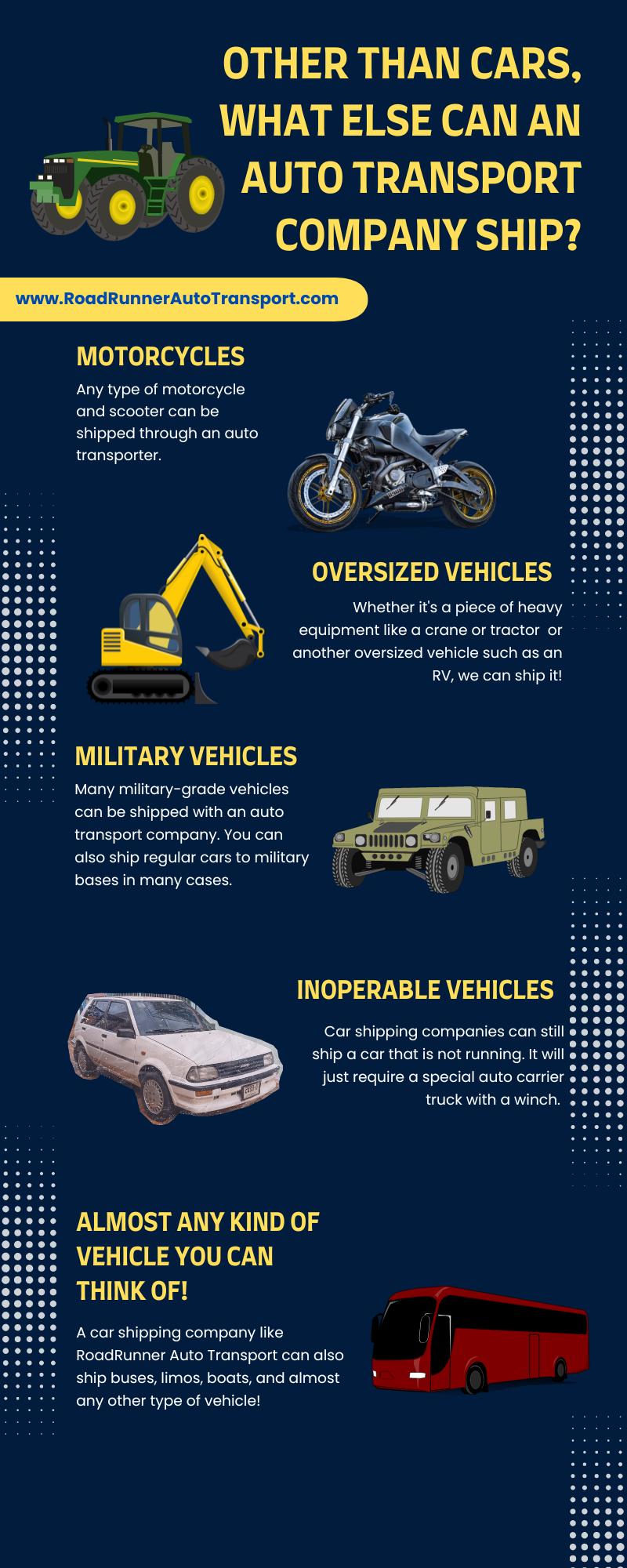 Conclusion
Car shipping companies like RoadRunner Auto Transport ship all types of specialty vehicles, including motorcycles, buses, RVs, military vehicles, and much more! Fortunately, shipping a specialty vehicle is just about as simple as shipping a regular-sized passenger car. There often are no instant online quotes available for several types of specialty vehicle shipping. However, you can always call a vehicle transportation company such as RoadRunner Auto Transport for a free instant quote regarding any vehicle.

FAQs
Will it take longer to ship a specialty vehicle?

You can expect shipping a specialty vehicle to take a bit longer than shipping a typical passenger car. However, this depends on the specific vehicle type being shipped. For example, motorcycles do not typically take any longer to ship than ordinary cars. On the other hand, shipping an RV from point A to B will likely take a couple of days more than shipping a regular-sized car from point A to B.

Is door-to-door transport available for specialty vehicle shipping?

Door-to-door car shipping could be available for a specialty vehicle shipment. However, it will depend on the type of carrier needed for your shipment and the amount of room on the streets at both your pickup and delivery addresses. If you are shipping a motorcycle which occurs in a more-traditional enclosed carrier, the odds are door-to-door transport is available. If you are shipping an RV which occurs on a flatbed trailer, door-to-door transport might not be an option for you. Due to local ordinances, even regular car carriers are forbidden to enter some streets throughout the country. So, it all depends. Regardless of whether door-to-door transport is available for your shipment, your set pickup and delivery addresses will always be discussed with and determined by a car shipping representative before booking your shipment.

Is any additional preparation involved when shipping heavy equipment?

Whether or not there is additional preparation for a specialty vehicle shipment will depend entirely on what you are shipping. If you are shipping a large piece of heavy equipment like a crane, it might need to be partially disassembled. For the most part, shipping a specialty vehicle will require the same preparation as shipping a car. You will need to ensure that there are no issues with the vehicle, clean the exterior and remove all personal belongings. Although, cleaning the entire body of an RV or bus will undoubtedly require a bit more effort.

Does the military ship my car for free?

The military could cover all or part of your cost to ship one or more cars to your new assignment location/base. However, this is not guaranteed. It will depend on several things, including the nature of your assignment, your rank, and more. You should contact your commanding officer before scheduling your shipment and ask them if the military can cover any of your car shipping costs.