Jump to:
Military Car Shipping 101
How military car shipping works
Shipping your car versus selling it
Can I ship an actual military vehicle?
Preparing for your shipment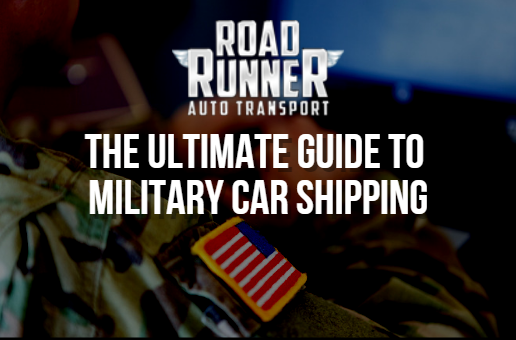 Military Car Shipping 101

Military members can end up changing scenery fairly often. The most common reason for a military member to move is called a permanent change of station or PCS for short. During a PCS a military member has to uproot themselves and their entire family. If they have more than one car, that means at least one car will need to be shipped if the family wants to travel together during the move.

The military will usually pay to ship one vehicle for them, but if you are a military member moving for a PCS and you would like to fly rather than drive, you will end up footing the bill to ship any additional vehicles you have after the first one.

How military car shipping works

It will generally work the same as any other auto shipment: choose a company, book your shipment, prepare for your car to get picked up, have your car picked up and inspected by the driver, and get your car shipped and delivered.

It is very likely that the driver will not be allowed to drop your car off on base. The driver will likely need to drop the car off at the gate or somewhere close by. So, be sure you go over that with your car shipping company and your driver BEFORE the shipment occurs. You will also need to figure this out with your commanding officer beforehand as well.

Shipping your car versus selling it

Shipping your car to your new base will obviously not be your only option. You can also sell your car and buy a new one or use public transport, rentals and/or ride shares. The main differences will be convenience as well as price.

When you sell an old car or trade it in, the value will likely be at least five thousand dollars less than any new or used car that you will end up buying unless you purchase a much older and lower quality vehicle which will likely put your safety at risk. If you go the route of selling then buying, you could end up being out over twenty thousand dollars or more.

If you and you family choose to sell your car and decide alternative transportation options might be better than having a car, you should consider convenience but still should also consider long-term cost. Specifically, constantly using rideshares or renting a car will add up plus it will be a serious inconvenience in comparison to having your own vehicle. Ride shares and public transport involve wait times and typically are a one-stop option.

Also consider that the average ride share trip cost a little over thirteen dollars in 2015. Adjusting slightly for inflation, let's assume the average trip costs about fifteen dollars per trip (without tipping at all). If you take two rideshare trips a day at this price every day of the year, it will cost you over ten thousand dollars for the year. Shipping your car will likely cost eight to ten times less than this, and that is a one-time expense not an annual one.

Can I ship an actual military vehicle?

This is another question you should direct to each auto transport company you talk to. However, smaller military vehicles like jeeps should be fine to ship with most companies. Larger ones, like Humvees could be up to the discretion of each individual company. Although, many companies do offer oversized vehicle shipping which includes things like tractors and RVs.

Preparing for your shipment

Preparing for your car shipment during a PCS move will be quite easy and will allow you to focus on the rest of your move. Once you have your vehicle shipment booked, your preparation will consist of getting your car cleaned, removing personal items, and making arrangements to be present for both the pickup and delivery windows of your shipment.

The only thing you will likely need to do more than a few days earlier than your scheduled pickup date is to make the arrangements necessary to have yourself or someone that you trust over the age of eighteen available to give the keys over to your auto transport driver when they arrive. Typically, your pickup window will be a period of about two days. During this time your driver can arrive at any point, but they will call ahead before they do so. The point is that you or someone else with valid identification over eighteen years old needs to be with your car for that period so they can give the keys over.

As far as getting the car cleaned and removing personal items, those are exactly as they sound and can be done the day before your pickup window if you please. The reason for having to get your car cleaned is that your auto transport driver will need to conduct a visual inspection for preexisting damage for insurance purposes. If your car is dirty, this will take much longer and will delay the start of your shipment. In terms of removing personal items from your vehicle, the reason is as simple as the fact that any personal item such as sunglasses which are damaged or lost during the shipment will not be covered by the insurance.