Jump to:
The basic facts about oversized vehicle shipping
What kinds of oversized vehicles can I ship with an auto transport company?
Tips for shipping an oversized vehicle
Conclusion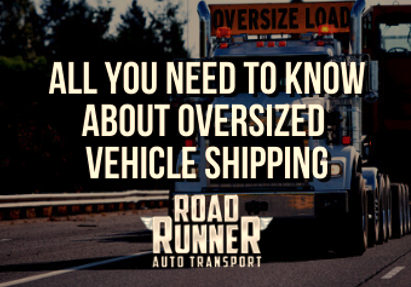 The basic facts about oversized vehicle shipping

Oversized vehicle shipping is a service that RoadRunner Auto Transport is happy to offer. This process takes a bit more time than traditional car shipping does. This is due to the additional time and effort it will take to load a much larger vehicle onto the carrier as well as the lower speed the vehicle carrier will need to drive at during transit. As a result, you should plan and book your oversized vehicle shipment well in advance. This way, there is more than enough time to find a carrier with the capability to move a much larger haul.

Transporting an oversized vehicle like a bus is more complex than regular car shipping because the carrier specifically needs to have a flatbed attached to the truck. Traditional auto carriers cannot physically accommodate oversized vehicles; thus, a flatbed is necessary. With these flatbed carriers, you can normally only transport one oversized vehicle at a time whereas with regular car shipping the cost of the haul is split between up to ten cars. Thus, oversized vehicle shipping will cost slightly more than traditional car shipping.

The pickup process for an oversized vehicle will also take longer than it does for a normal car. The inspection for pre-existing damage will take longer and the actual process of loading it onto the carrier will take more time as well. Plan ahead for this and make sure wherever your vehicle is being picked up has enough space for your driver to be able to maneuver the pickup process.

What kinds of oversized vehicles can I ship with an auto transport company?

You can ship many different kinds of oversized vehicles with RoadRunner. This includes recreational vehicles, buses, trailers, heavy equipment, vans, SUVs and more.
For a free quote and more information regarding your specific oversized vehicle shipment, you can contact us at (888) 777-2123.

Tips for shipping an oversized vehicle

To ensure that your oversized vehicle shipment goes as smoothly as possible, use the following tips to prepare for your shipment:

Have specific information about your vehicle ready when you call for your quote – It is important to have specific information about your vehicle handy when you call to discuss your shipment. Specifically, the height and width of your particular oversized vehicle in addition to the make and model. The weight of your vehicle likely will not matter as long as you have the size specifications as well as the make and model on hand when you talk to your vehicle shipping representative. This will allow your auto transport company to find a carrier that will be able to fit your oversized vehicle on board .

Get the vehicle cleaned before your driver arrives to pick it up – Your auto carrier driver will need to inspect the vehicle for any pre-existing damage before the transport process starts. If your vehicle is dirty, this process will take much longer.

Make sure everything is operational – Be sure, before your oversized vehicle is picked up, that it is functioning as it should be. If there is an issue with something, let your auto transport company know prior to booking your shipment.

Remove all personal items from the vehicle – Any insurance you have for your vehicle shipment will not cover any personal items that are damaged or lost during shipping so remove them from the vehicle. This will include items such as glasses, jewelry, and gloves.

Make sure your pickup location has enough space – Odds are that there is more than enough space in the area which you are planning to have your oversized vehicle shipped. However, it must be completely accessible by an auto carrier and must have some extra space in order for the driver to be able to maneuver your vehicle onto the carrier. When you speak with your auto transport company, be sure to discuss this beforehand.
Conclusion

Even though oversized vehicle shipping takes more time and costs a little more, the process does not need to be complicated and will not take too much time as long as you are prepared properly for your shipment. Most oversized vehicles can actually be shipped anywhere in the country. Especially if it is a particularly long distance, it is better than the alternative of driving the vehicle yourself. If you want to know more about our oversized vehicle shipping services, feel free to give us a call today for a free quote.