Jump to section:
Common first-time questions about car shipping
What you need to know about car shipping
How to keep the cost of car shipping low
Advantages of car shipping
Conclusion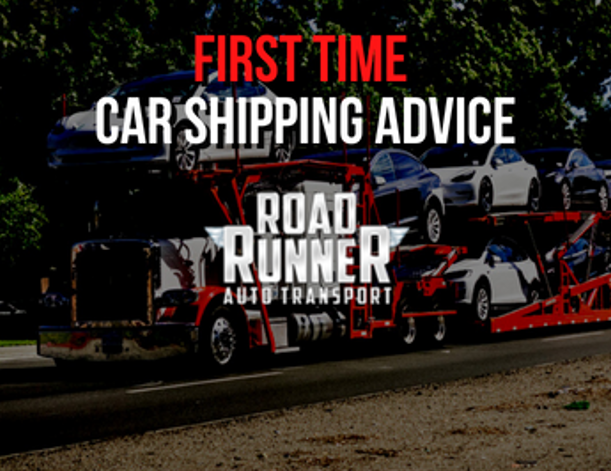 Common first time questions about car shipping

If you have decided to ship a car for the first time you probably have lots of questions. You might need to ship your car because you are moving a long distance, you could be shipping your car to college or maybe you are shipping a vehicle that you bought or sold online. Regardless of the reason that you are shipping a car, you likely want some answers to the questions that you have. We have assembled a list of the following questions and answers that you may have as someone shipping a vehicle for the first time.

What does shipping a car cost?

Anytime you ship a car the price will be different. This is because the final cost of shipping a car is calculated by the combination of several important variables. The most important factors in the determination of the price for car shipping are:

The demand for vehicle transport when you choose to ship
The cost of fuel at the time of your shipment
Exactly how many miles your car shipment is
Whether or not you chose premium shipping options
The overall size of your vehicle

With all of these factors in mind the cost of your car shipment will likely be between $0.60 and $2.00 per mile. So, if all things were equal and you were shipping a car 800 miles exactly, it would cost around $1,050. However, with all the above variables in mind, it is best to use a car shipping quote calculator to get the best idea of what your shipment might cost.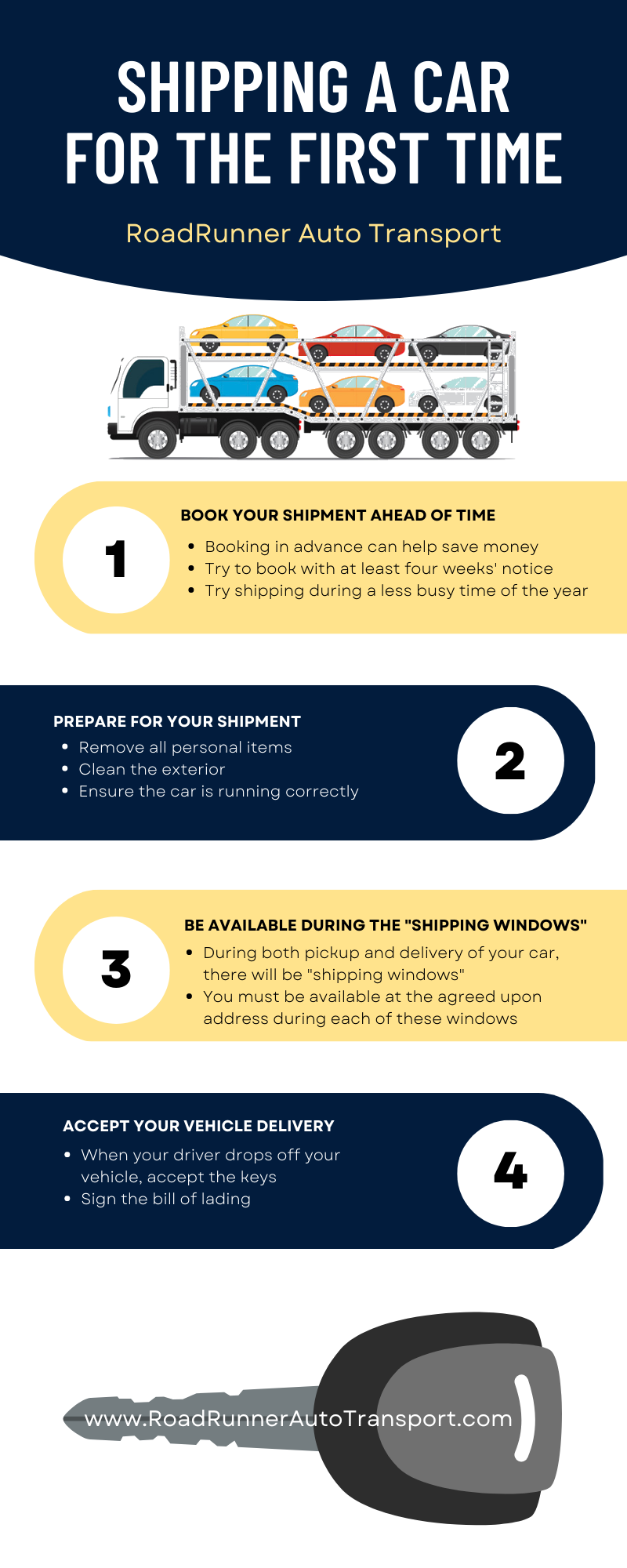 What will I need to do once I schedule my car shipment?

Once you have successfully booked and scheduled your car shipment, you will not need to do anything until a day or two before your pickup window begins. It is at that point which you will just need to get the exterior of your vehicle cleaned, ensure it is running correctly and you will also need to remove any and all personal items. Personal items could include sunglasses, hats, gloves, phone chargers or anything that is not a physical part of the car. If you leave anything like those items in your vehicle, it will still be shipped but if any items you left in the car get damaged or are lost, they will not be covered by insurance.

How long will my car shipment take?

The length of any given car shipment will depend on several different variables. These variables include the physical distance of your shipment, the traffic and weather along your shipping route as well as the time of year during which you are shipping your car. If you would like a more precise idea of how long a particular car shipment could take, use our instant and free car shipping calculator.

Do I have to bring my car anywhere in order for it to be shipped?

No, thankfully with car shipping companies such as RoadRunner Auto Transport, door-to-door vehicle transport is the norm. This means that your car shipper will pick your car up at your house and deliver it to the exact address of the delivery location. The only exception to this is when a pickup or delivery address is on a street that is too small for an auto carrier to maneuver, or local law/ordinances prevent the auto carrier truck from entering that street. If this is the case, your auto transport company will arrange a nearby place to meet you such as a shopping plaza parking lot.

How far ahead should I schedule my car shipment?

You should always schedule any car shipment at least several weeks in advance. We recommend scheduling your shipment with at least four weeks of notice. Doing so will help keep the cost of your car shipment lower and it will help ensure that you get your preferred shipping dates as well.

Can I ship anything with my vehicle?

Yes, you can ship personal belongings inside of your vehicle. However, the total weight of these belongings cannot be more than one hundred pounds, and they have to be left in the trunk, or in the backseats below the window line. Please keep in mind that you do so at your own risk, as personal belongings are not covered under insurance if they are reported as damaged or missing.

How does insurance work when I ship a car?

When you ship your car, regular auto insurance may not cover your vehicle for anything that happens to it whether it is damage or theft (Don't worry less than 1% of vehicle shipments get damaged industry wide!) This is because typical car insurance only covers your car for collision and liability if the specific individual that is insured is driving it when such things occur. They also cover you in a comprehensive manner for events beyond the insured driver's control such as weather damage, vandalism, and theft.

The problem is that insurance companies view your choosing to ship your car as within your control. Thus, if your car gets a scratch while shipping, your auto insurance may not cover it. You can choose to purchase additional coverage that will cover auto transport through your vehicle insurance, but it will be quite costly.

Thankfully, some car shipping companies provide additional coverage. This can easily be included with your shipment at a minimum additional fee of only about $50. If you have specific questions about what is covered through an auto transport company's additional coverage, just give them a call.

Will my pickup and delivery dates be exact times and dates?

When you ship a vehicle, you will receive a range or "window" of dates for both the pickup and delivery of your car when your auto transport driver could arrive. This is because the nature of car shipping does not allow shipping companies to guarantee exact dates and times. Unpredictable factors including traffic delays, weather delays and delays with other customers are what impact a company's inability to give exact dates/times.

What you need to know about car shipping

When you ship your car for the first time, there are probably several other things that you should be made aware of. One such thing is that you or someone that you know and trust who is eighteen or older, must always be available during both the pickup and delivery windows at the agreed upon addresses. This is because someone must be there in order to give/receive the keys and sign off on the bill of lading regarding the condition of the vehicle. These pickup/delivery windows will be a period of about two or three days each.

You also might not know that you have several options in terms of shipping method for a vehicle. When you ship your car for the first time, you will be able to choose from the following options for your shipment:

Open-air car shipping – Open-air car shipping is just another phrase for "regular car shipping." Your vehicle will get placed on an auto carrier truck that has two decks without a roof or any walls. This is the most frequently used kind of car shipping as it is also the cheapest kind of auto transport.
Top-loading – If you decide to have your car "top-loaded" during your car shipment, you are choosing to have your car shipped on the top deck of the carrier. Most of the people who choose this option do so because of the additional clearance it offers their vehicle off of the street level. This will cost about a hundred additional dollars.
Enclosed auto transport – Enclosed car shipping is when you choose to ship your car on a car carrier truck that will house the vehicles that it is shipping with walls and a roof. The advantage to shipping in an enclosed car carrier is that the carrier will offer complete protection from any outside elements such as weather or road debris. Choosing this method of shipping will add a couple hundred extra dollars to your overall cost.
Oversized vehicle shipping – As you might expect, this method of vehicle shipping is only for vehicles such as RVs or tractors that are too large to ship on a typical open-air car carrier. With oversized vehicle shipping, your vehicle will be placed on a special flatbed trailer likely without any other vehicles. This will cost a considerable amount more than shipping a typical passenger car but will be right in line with the price to ship an oversized vehicle as freight. It is often even cheaper.
Inoperable auto transport – If you have a car that does not run properly or at all, you will need to make use of inoperable car transport. When you choose this type of car shipping a special car carrier truck will pick your car up. This car carrier will use a winch in order to attach to your vehicle and pull it on rather than the driver driving it on which is obviously not possible.

Finally, be sure that you complete the preparation steps that were mentioned earlier prior to the start of your pickup window. When your auto transport driver arrives to load your car onto the car carrier, they will need to do a quick check for any damage that already existed prior to the start of shipping. The car shipping insurance requires that they do this so that people cannot attempt to make any false damage claims. If the outside of your car is not clean, your driver will still need to conduct their inspection but it will take much longer and your shipment will be slightly delayed as a result.
How to keep the cost of car shipping low

If you want to keep the overall cost of your first car shipment and any other future shipments you make low, you have a few specific options that will allow you to do so. Before you do anything else, you should try your best to ship during a time of the year that is less in demand for vehicle transport. When fewer people are shipping their cars during a given period, carriers and car shipping companies will be willing to ship cars at a lower price in an effort to ensure they end up with as few unpurchased shipping openings as possible. In most cases, the least busy times to ship your vehicle will be in the fall with the exception of the holiday season as well as in February into March.

Whether or not you are able to pick the time of year that you are going to ship your vehicle, it can end up saving you some money if you give advance notice to your auto transport company. This is also a supply and demand concept because when you are the first to book, prices for each spot on a car carrier will be at their lowest since it is unknown whether all spaces will sell at that point.

You should also forego any premium car shipping options such as enclosed car transport or top-deck transport otherwise known as top-loading. These options do offer their unique advantages, but they will raise your price at least a hundred dollars each.

Advantages of car shipping

There are several advantages that car shipping will offer over alternatives such as driving your car to its destination, towing it yourself or selling your car and buying a new one once you reach your destination. If you are considering driving your car to your destination, you will not be saving as much money as you think. Many people forget to factor in the cost of gas, lodging and food along the trip. On top of that, you will be putting several hundred or even thousands of miles on your car which definitely impacts the depreciation on the car and the overall resale value. You will likely also need to take valuable time away from work in order to make the trip yourself. When you ship your car, you will not need to worry about any of this.

Shipping your car with an auto transport company will also offer your car valuable protection when it is out on the road. When you are driving your car or even towing it using a dolly, it is still street-level and this makes it susceptible to small scratches, dings and chips from tiny road debris like small rocks kicking up off the road. When your car gets shipped on an auto carrier truck, it will be several feet off the ground.

Finally, shipping a car will save you a ton of money if the other consideration is to sell your car and then buy a new or used car when you arrive at your destination. In 2023 and beyond, the cost of buying a new car could easily be $40,000 or more. Even a reliable used car that runs well and is not too old might cost you $20,000 dollars. When you ship a car, you will only pay between $500 and $3,000 depending on the factors that were mentioned earlier like shipping distance, demand for auto transport at the time of your shipment, and which shipping options you selected.



Conclusion

Shipping a car for the very first time can certainly seem daunting. The thought of allowing someone else to be responsible for your car for hundreds or even thousands of miles can easily cause anyone anxiety. However, reputable car shipping companies have spent years and, in the case of RoadRunner Auto Transport, decades shipping vehicles. That kind of experience directly translates to expertise which means an efficient yet safe transport of your vehicle from pickup to delivery. If you have any questions about your vehicle shipment, want a free quote or are ready to book your shipment, give our automotive logistics experts a call at (888) 777-2123!