Jump to section:
The Basics of Car Shipping Insurance
Do You Need Insurance for Shipping a Car?
Auto Transport Insurance Requirements
Auto Transport Insurance Tips
How You Can Protect You and Your Car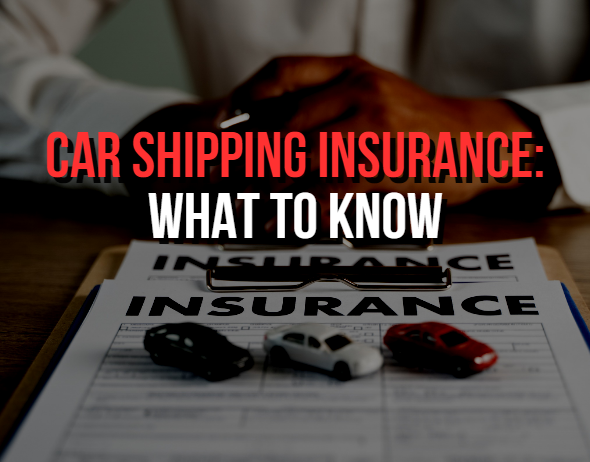 Shipping your car can come with challenges, but having the right car insurance can give you peace of mind. Let's take a look at what you need to know about car shipping insurance. From the basic requirements to the nuances of insurance types, we'll cover everything you should know to protect your vehicle during transport.
The Basics of Car Shipping Insurance

Car shipping insurance protects your vehicle while it is being transported, covering potential damages that might occur during the process. There are a few basics that you need to understand before choosing the right insurance for shipping your car.

Types of Car Shipping Insurance

Car shipping insurance typically comes in two types: primary and secondary. Primary coverage is offered by the car carrier itself, while secondary coverage is provided by your personal auto insurance company. It's crucial to understand the policy details of each insurance provider to ensure adequate protection during the transportation process.

Primary Insurance

Primary insurance is provided by the car carrier, covering any damage their service causes during transportation. Most reputable car carriers will have a cargo insurance policy, which should be included in their shipping quotes. It covers potential damage from accidents, theft, or natural disasters, based on the terms and limits of the policy.

Secondary Insurance

Secondary insurance, also known as supplemental insurance, comes from your personal auto insurance policy. Many personal auto insurance policies have a provision for car shipping, but it's essential to check your policy or contact your insurance provider to confirm whether they provide coverage during transport.

Do You Need Insurance for Shipping a Car?

The short answer is yes; insurance for shipping a car is crucial to ensure the safe transport of your vehicle and minimize potential financial losses in case of unforeseen circumstances. Here's why you should not overlook the importance of insurance when shipping a car:

Peace of Mind

Knowing that your car is protected during the transportation process will give you peace of mind, allowing you to focus on other aspects of your move or vehicle purchase. Accidents and unforeseen circumstances can happen, so it's better to be proactive and plan for the best protection possible.

Financial Protection

Should any damages occur during the shipping process, having the right insurance coverage will ensure the financial burden is not entirely on you. Insurance covers repair costs, minimizing the potential financial losses you may face in the case of vehicle damage during transit.

Requirements and Liability

Many car shipping carriers are required by law to carry minimum insurance coverage for the vehicles they transport. However, carriers might not always disclose their coverage, and the minimum amount might not be enough to fully protect your vehicle. Ensuring you have adequate insurance coverage holds the carriers liable for any damages, preventing further disputes and problems.

Auto Transport Insurance Requirements

One of the most important aspects of shipping your vehicle is ensuring you have the necessary auto transport insurance in place. This section will guide you through the essential insurance requirements and explain the steps you need to take to secure coverage.

Research the Carrier's Insurance – Before choosing a carrier, ensure you understand the insurance policy they provide. Ask them for the certificate of insurance, which will provide details of their coverage, including policy limits and exclusions. Make sure that you understand the scope of the insurance provided by the carrier, including the deductible that may apply in case of damage.
Verify the Carrier's Insurance – It's crucial to verify the legitimacy of your chosen carrier's insurance before shipping your vehicle. Online resources like the FMCSA's Licensing and Insurance Public Database provide a way to check your carrier's insurance filing status. You can also directly contact the carrier's insurance provider to confirm the validity of the insurance.
Review Your Personal Auto Insurance Policy – Your personal auto insurance policy may extend some level of coverage during the transportation process. Review your policy, and if applicable, make a note of the coverage, limits, and any deductibles. Inform your insurer when you're transporting your vehicle to ensure you follow any necessary procedures they have in place.

Consider Supplemental Insurance – If you find that your carrier's insurance and your personal auto coverage are not sufficient to cover the value of your vehicle, consider purchasing supplemental insurance. Talk to your carrier, independent insurance agents, or brokers who specialize in shipping insurance for guidance on the best supplemental coverage for your specific situation.
Thoroughly Inspect Your Vehicle and Document Its Condition – To expedite any claims process, make a note of the pre-existing condition of your vehicle, including any scratches or dents, before shipping. Take clear photos from all angles and ensure they are time-stamped. This documentation can serve as evidence in case of damage during transit and will be essential for the claims process.
Understand the Claims Process – Before shipping your vehicle, make sure you understand the claims process of your carrier's insurance and any supplemental coverage you have purchased. Familiarize yourself with the deadlines, required documentation, and contact information for the claims department. In case of damages during transit, acting quickly and having the necessary information can be crucial for a successful claim.
Average Costs for Auto Transport Insurance

Although the cost of coverage varies depending on several factors, understanding the average price range can help you budget accordingly. Generally, the average cost of auto transport insurance ranges from 1.5% to 2.5% of the vehicle's value. For example, if your car is worth $20,000, you can expect to pay between $300 and $500 for insurance coverage to transport it. This estimate is a broad range and will vary depending on various factors such as the distance, type of coverage, and specific carriers.

Distance plays a crucial role in determining the cost of auto transport insurance. Usually, shorter journeys pose less risk, resulting in lower premiums. On the contrary, longer distances entail more risks, including road accidents and theft, making the insurance cost higher.

Choosing a reliable carrier can mitigate the risk of damage and theft during transportation, leading to lower insurance costs. Reputable carriers are more likely to have better safety records and fewer claims, resulting in a lower overall insurance cost for their customers.

Auto Transport Insurance Tips

When selecting auto transport insurance, it's essential to make informed decisions and ensure appropriate protection for your vehicle. The following tips can help you navigate the process and secure the right coverage.

Understand your existing insurance policy – Before purchasing separate auto transport insurance, review your existing auto insurance policy to determine if it covers transportation damage. Some policies may include coverage for car transportation, eliminating the need for additional insurance.
Research carriers and brokers – Comparing various carriers and brokers can help you find the best insurance options and pricing. Look for companies with a strong safety record and customer reviews to ensure you're working with a reputable provider.
Get multiple quotes – Request quotes from different providers to compare costs and coverage options to secure the best value for your money. Review each quote to assess the policy limits, deductibles, and exclusions before selecting an auto transport insurance provider.
Understand the coverage options – Familiarize yourself with the different coverage options available, such as primary and secondary coverage, as well as any additional coverages like gap insurance or personal items protection. Understanding your options will help you choose the most suitable coverage for your needs.
Be proactive in documenting the vehicle condition – Before your vehicle is transported, take photographs and document its condition thoroughly, including any pre-existing damages. This documentation will be crucial in case you need to file a claim.
Review the Bill of Lading carefully – The Bill of Lading is an essential document that serves as a record of the vehicle's condition before and after transportation. Make sure to review it carefully and ensure that it accurately reflects your vehicle's condition. Signing the Bill of Lading without checking its accuracy is a common mistake that can make filing a claim more difficult.
File claims promptly If your vehicle is damaged during transportation, file a claim with your insurance provider as soon as possible. Provide documentation, including photos and copies of the Bill of Lading, to support your claim. Delaying the claim process can be detrimental to receiving a timely and fair settlement.
How You Can Protect You and Your Car
Regular Maintenance

Regularly maintaining your car not only keeps it in good shape, but also protects you on the road. Schedule tune-ups, oil changes, and tire rotations to ensure your car stays in optimal condition. Perform regular checks on your vehicle's fluid levels, brakes, and lights. A well-maintained car is less likely to malfunction, reducing the risk of accidents.

Car Alarm Systems

Investing in a good car alarm system is essential for vehicle protection. These systems deter thieves and vandals by making loud noises, flashing lights, and notifying you in case someone attempts to break in. Additionally, car security systems can also come with anti-theft trackers, making vehicle recovery easier in case of theft.

Car Insurance

Having the right car insurance policy will protect you financially in case of accidents, theft, or damage. It's essential to review your policy regularly to ensure it covers everything you need. By choosing a comprehensive insurance policy, you can be assured that you and your car are well protected from unexpected events.

Driving Safely

Adopting good driving habits will protect you and your car from potential accidents. Always follow traffic rules, stay within speed limits, and maintain a safe distance from other vehicles. Avoid aggressive driving and distractions, such as texting or talking on the phone while driving. Staying vigilant and aware while behind the wheel will greatly reduce the chances of harm to yourself and your vehicle.

Get More Car Shipping Advice (and Solutions) with RoadRunner Auto Transport

RoadRunner Auto Transport specializes in providing reliable and efficient car shipping services. Whether you need to transport a single vehicle across the country or a whole fleet of cars, RoadRunner Auto Transport is your go-to solution. Contact us today to get started.