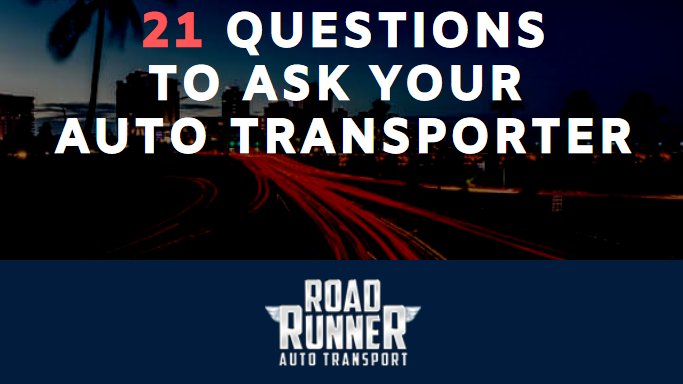 Jump to section:

Most people make the mistake of using only online reviews when choosing an auto transport company. Now, reading online reviews is an important and necessary step in the process but it's exactly that, just one step. You also need to contact your auto transport company ask them a series of questions to make sure that they're the right company for the job.

1) What does it usually cost to ship with you?

As a very general estimate, if you're going to ship a regular sized car from New York to San Francisco on an open trailer, you should expect to pay about $1,400 to $1,600.

There are so many variables to consider though. The distance you are shipping your vehicle, how soon you need it shipped, the time of year that you're shipping your vehicle, what kind of car your shipping, the type of auto transport you choose to use and more.

However, if you provide any car shipping company some quick info filling in those details, they should be able to calculate a pretty accurate quote for you.



2) What services do you offer?

Find out if they offer the shipping method that you are looking for. For example, if you have a classic car and want it shipped in an enclosed container in order to avoid scratches from and road debris make sure they are capable of accommodating that request.

If they only offer open air transport, odds are that they're a much smaller operation than you would want to be dealing with.



3) Do you have any references I can talk to?

A reputable car shipping company should be able to fairly easily provide you with real references. If they can't then they likely have a bad history with customers.

Consider the same situation with a person applying for a job who can't provide personal or job references, it's a red flag for a potential employer.



4) How do you accept payment?

A legitimate and reliable auto transport company should not ask for full payment before your car is delivered. Most will accept a full payment before-hand but it absolutely should not be a requirement. Many companies will, however, require a partial payment or deposit before the vehicle is shipped.



5) Are you a carrier or a broker?

The FMCSA (Federal Motor Carrier Safety Administration) warns not to trust companies that are aren't specific in regards their status as a broker or transporter.

The car shipping industry frequently makes use of brokers. Brokers take your order and choose the best carrier that can do the job efficiently and effectively while taking a small percentage of the total cost. Why are brokers necessary, you ask? The simple fact is that carriers don't always have time to find customers and a competitive broker can often get you a good deal.


6) How much notice do you require for delivery?

With standard car shipping you should normally give at least four to eight weeks of advanced notice. Quicker and expedited services are available but will cost an extra fee.

In general, when transporting your vehicle, you should give as much notice as possible. This could end up benefiting you both in cost and shipping duration.



7) What is your USDOT number or MC Number?

When you have a broker's or transporter's MC (motor carrier) or USDOT (U.S. Department of Transportation number), you will be able to find out detailed information about the company via the Federal Motor Carrier Safety Administration website.

The information you can find on the Federal Motor Carrier Safety Administration website includes:

Unsafe driving details – you can read all about the traffic violations that an auto transporter has committed and get an overall rating regarding their driving safety.

Vehicle maintenance – you will get information about any specific vehicle violations that an auto transporter has committed as well as an overall rating regarding this.

Driver fitness – you will be able to read about any driver infractions such as driving with a suspended license.

Crash indicator – you can see how many accidents an auto transporter has had in the past few years.

8) Can you send me a written copy of…?

Always ask for physical hard copies of all documentation during your transaction. This way the terms of your shipment can't be changed without your permission. It doesn't happen often at all but by asking this simple question you can effectively eliminate any possibility of it happening.

Also, if there's ever legal action taken by yourself or the carrier, you'll already have these documents ready which you'll need.



9) What is your customer service like?

This question is critical to your valuation of a potential auto shipping company. If They can't answer this question confidently and with ease, then avoid that particular company.

They should be able to provide specific information about their customer service such as a specific phone number, the hours customer service can be reached and how exactly customer service can help you if you are in a bind.



10) Do you offer door to door shipping?

One of the biggest reasons why people decide to transport their car is because of how much simpler and easier it is than driving the car themselves. Door to door shipping is an incredibly simple car shipping service where the driver will come straight to your house for pickup and delivery.

If they don't offer door to door shipping, then you will be responsible for getting your car to a central hub. These generally tend to be a few hours drive away. So, you'll likely want door-to-door shipping.



11) Will my car audio system be protected during transport?

The protection of your car audio system depends on the policies and the precautions of the auto transport company you are going with. It's recommended to inquire with the company about their specific procedures for securing and safeguarding your car's contents during transit.

12) Can I leave my personal items in my car during shipping?

Most companies won't allow you to do this. However, there are some companies that will allow you to ship a small amount of personal items as long as you keep the total weight under 75 pounds and the items below the window line.



13) How do you come up with your rates?

It's important when choosing an auto transport company to understand how they come up with their rates. There should be a pretty detailed calculation of: fuel cost, mileage, driver hours etc. You need to be sure that they just aren't pulling numbers out of thin air.


14) If I ship with you, what options do I have in terms of how quickly my car is delivered?

The auto transport company that you choose should have options for expedited delivery/shipment. These options will cost more but if you are in a bind for time, it will be well worth it.



15) Do I have to be there for my car's pickup and delivery?

You'll want to know if you need to be there yourself or someone else over eighteen can accept the pickup or delivery. The vast majority of car shipping companies will allow you to have anyone with a valid unexpired license accept the pickup and/or delivery.

This person will be responsible for giving the keys to the driver, signing and going over the paperwork as well as witnessing the inspection that the driver conducts. Most importantly, they will need to ensure that the damage the driver records on the bill of lading is accurate.

Even though most companies don't require you, personally, to be there, we recommend that you are there. This way you have the peace of mind knowing the pickup and delivery went as expected.



16) What do you need me to do to have my car ready for shipping?

An auto transport company will need you to do a few things prior to your car being picked up. This will include getting the exterior of the car cleaned, removing personal items/valuables from the car, making sure the gas tank is only a quarter full.

Each company will likely have some sort of slight difference in how they answer this. So, that's why it's important that you ask it and are prepared for your pickup accordingly.



17) What documents do I need to have ready to ship my car?

This will depend on which auto transport company you end up choosing. If you ship with RoadRunner Auto Transport, you will just need a valid and unexpired license.

However, if you do have any liens on the car, be sure to disclose this to your auto transporter of choice before you book your shipment. You could end up needing additional documentation regarding this.



18) Do you offer additional shipping options like enclosed auto transport or top load?

This is a more important question to ask than it seems, even if you don't plan on using these options. The reason being is that if they can't offer something like enclosed auto transport, they might be a really new company or a single auto carrier (someone who owns one truck) posing as a much larger operation.

Brokers do book shipments with single carriers fairly often, but that's because brokers know the business inside and out. They know who to trust and who not to. They know if the logistics for a particular shipment will work with an individual carrier or not based on several key metrics.

As someone who doesn't know any of this, you would essentially be playing a guessing game. You don't want to do that when it comes to the safe and timely transport of your vehicle.

We highly recommend you only book your shipment with a broker or carrier that have many shipping routes, drivers and options. Also, make sure they have a few years' experience under their belt.



19) How accurate are your quotes?

This is a tremendously important question. If the representative that you're talking to struggles or stumbles with this question, we recommend you find someone else to ship your car. They should be able to confidently tell you right away that their quotes are very accurate and might only be off from the final price of shipping by a small amount.

You should also beware of anyone who answers this by saying "a hundred percent accurate" because that isn't possible in the car shipping world. Car shipping quotes factor in several fairly unpredictable variables so it would be erroneous to claim that anyone can predict the final price with complete accuracy.

Asking this question can help you avoid bait and switch shipping scams where a supposed auto transport company will give you a quote that is way lower than any other competing quote. Then once your car has already been picked up they will demand an exorbitant amount of extra money to continue shipping under some faulty and trumped up guise.



20) How long have you been in business?

We mentioned the importance of this information earlier. If the company hasn't been in business for at least a few years, you really don't know what you're going to get. They could be professional, honest and good at what shipping cars. They also could be scam artists who will take your money, demand more money during the shipment and take forever to actually ship your car.

As mentioned earlier, be sure to check references from the company directly as well as online reviews on sites like Google.



21) Why is your company the best choice to ship my car?

This should be a "no-brainer" for the representative that you're talking to. This isn't just specific to car shipping either.

Imagine asking this question to a catering company or a landscaping company and they had trouble answering or gave you a roundabout answer that didn't specifically address the question. There's likely no chance that you would end up choosing them.



Conclusion

That's a long conversation you have ahead of you with all of those questions and answers. Consider, too, that you could be considering several auto transport companies for your car shipment. You'll need to ask each of them all of these questions.

We recommend taking notes during the calls, this way you'll be able to sit down and take your time when you compare the responses.

It might take a couple hours to get through all of this, but it will be worth it. You'll be making a well-informed decision versus a mostly blind choice. We doubt you would want to do the later when it comes to the safety of your vehicle and hundreds or even thousands of dollars.