Jump to section:
Job relocation 101
Shipping your car during a move for work
What relocation costs will your job cover?
Conclusion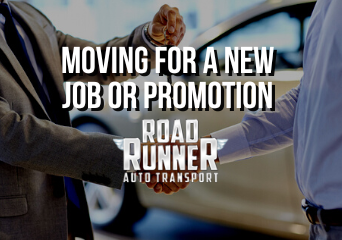 Job relocation 101

When you choose to make a long distance move for a job whether it is your current job or a new job, the most stressful and complex part will be the actual move itself. Even though getting used to life in a new city will be no easy task, packing all your belongings and coordinating their transport to your new home will be an intense time of stress for you and any family making the move with you.

You will need to officially change your address. This will entail getting a new license, changing your car insurance and registration details and more. If you are moving with children, you will need to change their schools. You will also need to close out any local subscription services or memberships which can include any gym memberships or recurring services such as landscaping.

Most importantly, you will need to find a reputable moving company and coordinate your move with them so that you can be in your new city with all of your belongings on time to start work. If you have friends that have moved in a similar situation, you can seek out their advice. However, we recommend that you check out reviews on trustworthy websites such as Google. You will be able to see an overall rating as well as specific testimonials describing past customer experiences. You should also get free quotes from each company that you are considering using for your move so that you can easily comparison shop.

Shipping your car during a move for work

If you are moving several hundred miles or more, driving your car that distance will likely not be ideal. Taking a relaxing flight would be much better and way less stressful. That is why you should put serious consideration into shipping any vehicles that you own during your move for work. Shipping your car will also be much easier and way less expensive than selling your car and then buying a new one upon your arrival in your new city. When you ship your car, you also will be saving yourself several hours if not a day or more of time that you could be using to focus on the rest of your move to your new city.

As far as how you can ship your car, the process is actually quite simple. You need to get in touch with your auto transport company to discuss, schedule and book your shipment. After that, you just need to do a bit of preparation for your shipment by removing any personal items and getting your car washed a day or two before it is scheduled to be picked up. At that point, you just need to be sure you will be at the agreed upon pickup and delivery locations during the agreed upon periods in order to give/receive the keys. You can find a completely in-depth guide on shipping your car here.

What relocation costs will your job cover?

When you are considering relocating for work, your company will likely agree to cover some of the costs of your move. Typically, this will be a bit of a negotiation. Regardless, this part of the process can save you thousands of dollars as long as you go about it correctly. What is most important is to hammer out the details of the compensation for relocation prior to officially agreeing to the actual job offer. If you do not, it will be easy for any company not to offer any help with your moving expenses.

Typically, many companies will have relationships with moving companies where they can get a new or current employee moved at a significant discount. The company will then cover most of, if not all of, the rest of the cost of the moving companies' services. Your company might also be willing to cover at least some of your auto transportation costs. Again, you need to bring this up in your relocation package negotiations.

Conclusion

Moving for a new job can be a bit of a bittersweet experience. On one hand, your career is advancing, and you are likely getting a nice raise in your salary. On the other hand, you will be picking up and moving your whole life and possibly even your family. Relocating for work will no doubt come with its share of stress and anxiety. However, you can keep the negative side to a minimum. You can negotiate with your company to compensate you for your moving expenses to minimize or completely eliminate the financial burden of the move. You can also choose to ship your car in order to save the time, effort and money that you would spend driving hundreds or even thousands of miles to your new city.