Jump to:
Why auto transport costs what it does
Distance
Type of vehicle
Fuel prices
Shipping time
Shipping method
Season
Beware of super low prices when shipping your vehicle
Conclusion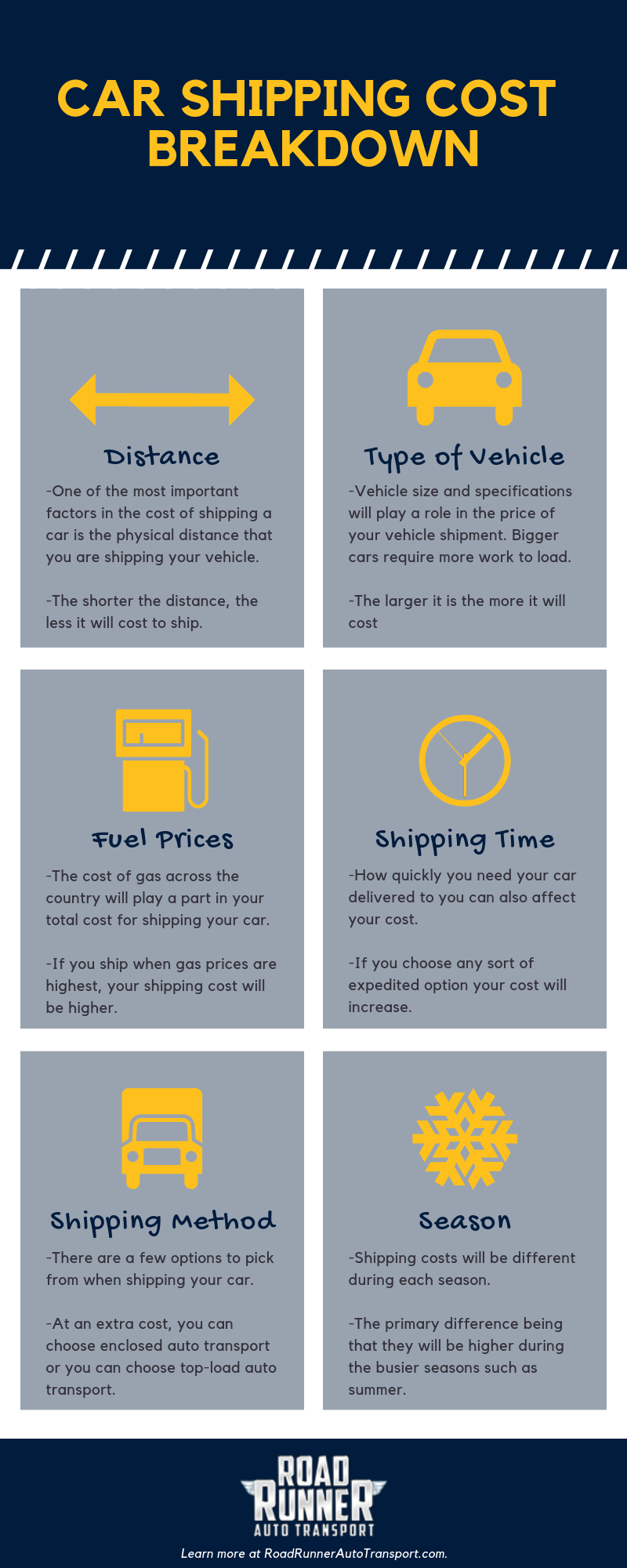 Why auto transport costs what it does

When it comes to determining the cost for a product, companies usually just figure out what the product costs them to produce then mark it up, so they can profit. There usually aren't too many unusual things that factor into the total cost of the product. It's mainly just the particular company's overhead cost plus the mark up.

However, vehicle transport is different. There are a bunch of different variables that factor into the cost of your auto shipment. The price you end up paying is carefully calculated using all of these different factors.

What are the "variables" that affect auto transport prices? Well, the primary ones are:

Distance

Type of vehicle (make and model)

Fuel prices

Shipping time

Shipping method

Season
Distance

Distance is the most obvious factor in the price of shipping your vehicle. Quite simply, the further you need to ship your car, the more it will cost. Keep in mind though that the other variables mentioned above could make a longer distance car shipment less expensive than a shorter one if they all fall into line together (E.g. time is no issue, it's during the fall, it's an average sized car and fuel prices are low).

Type of vehicle

The make and model of the car matters, for the most part, because different vehicles are different sizes. Thus, some cars require additional labor and handling if they're larger than usual and it will cost extra to ship these larger vehicles.

Fuel prices

As we all know, fuel prices fluctuate throughout the year. As demand increases for fuel in the summer months, the supply decreases. As a result, the price of fuel increases. That is one thing to consider regarding fuel prices.

However, you also need to consider that current global events at any given time can occasionally affect the price of fuel. Remember, about ten years ago, fuel prices in the United States rose to about four dollars and fifty cents during the summer of 2008. This had to do with the turmoil in the middle east at the time as well as the financial crisis the country was facing back then. Car shipping prices rose much higher than normal and it was a direct result of the sky rocketing fuel prices at the time.

Shipping time

We always advise anyone thinking of shipping their car to plan as far in advance as possible. This way you can avoid the additional cost of an expedited car shipment. You should also plan to be without your vehicle for between one and three weeks depending on how far you are shipping it. When you request any sort of expedited option, your cost will increase considerably.

Shipping method

Choosing an expedited shipping option, as mentioned above, can also fall under the umbrella of a shipping method. However, when you talk about shipping method with regards to auto transport, it generally means you are talking about things like enclosed transport, top load versus bottom load or air versus ground.

When you choose anything other than ground transport on an open-air carrier without a preference for top or bottom load, you will incur an additional fee or series of fees (depending on how many extras you choose). Not all of these fees are equal. For example, choosing to ship your vehicle via air will cost you thousands more than if you ship on the ground. However, if you choose top load over bottom load, it will only cost an extra hundred bucks or so.

Season

The time of year in which you choose to transport your vehicle will have a moderate effect on your final price as well. The season during which you ship can affect several things which will then have a direct effect on your cost to ship.

Carrier availability is one such thing. Depending on when you choose to ship, carriers may be in high demand and that would then drive the cost of shipping up. This generally tends to be the case during the summer months. Also, as mentioned earlier, fuel prices are affected by the time of year that you choose to ship. If fuel prices are higher, your price will also end up being higher.

Beware of super low prices when shipping your vehicle

You should also be aware of the bait and switch pricing scams. There are a few "fly by night" auto transport companies that will deliberately under-cut the competition by a wide margin, then when you ship with them, they will inform you of "additional fees" once your car is in transit. If you refuse to pay, they will hold your vehicle. It will take time and money with legal action to get your car back. So, when your looking for an auto transport quote you see most companies have about the same price quoted but then you see that one company has a quote for half the price of the next lowest quote – do not book with that company.

Conclusion

There's a bunch of different things that will affect the price of shipping a car: Distance of the shipment, the make and model of the car being shipped, the time of the year that you ship it, which method of shipping that you use to ship it, fuel prices during the time at which you ship it, whether or not the car is operable and more.

It can be nearly impossible to try and estimate an auto shipping price yourself with all these different things at play. That's why when you're interested in getting an estimate for your car shipment, any reputable auto transport company will give you a free quote. These quotes are pretty accurate as well. Sometimes, circumstances may change, and the quote might end up slightly lower than the final price to ship. However, you'll know this before you pay or have to hand your car over.