Jump to section:


Pay attention to when you are shipping
Skip the extras
Book in advance
Car shipping tips
Conclusion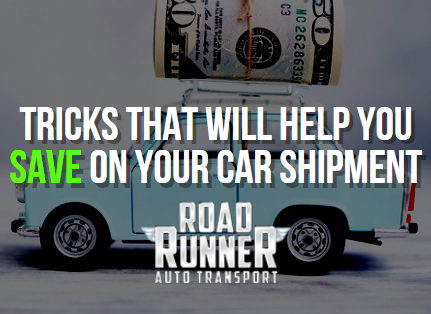 Pay attention to when you are shipping

When you ship your car, the price that you end up paying will depend on several factors. One of the most important of those factors is when you ship your car. Much like any other industry, the price of car shipping will increase as demand gets higher and the supply of car carriers decreases.

So, if you ship your car during a less busy time of the year, you will end up saving some money. The busy time of the year tends to be from the late spring through the duration of the summer. So, if you want to save some money by shipping during the less busy season, then we recommend that you ship in the fall through the early spring.

Skip the extras

Car shipping affords you several options when it comes to how your car is shipped exactly. The most common additional options are enclosed car shipping and top loading. Enclosed car shipping differs from regular car shipping because cars are shipped inside of an enclosed trailer that has a roof and walls covering the cars rather than an open carrier which offers no shelter from things like inclement weather.

Top loading essentially ensures that cars will be placed on the top deck of a carrier. This ensures that a possible fluid leak from another car will not damage yours.
The thing you need to understand is that the damage which you are preventing by choosing an enclosed carrier or top load is extremely rare. So, you can get the cheapest car shipping by choosing to forego these extra options which are far from necessary.

Book in advance

If you force your car shipping company into a rush, it will cost you. When a car shipping company needs to scramble to find a carrier, more work is required. It also costs more to book a carrier with such little notice. Thus, the price of your shipment will be higher if you book with less notice.

So, the earlier that you book your shipment, the more money you can end up saving. We recommend that you book at least two months in advance in order to see some savings.

Car shipping tips

When you do ship your car, there are a few things that you need to know first:

Watch the gas level – When you ship your car, your gas level should not be higher than a quarter of a tank full. Make sure that you take care of this before your car carrier driver arrives to pick up your car.

Clean the car – Upon arriving to pick up your car, your auto transport driver will conduct a visual inspection of your car. If your car is dirty, this will take considerably longer. So, make sure that your car is clean before your pickup date.

Check tire pressure – It is critically important that your car be completely operational during shipping. This includes not having any flat or deflated tires. Be sure that you check your tire pressure before your driver arrives because if you end up with a flat in transit, you could end up getting charged an inoperable vehicle fee.

Take your personal items – Any personal items that are left in your vehicle will not be covered by the car shipping insurance if they are lost or damaged. Take all things out of the car before it ships. This includes glasses, wallet, jewelry etc.

Disable the alarm – If your car alarm starts to go off when your car is in the middle of shipping, your driver will have no choice but to manually disable it. In order to avoid this, you should disable your car's alarm before your car is picked up for shipping.
Conclusion

Saving money on your car shipment should not be your only objective, but it should be one of them. Saving on your shipment is actually quite easy when you know what you are doing. It is as simple as skipping extra options and booking as early as you possibly can. If you have any questions or would like a free car shipping quote, you can always call RoadRunner Auto Transport seven days a week at (888) 777-2123!