Jump to:
Dates are estimates
Plan ahead
When exactly should I ship my car?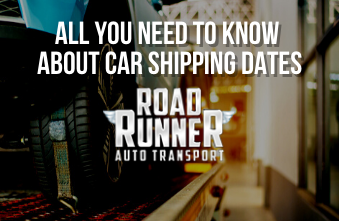 Dates are estimates
When you ship your car, you will be given dates for the pickup and delivery of your vehicle. It is important to know that these dates are just estimates which are based on a few factors. Some of these factors can have unpredictable changes that affect the duration of car shipping transit.

For example, traffic and weather at the time of your shipment cannot be 100% accurately predicted. If you schedule your shipment for over a month from now, it will be tough to know if weather might impact the duration of your shipment in any way.

The vast majority of shipments are delivered within a day of the estimated delivery date. However, these deliveries are generally given a three-day delivery window for a reason. Sometimes it might be more than a day off based on the factors that your carrier does not control. Plan to be available throughout your delivery window or to have someone around that can be.

It is also important to realize how seriously we take your shipment and how hard we and your drivers strive to get your car delivered on time. It only makes sense that we want nothing more than to get your car there on the exact delivery date you were originally quoted. Happy customers become repeat customers. That is exactly what we want you to be, and we know that the best way to do so is by making the timeliest delivery of your vehicle is the best way to do that.

Plan ahead
You should always plan your car shipment as far in advance as possible. It gets more complex to ship a car within an estimated time frame the less notice that a customer gives regarding their shipment. It can obviously still be done, but the slight chances that it won't, will increase a bit.

You will increase the chances of getting the shipping dates that you want by scheduling your shipment in advance. We recommend that you do so at least a month ahead of your shipment.

You will also need to figure out who will be there when your car is picked up and who will be there when it is delivered. Anyone with a valid driver's license age eighteen or older can be there for the pickup and/or for delivery of your car. You personally can do both if you want but this can sometimes be difficult considering how tough it can be to be at the point of origin for the pickup then, days later at the destination. If you do choose someone else, be sure it is someone you trust and that they know what they are doing. If they are unsure of something regarding auto transport, they can refer to this guide.

You will also need to plan to be without your vehicle for at least a few days up to a few weeks, depending on how far you are shipping it. During this time, and depending on your individual situation, it might be more beneficial to use ride-share apps like Uber and public transportation, or it could be better to rent a car. Typically, if it is just a few days that you need to get to work, ride-share apps/public transport will work just fine and won't cost you too much. If it will be over a week's time to ship your car, you might want to consider renting a car.

For reference, here are some general estimates of car shipping durations. Remember, these can vary based on several things including season, carrier availability, traffic, road conditions and more.

Cross country shipments generally take up to twelve days.
Long distance shipments between 1,300 and 2,500 miles generally take up to ten days.
Medium distance shipments between 600 and 1,300 miles generally take up to seven days.
Short distance moves between 100 and 600 miles generally take up to three days.
When exactly should I ship my car?
You can ship your car at any point during the year. However, there are times when it is much busier in the car shipping industry. Thus, it will take a little longer and cost a little more to ship your car during those times.

Typically, the best time to ship a car is in the fall. The busiest time is in the summer. This is because many people choose to ship their car to extended vacation destinations. The spring is less busy than the summer as well. The winter can be hit or miss because many retired people choose to vacation in the south during this time and many ship their cars there. As long as you book your shipment with a decent amount of notice, you will not have issues booking your shipment for the exact date you prefer.

If you do choose to ship your car during the least busy season in the fall, odds are that your shipment will be cheaper than if you shipped your vehicle during any other season. It could also take less time to ship, but remember that there is a level of unpredictability when it comes to estimating shipping times during auto transport.