Table of contents: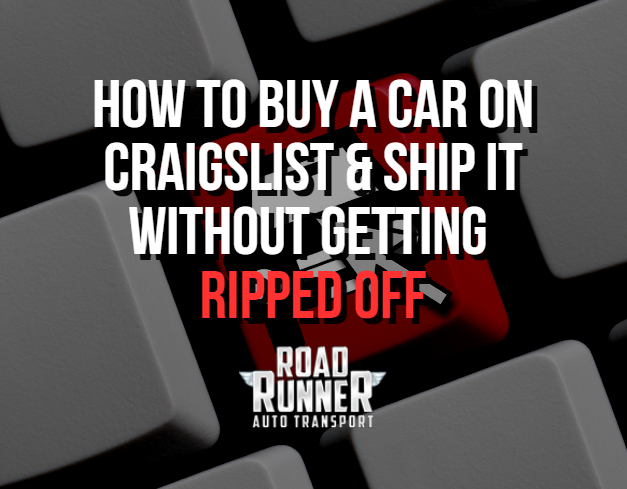 Buying a car from craigslist
Buying anything from craigslist can be tempting for many people because you can often find the best deals on used items such as furniture, the number of listings is quite robust, and the site is incredibly easy to use and understand. However, it is a "buyer beware" situation. It is easy to end up with something that ends up not being what it was built up to be in the posting on craigslist. So, you should do your homework and exercise caution when buying something from craigslist. A used car is certainly no exception to this.
The process of buying a car off craigslist
The process of buying a car off craigslist is a pretty straightforward one. You should start by deciding what make/models of cars you are open to purchasing, setting a maximum price you can pay, and deciding what specifications are most important, such as the mileage, condition of the car, how many previous owners it has had, and so on.
You can search craigslist for cars once you have decided on these things. You should start by searching through areas that are more local to you so it will be easy for you to go and check out the car and eventually pick it up if you decide to purchase it. For example, if you live in Long Island, New York, check craigslist Long Island first and then expand using the "Nearby CL" at the bottom of the screen. In this specific case, you will see options for New York City, North Jersey, and Connecticut, among others.
If you haven't found much to your liking on more local craigslist sites, you can essentially expand your search to any craigslist US site. This is because, as long as you are willing to pay extra, having the car inspected for you as well as having it shipped to you are both options that are easy to set up.
When looking through the listings, do not stop after you find just one potential good fit. Find several more in case something goes wrong with that listing, such as the car already being sold. In a way, this is a version of comparison shopping, which is something you would normally do when making such a big purchase/decision.
Once you have chosen a few listings you want to "kick the tires" on, you should contact the seller and express your interest in buying the vehicle. Sometimes, they will only have an email listed; for others, you can email, text, or call. Either way, once you finally contact the seller, you should ask any pressing questions immediately.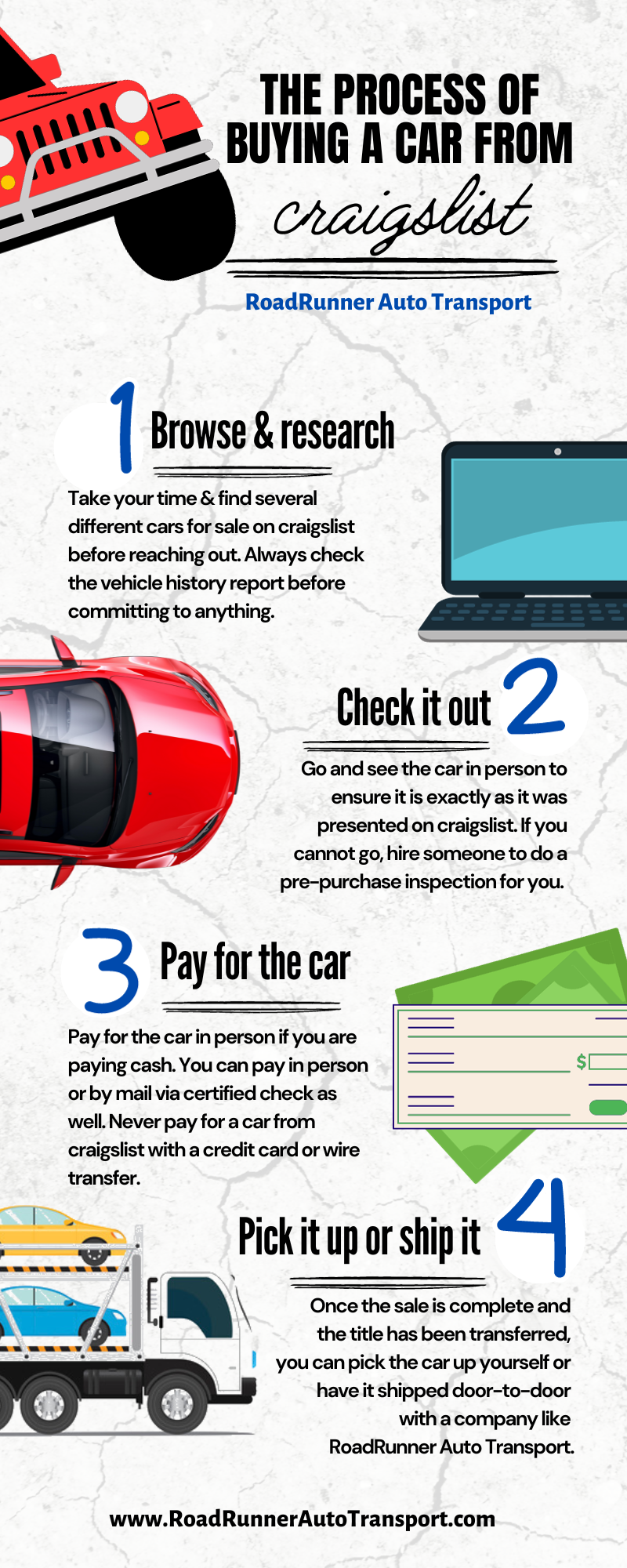 Questions to ask when buying a used car on craigslist
Some questions you should consider asking when buying a craigslist car are:
Does the car have any current and/or new issues? – This is a critically important question to ask the seller because new issues can easily not be reflected in vehicle history reports such as Carfax. If there are new issues, ensure they go into as much detail as possible and then ask if these issues will be fixed before the sale. Never take the seller's word that they will fix or pay to fix an issue after you buy the car, as nothing is binding them to that then.
How many owners has the car had? – Typically, the more owners that a car has had, the more wear and tear there will be on the interior, exterior, and mechanical components such as the engine. With more previous owners, the higher the possibility is that one or more of them did not take good care of the car.
Can you provide service records? – Ask them if they can provide service records for the vehicle. They should be able to pretty easily. If not, ask them if they can provide you with a vehicle history report; if they cannot do either, that is a major red flag, and they are likely trying to hide something.
Is the interior of the car in good shape? – Often, there will be more than enough photos of the car's exterior but only a few of the interior, plus these pictures might lack the right level of detail. So, ask them if the interior has any stains, rips, or holes. Always feel free to ask for additional pictures of the car as well.
Is the car under any warranty? – See if the car is under any warranty. Suppose it is, and the warranty is transferable. In that case, this is added value for you, making the car more attractive to buy, and could be a deciding factor if you are considering any other vehicles.
Are there any liens or other financial issues related to the car currently? – See if the car has any liens on it from previous financing before buying it. If there are or the seller cannot provide proof that there aren't, then do not buy that car. Unfortunately, sometimes, people who cannot pay off their car financing will try to quickly sell their car to make some money, knowing the car will inevitably be repossessed. You do not want to pay for a car that will end up being towed out of your driveway in the middle of the night to find out several thousand dollars is required to release it.
Why are you selling the car? – This might be the most important question of them all when you are buying a car on craigslist. If the seller cannot quickly and confidently give you a good yet specific reason why they are selling the car, consider that a red flag. For example, "I am moving and will buy a new car after I arrive at my new home" is a good reason, while "I don't like it anymore" is not a good or specific reason to sell a vehicle.
Checking out the car and buying it
Once you have asked these questions and are satisfied with the answers, you should schedule a time to check out the car or have it inspected. You can typically set this up on the same day or week as your initial call. However, if the car is located far away in another state and you need to hire someone to inspect it for you, you will likely need to schedule this for at least a week ahead since inspection services have fairly busy schedules at times.
If you or someone you hired has inspected the vehicle and it is up to your standards, you can express your interest in buying it. Before you agree to anything, see if they are open to negotiation. It may not save you much, but maybe they are willing to pay for shipping the car or something like new tires. More often than not, the seller will not be willing to negotiate, but it is worth a try.
At this point, you should arrange your payment with the seller. It is very important that you only pay with cash or a check. More importantly, ensure the car and its title are signed over to you as soon as you pay. If you are paying by check, consider doing so by certified check because a regular personal check might not be acceptable to the seller as there is the possibility that it could bounce after they have signed the car over.
How to buy a car on craigslist out of state
As was mentioned before, you can easily buy a car from out of state on craigslist. In fact, looking for craigslist used cars for sale by owners in other areas of the country will afford you the greatest opportunity to find the very best deal. You should go about the process the same way you would if you were considering buying a car from craigslist that is located a mile away from you. The only issue is how you will check the car out and, if all goes well, how you will get it home after buying it.
Well, you can either travel to whichever state and do these things or hire someone to do them for you so that you do not need to spend much time and money traveling there yourself. Vehicle inspection services will travel to almost any address you give them within any state and inspect the car for you. In general, the cost for this type of service will range between $100 and $300.
You can also choose to have the car shipped home after buying it. Most car shipping companies, including RoadRunner, will ship the car door-to-door so that you do not even have to leave your house. You will need to ensure that the seller will be willing to do some very easy preparation for the car's pickup, including being available for the pickup window of about a day or two to hand over the key to the car carrier driver.
The cost of shipping a car that you bought on craigslist will vary depending on multiple factors. This includes the total distance of your shipment, how busy auto transport companies are during that time of year, which shipping options you selected, the cost of fuel, and more. Typically, you can expect shipping a car you purchased from craigslist to range between $750 and $3,000. For example, you should likely choose enclosed auto shipping if you were transporting craigslist classic cars to give them maximum protection during shipping. However, for each car shipped with enclosed transport, the cost is about an additional $500 – $700.
What to do after buying a car on craigslist
Once you have officially bought a car on craigslist with the payment made and the title signed over, you will need to do two things: go through the motions of having it inspected, registered, insured, and get the car home.
Driving a car that has not been inspected, insured, and registered with, at minimum, temporary plates attached in any state is never legal. So, you will have to get the car insured first, which you can do even before the car has been officially purchased. Then, you will need to get the car registered, for which you will need a different combination of documents depending on the state you are registering it in. Typically, to register a car, you will need:
The signed-over title
Proof that the vehicle is currently insured
Proof of inspection (you can get this done before buying it as well)
Some states will require emissions standards testing documents
Regarding getting the car home, you can pick it up yourself. You can also ship the car home, as we have mentioned previously. Picking the car up yourself could be a bit trickier because of the inspection, registration, and license plates, so put strong consideration into shipping the car so you can go about those other steps at your own pace.
Finding cheap cars on craigslist
The biggest reason that people look to buy cars on craigslist is to find a "deal." This means they want to save money and find a cheap car on craigslist. Thankfully, it is incredibly easy to find the cheapest cars on craigslist in a particular geographical area simply by filtering the results.


How to filter craigslist results by price
One of craigslist's great and easy-to-use functions is that you can filter your results by price. Specifically, when you are looking at cars on craigslist, all you need to do to filter the results by price is:
Move your cursor to the menu on the screen's left side.
Find the section titled "Price," which will be towards the top of this menu.
Enter your minimum and maximum prices in the spaces labeled as such.
Hit the "Enter" key to see the results.
Craigslist cars under $3,000
You might be able to find craigslist cars and trucks for under $3,000 that will run and get you from point A to B for a few years, but that will be just about it. Expect exterior and/or interior damage and for the model year to be fifteen to twenty years old or more. Unfortunately, in 2023, the average price of a used car was just under $20,000, according to Cars.com. So, you should manage your expectations and realize you will not find anything great for less than one-quarter of the average price.
Craigslist cars under $1,000
Apply everything we mentioned above for "cars under $3,000," but know that the downsides mentioned will be more extreme when you seek "cars under $1,000." These cars are also in even shorter supply than the already rare car under $3,000. These are typically not the cars craigslist has to offer.
Craigslist cars under $500
You cannot find a reputable running vehicle on craigslist for under $500. Any cars on craigslist that you will find for $500 or less in 2023 will not have a running engine or a laundry list of extremely expensive issues to repair. So, you might ask, "Why would someone even sell a car in that condition on craigslist instead of getting it junked or salvaged?"
They may not be able to get it to the salvage yard alone and do not want to pay the fee to tow it. They might be looking to sell it to someone capable of towing it themselves so that they can make a few dollars by junking it directly. It is also possible that it is more of a vintage or classic car that someone might be interested in fully restoring on the cheap. Otherwise, cars under $500 on craigslist do not exist.
How to avoid being ripped off when buying a used car on craigslist
The biggest thing that most people worry about when shopping for a used car, especially online and on craigslist, is that they will be ripped off and/or the vehicle will not be what was advertised. So, when you start shopping for a used car on craigslist, use the following tips to ensure that you are not ripped off:
Never buy the car without looking at it or having it inspected in person – Obviously, you should always ensure that you or someone you trust checks out the car before you agree to anything. You can also pay to have someone impartial inspect the car and send you a detailed report with photos.
Never buy a car with repairs promised after purchase – Be sure that the seller you are purchasing the car from does not ask to have outstanding issues with the car repaired after they have received your payment. Nothing is binding them to get anything fixed once your payment has been made.
Always test-drive the car – It is rare, but some cars might have clean histories, look great, and run poorly or at least worse than you had thought. Always test-drive any car before you buy it.
Watch out for shady practices – Some sellers of used cars online on sites such as craigslist will do shady things to trick potential buyers into purchasing a vehicle that they normally would not have. For example, some used car dealerships will pose as private sellers on sites like Craigslist to sell to people who refuse to buy through a dealership. Always do your homework and check the paperwork details; something in there will expose any dealers trying to do anything like this.
Top ten craigslist cities to buy cars in
The following are the top ten US craigslist cities to buy cars in:

Conclusion
Buying a car on craigslist can be a great way to find an incredible deal on a car. It can also be an easy way to end up being ripped off. When considering buying a car on craigslist, you must do your due diligence. This will include comparison shopping, checking vehicle history reports for each car you are considering buying, asking the right questions of the seller, checking out the car in person or having it inspected in person, and more. Once you have gone through the process and have found a car that you know is what it was advertised as and you are comfortable with it, you can buy it. After that, you just need to decide whether you will pick the car up yourself or have it shipped home with an auto transportation company like RoadRunner Auto Transport.
FAQs
How does buying a car on craigslist work?
Buying a car on craigslist is quite easy. You just need to find a car that you are interested in buying, check the vehicle history report, contact the seller and ask the appropriate questions about the vehicle, arrange a time for you or someone else to check out/inspect the car in person, arrange payment and then figure out how you will get the car home if it is located an extended distance away from you.
How to pay for a car on craigslist?
You should only pay for a car on craigslist in person and only once you have seen the car, its vehicle history report, and the signed-over title. You should never pay for a car on craigslist with a credit card or wire transfer. Always pay in cash or with a check. The seller may require a certified check to ensure it will clear as soon as it is cashed/deposited.
How do I buy a car on craigslist from out of state?
You can buy a car on craigslist from another state. Most of the process is the same as buying a car from craigslist in the same town you live in. The only difference will be the additional effort/money required to get the vehicle home to you. You will either need to take the time to travel to it to then drive it all the way home, or you can pay an extra few hundred dollars and have it shipped home to your door.
How much does it cost to ship a car I bought on craigslist?
The cost of shipping a car you bought on craigslist will range between $800 and $3,000 in 2023 based on multiple variables. These variables include the demand for car shipping when you are shipping the car and how much gasoline costs per gallon at the time of your shipment, the total amount of miles in your shipping route and more.