Table of contents: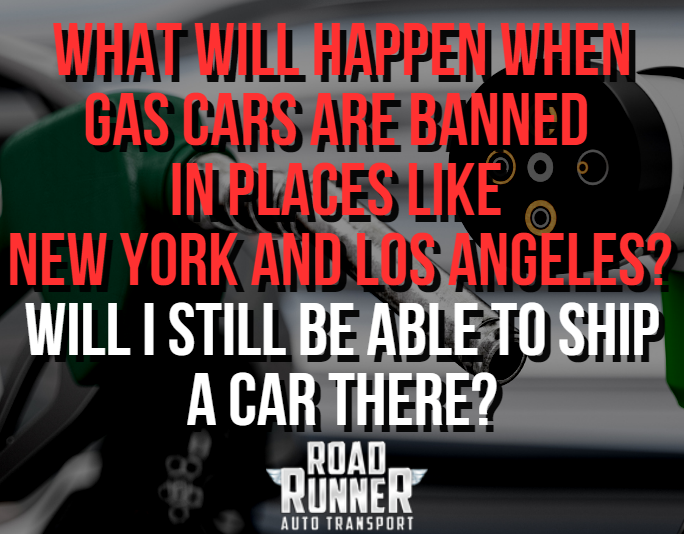 Everything you need to know about gas car bans in the US
Several states have already signed legislation into law that will ban new gas car sales starting in 2035. Several of these bans will greatly impact the automotive industry, the environment, and more.
The reasons for gas car bans
Let's start by breaking down the reasons for these bans. They are essentially the beginning of grandfathering out gas cars completely a few decades into the future. The primary reasons for an increasing number of states to enact these gas car bans are:
Less pollution – Many electric cars cause a fraction of the pollution that gas cars do if any at all. Fully electric cars (not hybrid vehicles) do not use a tailpipe; thus, they produce no harmful emissions such as carbon dioxide.
Climate change concerns – Global warming has increased largely due to the emission of greenhouse gases from various sources. One of those sources is vehicle engines burning fossil fuels. Approximately one-third of greenhouse gases are emitted from vehicle engines. Fully electric cars emit only half of these pollutants. So, if all vehicles were electric, we could reduce greenhouse gas emissions by approximately 15%.
The recent increase in wildfires – Several recent wildfires have been thought to have been started by gas cars. When you park a gas-powered car over dry grass or brush, the catalytic converter and/or the rest of the exhaust system operate at such a high temperature it can cause the grass and/or brush to ignite. Electric vehicles do not have nor need either of those components, so it is extremely unlikely they will start a wildfire.
How these gas car bans work and what exactly will become illegal
The first thing that you should know about the future gas car bans in several states is that they do not ban gas vehicles from being on the roads within a state with a ban. These bans simply prohibit the sale of any new non-zero emission cars within that state. So, you can still buy gas-powered used cars from dealers or private sellers. You can also buy a new gas car from out of state (in a state without a ban) and register it within your own state for use in that state, as actual emission standards will not be affected by this law.
What other effects will the gas car bans have?
It is expected that gas stations within these states will not see enough of a decline in business to have a significant number of them shuttering until several years after the ban goes into effect or more. Eventually, gas stations could become considerably scarcer within these states, but likely not noticeably until 2040 or later. However, you can expect a significant increase in the number of charging stations for EVs available long before the ban goes into effect in 2035.
The increasing use of electric cars over gas cars can also lead to lower gas prices due to a drop in demand. However, this means state and federal governments will lose important tax revenue. Thus, the gasoline tax could be increased on a state level, federal level, or both, which would decrease the total savings you might see on the overall price of gasoline. This shift towards more electric vehicles on the road could potentially significantly strain the electrical grid. This means that black and brownouts could be slightly more likely in areas where a lot of electricity is being consumed, such as California, when temperatures are high and people use air conditioning frequently.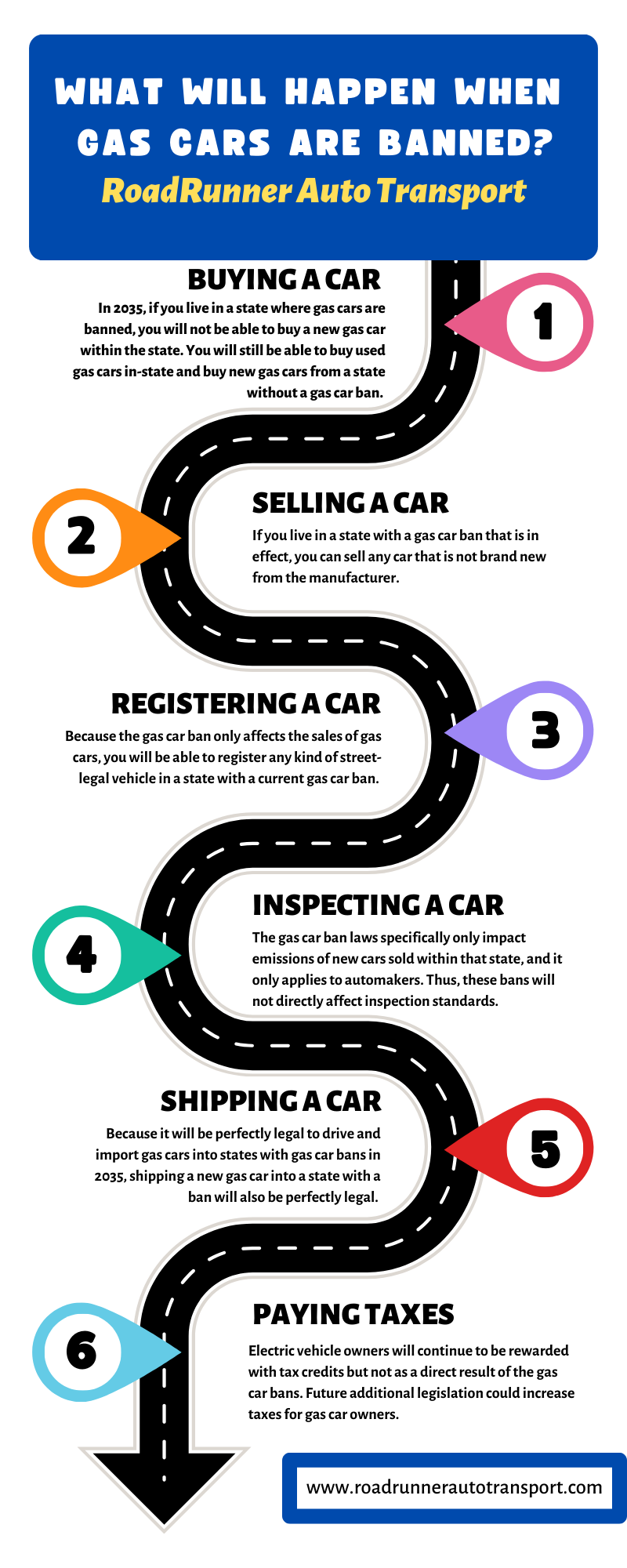 Gas cars vs electric cars
When comparing the positives and negatives of gas and electric cars, there are several key areas that you should consider. This includes the cost of owning either one, how far you can drive, the availability of gas stations versus charging stations, the environmental impact, and the performance of both types of cars.
Ownership cost
The cost of owning a gas-powered car versus an electric car can be broken down into two major considerations: the short-term cost of purchasing one and the long-term cost. When you look at only the current cost of buying a car, buying an electric car is considerably more expensive.
However, you likely stand to save money in the long term when you choose to buy an electric vehicle. Electricity is much cheaper than gas, so experts estimate you can save between $750 and $1000 on average each year when you own a fully electric car over a gas vehicle from just the savings on not using any gas. Gas cars also require more maintenance and require it frequently, which will increase the amount of money you need to continue to put into the car.
Maximum driving distance
Overall, the distance you can drive in electric cars maxes out at about half that of a gas-powered car. This is a fully charged EV versus a typical gas car with a full gas tank. As technology becomes more advanced, this can change in the future. But for now, gas cars are superior for longer-distance driving.
Availability of gas stations versus charging stations
In 2023 and the near future, there will be considerably more gas stations available than EV charging stations. This is because gas cars still comprise the majority of cars driven out on the road. As we get closer and closer to these gas vehicle bans taking effect, the number of gas-powered vehicles on the road will decrease while the number of electric vehicles on the road will increase. This will directly lead to fewer gas stations and more charging stations.
Environmental impact
The fact that carbon emissions from gas cars are at least twice as much as electric cars means that gas cars cause much more air pollution. If reducing your carbon footprint and the harm you do to the environment is your top priority, electric cars are the way to go.
Driving performance
Electric cars possess a lower center of gravity, which directly increases handling, responsiveness, and safety. Electric cars' motors also generate instant linear torque, which gas cars cannot and will likely never be able to.
There are other less important factors to consider as well. This includes the amount of time it takes to refuel a gas car versus how long it takes to charge an electric car, the variety of vehicle makes and models to choose from, and more.


States where gas cars will be banned
Each of the following states has pledged to ban the sale of any car with higher than 0% tailpipe emissions:
California
Connecticut
Maryland
Massachusetts
New Jersey
New York
Oregon
Rhode Island
Washington

Will you still be able to ship gas cars into a state with a gas vehicle ban?
As we mentioned, after 2035, you will still be able to buy gas-powered used cars within your state from dealers and private sellers. You will also be able to buy new gas cars from out-of-state in states without a ban in effect, and then you can still register it in a state with a ban in effect. However, you might not want to take a trip of several hundred miles or more to pick up a new car. So, you might consider shipping your new car into your state. But you might be wondering if that will be allowed.
The answer is yes; you will still be able to ship new or used gas-powered cars into any states with gas car bans after 2035. This could change if further, more strict legislation is drafted into law eventually, but not any time soon.
Conclusion
Many people hear "gas car bans" and assume that driving a gas-powered car in 2035 and beyond in the states where these bans are in effect will be illegal. Some even think that these bans will mean the confiscation of gas cars within these states. Neither is true. The upcoming gas car bans in 2035 in several states simply mean that selling new gas-powered cars will be illegal from 2035 on in those states. You can still buy used gas cars within those states or import new gas cars from states without bans whether you ship the new car there or drive it.
FAQs
What states are banning gas cars?
The states confirmed to have a gas car ban in place starting in 2035 are California, Connecticut, Maryland, Massachusetts, New Jersey, New York, Oregon, Rhode Island, and Washington.
Will gas cars be worthless in 5 years?
Gas cars will be far from worthless in 5 years. They will be losing value via depreciation, but you can still buy a new one in all 50 states until 2035. However, with looming bans in several states, demand will inevitably drop; thus, the price people are willing to pay for one will, too.
What will happen to gas cars after 2023?
Gas cars will continue to be produced, purchased, and driven for years after 2023. Gas car bans do not go into effect until 2035. As of September 2023, only nine states are committed to these bans at that point. Plus, these bans only prohibit the sale of new gas cars within these states. It will still be legal to drive gas cars in those states, buy used gas cars within those states, or import new gas cars into those states.
Can I ship new gas cars to a state where they are banned after 2035?
Yes. You can ship new gas cars to a state where they are banned because these bans only affect automakers & sellers within a state where bans are in effect. Individuals can still buy new gas cars from out of state, bring them to, register them in, and drive them in states with gas car bans taking effect in 2035.