When shipping your vehicle to a different location, having the right insurance coverage can give you peace of mind. However, understanding auto transport insurance can be confusing. This article is a comprehensive guide to transport insurance covering everything from how it works and types of policies available to factors affecting insurance costs and why it's important to have auto transport insurance.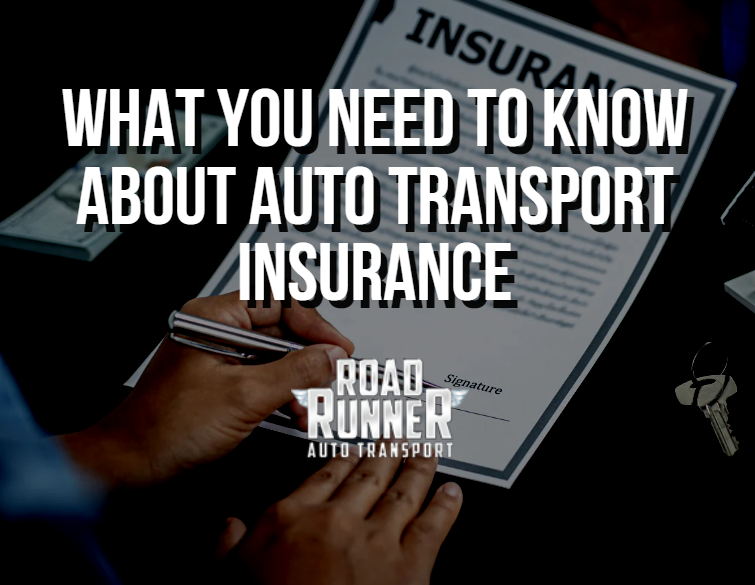 How Auto Transport Insurance Works

Transport insurance is vital for individuals and businesses dealing with shipping vehicles. In particular, auto transport insurance, a sub-category of cargo insurance, is essential for ensuring your vehicle is protected during transportation.

Transport insurance typically covers damages to your vehicle while a transport company is shipping it. Car transport companies are required to provide basic liability insurance with the cost of shipping, but they also offer additional coverage options during the booking process. Adding comprehensive insurance provides more extensive shipment coverage for any damages not covered under liability insurance.

Liability insurance is an essential aspect of auto transportation. Transport companies should have a liability insurance policy that covers damage to other vehicles or property due to an accident involving their transport equipment. This type of coverage is critical for protecting all parties involved.

When selecting a transport company for your vehicle, it's essential to ensure they have the appropriate levels of cargo insurance coverage. Choosing a carrier with inadequate cargo insurance coverage could lead to additional out-of-pocket expenses in the event of damage during transit.

Sometimes, your existing car insurance policy may provide coverage during vehicle transport. However, it's best to check with your car insurance provider to determine whether your policy offers the necessary protection for auto transport.

Work with a reliable transport broker to ensure the best car transport experience possible. A competent transport broker will partner with reputable transport companies and verify their insurance coverage on your behalf, providing your vehicle is protected throughout the transportation process.

Additionally, auto insurance is essential for a transport company. Car carrier insurance can cover any damage during the loading or unloading of your vehicle, including damage caused by operator error or the typical risks associated with vehicle transportation.

Can you transport a car without insurance?

While it might be technically possible to transport a car without insurance, the high level of risk involved makes it a poor choice. Instead, always ensure a valid insurance policy when transporting a vehicle to eliminate financial and legal risks.

You'll be held financially responsible if any harm comes to your vehicle during transport without insurance coverage. This could mean paying for repairs or replacements out of pocket, which can significantly strain your budget. Furthermore, attempting to transport a car without insurance can lead to legal complications. Some states and countries require proof of insurance.

Types of Vehicle Transport Insurance

Car shipping companies offer various types of vehicle transport insurance to ensure adequate protection for your vehicle during its transportation. Understanding the differences between these insurance policies is crucial for making an informed decision when choosing a car transport company. This section will discuss carrier, primary, and broker insurance and provide insights into what these policies cover and the factors that affect vehicle transport insurance costs.

Carrier Insurance

Carrier insurance is the most common vehicle transport insurance offered by auto transport companies. As required by law, all carriers must have insurance coverage to protect the vehicles they transport. This insurance policy covers any damages that may occur to your vehicle while it is in the carrier's possession, such as during loading, unloading, or while in transit. Some carriers may have additional insurance requirements, but at a minimum, a car shipping company must meet the federal cargo insurance coverage standards.

Primary Insurance

Primary insurance, also known as vehicle transport insurance, is the primary insurance policy that covers your car during transportation. The vehicle transport or your insurance company typically offers this type of insurance. Primary insurance provides additional protection beyond carrier insurance by covering damages that may not be included in the carrier's insurance policy, such as theft, vandalism, or natural disasters.

Broker Insurance

Broker insurance is a type of insurance that is offered by vehicle transport brokers rather than carriers. If you are using an auto transport broker to arrange your vehicle transport, they may offer to provide you with additional insurance coverage, either as a standalone policy or as a supplement to the carrier's insurance. A good understanding of the transport broker's insurance policies is vital, as they can vary significantly from one broker to another.

What do these insurance policies cover?

While the exact coverage details may vary, transport insurance policies generally cover damages caused by accidents, theft, vandalism, and natural disasters. These can include:

Collision damage during transport
Theft or vandalism while the vehicle is in the possession of the carrier
Damages caused by natural disasters such as floods, hurricanes, or earthquakes
Damage during loading and unloading of the vehicle

It is crucial to review each insurance policy's specific coverage and any limits and deductibles before deciding which insurance options to choose during vehicle transport.

Factors Affecting Auto Transport Insurance Costs

Like regular auto insurance, several factors can impact the cost of transport insurance, including your vehicle's value and condition, shipping distance and route, and the carrier service used. Understanding these factors will help you make informed decisions about your insurance coverage and ensure your vehicle's protection during transport.

Vehicle's Value and Condition

The value and condition of your vehicle can significantly affect the cost of your vehicle transport insurance. More expensive vehicles usually warrant higher insurance premiums, as the potential cost of repair or replacement is higher. Similarly, if your vehicle is in poor condition or has pre-existing damages, insurance companies may charge higher premiums for the increased risk of damages during transportation.

To minimize the impact of these factors on your insurance costs, accurately disclose the current state of your vehicle to the insurance company or transport broker and obtain an estimate tailored to your specific situation.

Shipping Distance and Route

Longer shipping distances and routes with higher risks can also affect the cost of transport insurance. Routes that involve traveling through high-crime areas or regions prone to natural disasters can increase insurance premiums as the likelihood of damages increases. Including additional service features such as enclosed carrier services may also raise insurance costs due to their additional protection.

It is essential to discuss your shipping route and any unique risks associated with it when requesting insurance quotes to obtain accurate pricing for your transport insurance policy.

Type of Carrier Service Used

The type of carrier service you choose for your vehicle transport can also impact the cost of insurance. Enclosed carriers, which protect your vehicle from the elements and potential damages, can result in higher insurance premiums than open carriers. However, the additional cost may be worthwhile if you transport a high-value or luxury vehicle, as it offers added protection and peace of mind.

When comparing vehicle transport insurance options, consider the importance of the added protection that enclosed carriers offer against the potential increase in premiums to determine the best option for your situation.

By understanding the different types of auto transport insurance available and the factors that impact their costs, you can make informed decisions about your coverage options and ensure the protection of your vehicle during transportation. Be sure to research and compare multiple insurance policies and carriers, and consult with your auto insurance company to determine the best options for your vehicle transport needs.

Why is Auto Transport Insurance Important?

Auto transport insurance plays a crucial role in safeguarding your valuable investment. Here are some reasons why having auto transport insurance is essential:

Ensures Financial Protection: Vehicle transport insurance can save you from potential financial losses due to unforeseen events such as accidents or theft. Without adequate insurance coverage, you may have to bear the burden of repairing or replacing your vehicle.
Peace of Mind: Knowing that your car is covered during transportation can provide peace of mind. You can rest assured that you will be compensated for the damages in the event of any mishap.
Compliance with Legal Requirements: In many countries, the law mandates vehicle transporters to have minimum insurance coverage. Auto transport insurance ensures that your car shipping company meets these legal requirements.
Maintains Vehicle Value: If your vehicle gets damaged during shipping and you have adequate insurance coverage, the insurance claim can help maintain your car's value by compensating you for the repairs.
The Role of Auto Transport Brokers and Auto Insurance Companies

Auto transport brokers are essential in helping you secure the best insurance coverage for your vehicle. They act as intermediaries between you and the vehicle transport company, ensuring you receive the best possible service and insurance coverage. Brokers can provide information about various auto transport insurance options available in the market and help you compare the features and pricing of different policies.

On the other hand, auto insurance companies are responsible for providing vehicle transport insurance policies. They assess the risks of shipping your vehicle and calculate the premium accordingly. When choosing an auto insurance policy, it's crucial to work with a reputable company that understands the intricacies of vehicle transport insurance.

Choosing a Car Transport Company with Adequate Insurance Coverage

When selecting a car shipping company, it's vital to ensure that they have adequate insurance coverage options to protect your vehicle during transportation. Here are some tips to help you choose a car transport company with sufficient insurance coverage:

Verify the Carrier's Insurance: Ask the car shipping company for their insurance certificate and verify their coverage details. Ensure the insurance policy is current and sufficient to cover the value of your vehicle.
Research the Company: Conduct thorough research on the car shipping companies you're considering. Read customer reviewsand verify their registration with the Department of Transportation.
Ask for Recommendations: Seek advice from friends, family, or online forums with car shipping experience. They can provide valuable insights into their experiences with different car shipping companies and their insurance coverage.
Final Thoughts

In conclusion, auto transport insurance is crucial to safeguard your vehicle during shipping. It's essential to compare different insurance coverage options and choose the best policy that meets your needs. Seek the assistance of a reliable vehicle transport broker and work with a reputable auto insurance company to ensure that your vehicle is adequately protected during transportation. Remember, a well-informed decision can help minimize risks and provide peace of mind throughout auto-shipping.