If you're considering shipping your car, knowing the ins and outs of car carrier ships can help you make the best decision for your needs. From the history and development of car carrier ships to the different types available and how they work, there's much to learn about this method of transportation. This article will explore these topics, providing an in-depth look at car carrier ships and how they can help you move your vehicle.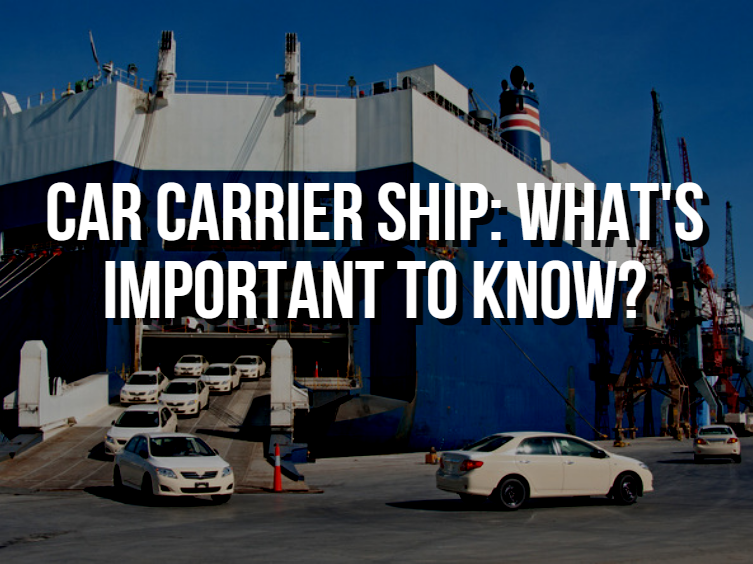 History and Development of Car Carrier Ships
The history of car carrier ships began with the rapid growth of the automotive industry in the early 20th century. As the demand for automobiles increased, there was a need to find more efficient ways to transport them globally. Initially, cars were loaded onto general cargo ships, along with other miscellaneous cargo. This method was time-consuming and feasible to accommodate the increasing number of shipped vehicles. Recognizing the demand for a more efficient transportation method, the MHI group, also known as Mitsubishi Heavy Industries, developed the first car carrier ship designed to transport automobiles in the 1960s.

What Is a Car Carrier Ship?

Here are some key points about car carrier ships:

They are specialized cargo ships designed to transport passenger and commercial vehicles.
Vehicles are driven directly onto the ship via ramps and then parked on one of the ship's multiple decks.
Car carrier ships come in various sizes and capacities, with some larger vessels capable of holding upwards of 8,000 vehicles.
Most car carriers are designed with side walls that protect vehicles from harsh weather conditions and help secure them in place during transit.
Additionally, these ships can transport additional cargo, such as trucks, buses, and even smaller cargo ships.
A critical aspect of car carrier ship operations is the stowage plan, which ensures optimal utilization of space and efficient loading and unloading of vehicles.
Different Types of Car Carrier Ships

Car carrier ships are specialized vessels that transport vehicles, including cars, trucks, and other wheeled cargo. They are built to safely and efficiently load, transport, and unload these cargoes at ports worldwide.

There are three main types of car carrier ships:

Pure Car Carriers (PCC) are ships primarily designed to transport large volumes of cars. They have tiered decks that create a series of horizontal parking lots on the ship, allowing for the simultaneous efficient transportation of many vehicles.
Pure Car Truck Carriers (PCTC) are similar to PCCs but are specifically designed to carry cars and more oversized cargo, such as trucks and other heavy vehicles. PCTCs have more flexible loading and unloading systems, allowing for a more diverse range of cargo operations.
Roll-on/roll-off (RoRo) ships are designed for wheeled cargo. Unlike PCCs and PCTCs, which have designated parking spaces for vehicles, The most distinguishing feature of RoRo ships is their ability to load and unload cargo using their ramps. Cargo is driven on and off the ship, making loading and unloading operations fast and efficient.
Evolution of Car Carrier Ships

Since the 20th century, car carrier ships have continued to evolve. They have become larger and more efficient and have incorporated new technologies to reduce their environmental impact. Today, car carrier ships are an essential part of the global automotive supply chain.

Here are some of the key advancements that have been made in car carrier ship design:

Increased size: Car carrier ships have become significantly larger over the years. This allows them to transport more cars, reducing the shipping cost per vehicle.
Improved efficiency: Car carrier ships have become more efficient in fuel consumption and emissions. This is due to a number of factors, including advances in hull design, engine technology, and energy-saving technologies.
Environmentally friendly: Car carrier ships are now designed to be more environmentally friendly. This includes features such as ballast water treatment systems and scrubbers that reduce emissions.
How Does Shipping a Car by Carrier Ship Work?

The process begins with a stowage plan, a strategic arrangement of the cars within the ship to optimize space and stability. The stowage plan considers several factors, such as the dimensions of the vehicles, the order of loading/unloading, and maintaining the ship's balance during transport.

Once the plan is in place, the cars are driven onto the car carrier ship via a RORO (roll-on, roll-off) ship ramp. Roro ships are specifically designed to transport wheeled cargo, allowing for smooth and easy loading and unloading. The cars are then secured using various devices such as straps, chains, and chocks to prevent any movement during the voyage. Multiple decks within car carrier ships are used to maximize cargo space, allowing for the transportation of more cars per ship.

Throughout the journey, the crew on the car carrier ship continuously monitors the condition of the vehicles and ensures that they remain secure and undamaged. Once the ship reaches its destination, the cars are unloaded in the order planned during the stowage process.

Pros and Cons of Carrier Ships

Carrier ships come in various types, including Mitsubishi Heavy Industries (MHI Group) and RoRo ships. These ships are critical for transporting goods and vehicles across the globe, enabling international trade and logistics operations.

While these ships, such as container ships and RoRo ship designs, have several advantages, they also have disadvantages. Let's examine the pros and cons of using carrier ships for transportation.

Pros of Carrier Ships
Economies of Scale: Container carriers and cargo ships, such as those produced by Mitsubishi Heavy Industries, allow for transporting vast quantities of goods simultaneously, achieving economies of scale. Thus, reducing the overall cost of transportation per unit.
Easy Stowage Plan: Cargo operations on container ships are relatively straightforward, thanks to the standardized size of shipping containers. A proper stowage plan ensures efficient loading, unloading, and cargo handling on these vessels.
Versatility: General and RoRo cargo can cater to various cargo types, from vehicles to bulk goods. Car carrier ships and chemical tankers are purpose-built vessels optimized for carrying specific types of cargo safely and efficiently.
Inland Navigation: Carriers, such as container ships and barges, can often navigate inland waterways, opening up access to regions that may not be easily reached by road or rail transportation. Inland navigation can thus ensure smoother delivery of essential goods and services to remote areas.
Cons of Carrier Ships
High Initial Investment: Building a cargo ship requires substantial financial resources, whether a car carrier or a container ship. Even purchasing pre-built ships can be a hefty initial investment for many shipping companies, impacting their financial data.
High Operational Costs: Large container and RoRo ships have considerable operating costs, such as fuel, maintenance, and crew wages. This need for continued financial support can strain shipping companies that struggle with cash flow and profitability.
Discover How RoadRunner Auto Transport Can Help You

RoadRunner Auto Transport, a leading player in the car shipping industry, understands the pros and cons of carrier ships. Offering a range of transportation options, including RoRo ships and car carriers, they ensure a safe and efficient transportation process. Whether you are shipping your vehicle or transporting a fleet of automobiles, RoadRunner Auto Transport has the expertise and resources to cater to your specific needs.

Contact Us Today to Learn More or Get a Free Quote

When transporting general cargo and vehicles, the right choice of a RORO ship and cargo ship can greatly impact the efficiency and cost-effectiveness of your shipping process. With various types of cargo ships available, such as container ships, car carrier ships, and more, choosing the method best suited for your needs is essential. That's where our expert team comes in – we're here to help you navigate the options and find the perfect shipping solution for your needs. Contact us today to learn more or get a free quote so that you can make an informed decision on your shipping needs.