Jump to section:
What does roll-on/roll-off mean?
Types of RORO ships
The history of RORO auto transport
Conclusion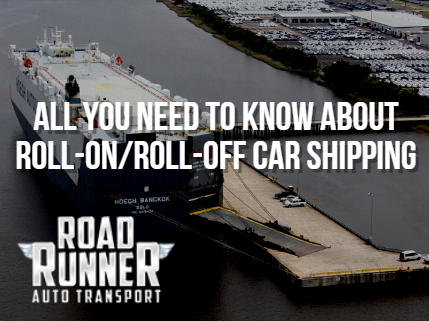 What does roll-on/roll-off mean?

Roll-on/roll-off , otherwise referred to as RORO is a type of shipping that is used for shipping things such as vehicles where the item being shipped can be moved onto a ship via a ramp. This sort of shipping is obviously only used for shipping where transport via the ocean is necessary. So, if you were shipping your car to or from Hawaii, your car would be using Ro/Ro shipping at some point in the transport process.

This circumvents the need to pick up large items such as cars with a crane in order to move them onto the ship. This helps save time and lowers the risk of damage to the items being shipped on the boat. That sort of shipping is known as LOLO – lift-on/lift-off .

RORO shipping helps lower transit times as well. Think about it, instead of lifting cars onto the ship with a crane which can be incredibly time consuming , cars are easily driven onto the boat. This can cut the time loading cars onto a ship in half, which can be considerable if there are a lot of cars that need to be loaded onto the boat.

Types of RORO ships

There are actually several types of RORO ships that exist. They are:
LMSR – Large medium speed roll-off is a ship that is specifically designed to have military cargo held on board . Some of these have been converted to ship vehicles for civilians.

ConRO – A ConRO ship is a type of RORO ship where both RORO and LOLO shipping methods are used. The way this works is that containers are stored on top of the ship while vehicles are stored below deck and rolled on.

RoLo – A roll-on/lift-off ship is a ship that has a deck where cars can be rolled on and off but also has other decks where a crane needs to be used in order to get cargo on and off of the ship.

ROPAX – This is a type of ship with roll-on/roll-off capabilities for cars but also has the ability to ship passengers. This is what ferries that carry cars are typically referred to as.
The history of RORO auto transport

RORO transport has long been a method used for shipping cars. However, RORO was being used for transporting things long before car shipping existed. Originally, RORO shipping was most widely used for transporting trains. The ships that transported trains at this time actually had rails on them that allowed trains to be driven directly on board . Later, RORO car shipping would follow this exact paradigm. In the end, the history of RORO shipping plays a big role in the history of car shipping.

RORO was originally invented dating all the way back to the 1830s in Scotland where a wagon ferry was invented and used. The first true RORO carrier was invented in the 1840s in Britain by the Edinburgh, Leith and Newhaven Railway. From there, RORO shipping gained much popularity for its ease of use and efficiency. Later, during the first world war, these ferries that shipped trains would be used to ship military vehicles across the ocean. This marked the first official instance where RORO shipping was used for vehicles.

During the Second World War the first ships made specifically to ship military vehicles such as tanks and jeeps were created. These were smaller vessels that were made to get jeeps and tanks to shore in a hurry from a central point near the shore. This was necessary in situations like D-Day at Normandy beach in France. Later, larger versions of these were designed by the Allied Powers in order to get as many military vehicles to Europe as possible.

Within ten years after the Second World War ended, several transatlantic routes were established for vehicles carrying vessels and by the mid-1950s tens of thousands of cars were being shipped on these vessels every year . At this point cranes and LOLO transport were being used but it quickly evolved to RORO by the 1960s .

Conclusion

Roll-on/Roll-off shipping is the most efficient and modern way of shipping your vehicle across the sea. The ability to ship cars like this has changed the face of the car shipping industry forever. Now you do not need to worry about a crane moving your car and possibly damaging it. This also helps facilitate faster shipping times for overseas shipments. If you need your car shipped somewhere such as Hawaii or Alaska, you can count on RoadRunner to get your car there. Call us today for a free quote at (888) 777-2123!