Jump to section:
Car trailers
Tow dollies
The effort on your part when towing a vehicle
Auto transport
What is the best way to transport a car?
Conclusion
Frequently asked questions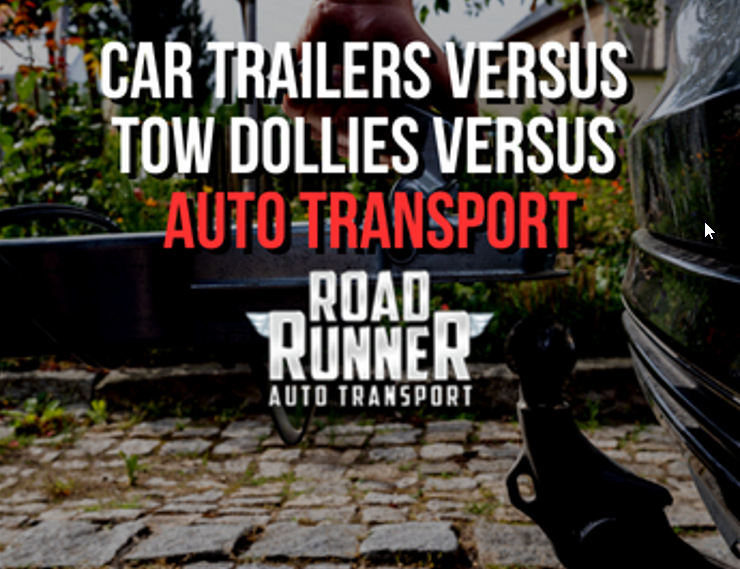 Car trailers

A car trailer is what you likely expect it to be, a trailer that allows a car or truck with enough towing capacity to haul another vehicle a long distance. A car trailer will have all four wheels of the vehicle being towed always secured up on the trailer off the road during transit. When it comes to a car trailer, you would need to haul it with a much heavier-duty vehicle, such as a pickup truck. A car trailer can be quite costly. Buying a car trailer will typically run between $4,000 and $15,000, depending on the trailer's capabilities and condition. The average cost to rent a car trailer typically ranges from $300 to $400. These prices can be even higher for longer distance use of more than two hundred miles and rise even more when demand increases.

Gas is expensive enough as it is, but when there is more weight being moved by a car, the engine has to work harder and consequentially burns fuel at a faster rate. Also, consider that you will need to then haul the car several hundred or thousand miles yourself. When you tow an entirely separate vehicle, the gas cost will further add to your overall expense. When you also factor in the depreciation of the vehicle that you are towing with, your car transport via trailer can easily run $800 or more.



Tow dollies

Tow dollies are another device that you can use to tow your car. It is different from a car trailer in that it is much smaller, and the vehicle you are towing will need to be neutral with its rear two wheels on the pavement during transport. Tow dollies can generally be your cheapest option, but if you want to rent one, companies will frequently only rent one out if you also rent a moving truck from them to use the dolly with. So, the cost of renting a tow dolly which will typically run around $100, will be in addition to the cost of renting a truck. For example, if you need to rent a truck from U-Haul capable of towing a car and you are doing so long distance (over 250 miles), renting both can easily cost you over $1,000.

However, the weight of an entire other vehicle being towed by your vehicle on a dolly will undoubtedly put some wear and tear on the vehicle you are using to tow the other car. On top of that, if the vehicle you are towing is a new or a classic car, you will be exposing it to the outside elements. That means weather elements like rain and snow can affect the vehicle. This also means that your car could end up with scratches or chips in the paint from tiny road debris like small rocks.

Overall, tow dollies have much lower weight capacities than car trailers do. Tow dollies generally only support towing a vehicle of about 3,500 pounds maximum, whereas car trailers can support a car weighing about 5,000 pounds. This means that most tow dollies can only be used to tow smaller and lighter cars because the average car weighs about 4,000 pounds. The various kinds of car carriers that an auto transport company uses can support a vehicle of 50,000 pounds or more depending on the type of carrier. (Flatbed carriers are utilized for oversized vehicles).



The effort on your part when towing a vehicle

If you choose to tow a car using a car trailer or tow dolly instead of shipping your car, you will need to transport the car the entire distance yourself. This will cost you several hours, possibly up to several days. You will also be completely responsible for properly and safely securing the vehicle in the car trailer or to the tow dolly. This can be complicated, especially for someone doing it for the first time.

Safety concerns while towing a car

If you are transporting a car using a tow dolly or trailer, be sure that the car has been correctly secured to either the dolly or trailer and that the tow dolly is secured to the car you will be driving. If not, you risk losing the car you are towing, which could also cause a major accident. Also, the ability to maneuver the vehicle you are driving while you tow another car will be at an absolute minimum.

When you tow something like another car, there will also be the issue of what is known as "sway." Sway is when you drive too fast when towing, and your trailer or dolly starts to move side to side, which could lead to a disconnection or even a full turnover of both the trailer/dolly and the car you are driving. When you are towing, it is particularly important to always drive at decreased speeds but especially when inclement weather conditions and road conditions are slippery.

When you tow a car using either a trailer or tow dolly, you will likely need to drive under the speed limit, avoid passing, pull over if there are any strong crosswinds, and avoid any maneuvering such as a U-turn or parallel parking. Even if you are simply and slowly reversing, you should only do so with the aid of someone standing at the rear of your trailer or tow dolly. You should also avoid trying to tow a vehicle with a trailer or dolly if you have not had any previous experience towing something else lighter and more manageable.

Auto transport

Auto transport is when you choose to have your car shipped with a professional vehicle relocation company like RoadRunner Auto Transport. It will likely cost more than towing the car, but the advantages are numerous. Car shipping may take a bit longer than towing the vehicle yourself, but that is not likely.

Key advantages of auto transport

The following are the biggest advantages that shipping your car will offer you over towing it yourself:

The safety of the vehicle – Even if you ship on a traditional open-air carrier, it will offer way more protection than if you tow your vehicle with a simple tow dolly. When you ship your car, you can also opt for maximum protection by shipping on an enclosed car carrier which offers much more safety than a single car trailer.
Save a ton of time and effort – When you have your vehicle shipped for you, you will have to make a very minimal effort for the shipment. All you will need to do is prepare by washing the car's exterior and removing all personal items from the car. What you will not need to do is to drive hundreds or even thousands of miles with the weight of an entire additional car slowing you down.
You can focus on the rest of your trip or move – If you happen to need to transport a vehicle because you are moving or taking an extended trip, you will likely have your hands full with other things you will need to do such as packing and unpacking. When you hire a vehicle shipping company, you will be shortening the long list of things you will need to accomplish significantly.
No wear and tear or mileage on your other car – We already mentioned the safety and preservation of the condition of the vehicle being towed, but the same goes for the vehicle doing the towing as well. If you choose to tow the vehicle on a tow dolly, you will be putting hundreds of miles on the vehicle, which contributes to overall depreciation. You could also end up with some scratches or chips on that vehicle the same way you could with the vehicle you towed.

Is shipping a car more expensive than towing it myself?

It is hard to say exactly what the extra cost of shipping your car will be compared to towing it yourself, either in a trailer or on a tow dolly. That is because of the unpredictable factors that help determine the price of shipping a car, such as fuel prices and overall demand for car shipping at the time of your shipment. Generally, you can expect an auto transport service to cost between $0.50 and $2.00 per mile, with the previously mentioned factors determining your price in that range.

Let's look at the cost of transporting your car 1,000 miles with all three options in mind. We will assume demand and everything else are exactly average at the time of transport.

Transporting a car on a tow dolly – A tow dolly can cost between $2,000 and $5,000 to buy. The cost of renting a tow dolly will vary. Often it is required to rent a moving truck (large enough to tow a vehicle) along with a tow dolly from a service like U-Haul. You typically pay $1.00 or a bit more per mile in these cases. So, if you choose that specific method of transporting a vehicle via tow dolly, you will pay $1,000 – not including gas. With the current cost of gas and a vehicle with a large enough towing capacity in mind, the trip would cost you about $1,150 overall.
Transporting a car in a trailer – Renting a car trailer will cost about $400 for a long-distance trip of 1,000 miles. However, that does not factor in the trailer delivery and/or pickup cost. Many trailer companies require you to return the trailer yourself, which could mean a trip all the way back and another $400 charge. Overall, your cost to rent a trailer for transporting your car will be between $600 and $900, not including the cost of gas at about $150. So, the final cost would be between $750 and $1,050 . Purchasing a car trailer will cost at least $4,000.
Transporting a car with an auto transport company – If you were to ship your car rather than moving it yourself, the cost would vary slightly from company to company. For RoadRunner Auto Transport, shipping an average-sized car about 1,000 miles on an open car carrier with four weeks' notice during a less busy month of the year like February would cost approximately $1,135.
What is the best way to transport a car?

If your only concern is saving as much money as possible, you are extremely confident that you know what you are doing in terms of towing a vehicle a long distance, and you do not mind the possibility of scratches or chips on the paint of the car being towed, then towing the vehicle with a dolly or a trailer could be a viable option for you. This is assuming you are able to find a rental that does not require the additional rental of a moving truck.

Overall, you are likely only saving $100 to $300 maximum by going this route. If your car gets damaged while you are transporting it, whether it got scratched or something more serious occurred, the savings can quickly disappear.

However, having your car shipped with an auto transport company will always be the supreme option for most people. An auto transport company will keep the car you are transporting safe, preventing the need for involvement with your second car, sparing you costly depreciation, and saving you a ton of time and effort.

Conclusion

In the end, transporting your car yourself on a tow dolly or in a trailer only has one distinct advantage over having your car shipped with an auto transport company like RoadRunner. It can possibly save you some money. It likely will not even save you as much money as you think it will, if at all. Transporting a vehicle yourself will also take up a lot of your time, putting two of your vehicles at risk of being damaged simultaneously. When you ship a vehicle, your only involvement will be scheduling the shipment, preparing for the shipment and handing over/receiving the keys to your car shipping driver upon pickup/delivery. Your vehicle will also be at least several feet above the roadway, safely secured to an auto carrier at all times, which can prevent any potential scratches, chips, or dings.

Frequently asked questions
Can I drive full speed while towing a car?

Driving very fast when towing anything is not recommended, especially for another vehicle weighing several thousand pounds. As a rule of thumb, to maximize your safety and the safety of your vehicles, drive under 55 miles per hour at all times and avoid traveling in the left-most traffic lane.

Other than hooking the car up, what else do I need to do when I tow a car with a dolly?

You will also need to ensure that the vehicle being towed is in neutral and that its brake and taillights are connected to your car's brake and taillights so that both will illuminate simultaneously. If that is not possible, you can buy a portable set of brake/taillights to hook up to the back of the car you are towing.

Will car shipping take much longer than towing my car myself?

The duration of a car shipment will depend on several things, including the number of other vehicles in your shipment, the amount of traffic along your shipment's route, and the weather along your shipment's route. Auto transport can take as long as towing a car or a bit longer, depending on your shipment's pickup and drop-off locations.