Jump to:
Get a report about the car's history
Hire someone to do the prepurchase inspection
What you need to know
The benefit of shipping your car
Conclusion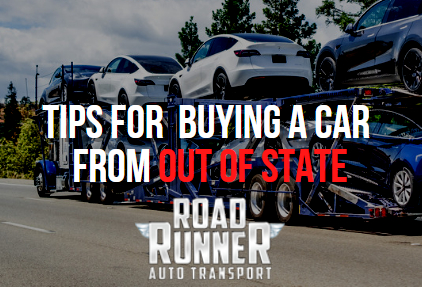 Get a report about the car's history

The first thing you should do when buying a car from out of state is get on CarFax and download the report on the specific vehicle that you are buying.

The CarFax report will let you know if any of the following has happened to the car in question:

Accidents
Mileage rollback
Multiple owners
Flood damage
Hail damage
Much more…
Hire someone to do the prepurchase inspection

Unless you want to travel all the way to another state you will want to hire someone to do a prepurchase car inspection for you. You can hire someone off of a site like craigstlist or you can use on-demand car inspection services like WeGoLook.

The prepurchase inspection is crucial to verifying everything you read and saw in the car's history report. This is definitely one area where you do not want to take the previous owner's word for it.

What you need to know

There are a few things you should know about before you buy a car from out of state:

Taxes – There will be applicable state taxes to consider when buying a car from out of state. The tax you will incur is sales tax. Sales tax is between six and ten percent in most states. Prepare for ten percent, this way you will be ready to incur the sales tax from any state.

Some states do not have a sales tax. You can see each state's particular sales tax rate here.

Emissions – Make sure that the vehicle you are purchasing meets the emissions standards of the state that you are shipping it to, especially in California. If you do not, your car might not pass inspection thus you won't be able to drive it.

Insurance – You will want to work out the insurance before you receive your car. This way you can start driving as soon as it arrives.

Title Transfer – Do not forget to take care of the title transfer. If you are buying from a private seller you will need to take care of all the paperwork and any trips to the DMV. You can get this process started by visiting your particular state's DMV website. You can find your state's DMV site here.

VIN – Certain states require that you verify the Vehicle Identification Number. The states that do not require this are Alaska, Arkansas, Iowa, Kentucky, Michigan, Minnesota, Mississippi, Montana, North Dakota, South Carolina, and South Dakota.

You can get the required form for this here.

The benefit of shipping your car

When you go through all the effort of avoiding any trips to inspect the car yourself, you likely will not want to go pick it up and drive it home either. Even if you did venture out of state to give your new ride a look, you probably will not want to get on a plane or train and then drive your new car all the way home.

First, you should consider the fact that you will be putting hundreds or even thousands of miles on the vehicle right off the bat. Mileage equals depreciation in terms of any potential future resale value. If it is a new car then the depreciation is much steeper at first. You've probably heard that once you drive a new car off of the lot the value instantly decreases. Well, that is the truth, and the rate of depreciation remains high for the first several thousand miles you drive it, so you would be lowering the value of the car considerably just by getting it home.

You also need to consider the cost of going to get your car versus shipping it. When you go get your car, you will need to rent a car and drive there or take a train or plane there. You will also likely need to stay a night in a hotel unless you plan on crushing coffees and driving back in the new car immediately as you arrive. There is also the cost of gas you will incur driving back. You could also face an economic concept known as opportunity cost. This is when you lose an opportunity for something at the cost of doing another. In our case opportunity cost would be taking time off from work to get your new car , whereas if you shipped it you would not miss out on either getting paid or saving paid days off.

As an example, let's say you live in New York, New York and you bought a car that you found online from Miami, Florida. At the time this is being written (July 2021) a one-way plane ticket would cost at least $100. The fuel cost using an average sedan and current gas prices would be about $180 for the trip back. The cost of a hotel room in Miami would be at least $130.

Now consider the depreciation of the vehicle due to the trip home. On average, a new car's value will drop between $5,000 and $10,000 after three thousand miles driven. The trip from Miami back to New York will be about 1300 miles. So, let's take $5,000 and say the depreciation is 40% of that which would equal, at minimum, $2,000. For a used car, the depreciation will be less, but it will depend on how many miles were already put on the vehicle. So, let's say in the case of a used car there will be $800 in depreciation for the trip. The total cost for driving a used car home would be $1,210 . For a new car it would be $2,410 . A quote from RoadRunner using all of the same information and waiting a week reveals that it would cost $1,195 to ship the same car home. Don't forget, when you ship your car, you also save big on the time and energy it will take to get your car home yourself.

Conclusion

There is definitely some extra work involved in buying a car from another state , but if you follow this guide, you will be just fine. Once you do your due diligence and buy the car, you should really ship it rather than trying to drive it home or haul it home yourself. Let RoadRunner Auto Transport take care of this for you so you have one less thing to worry about.