Table of contents: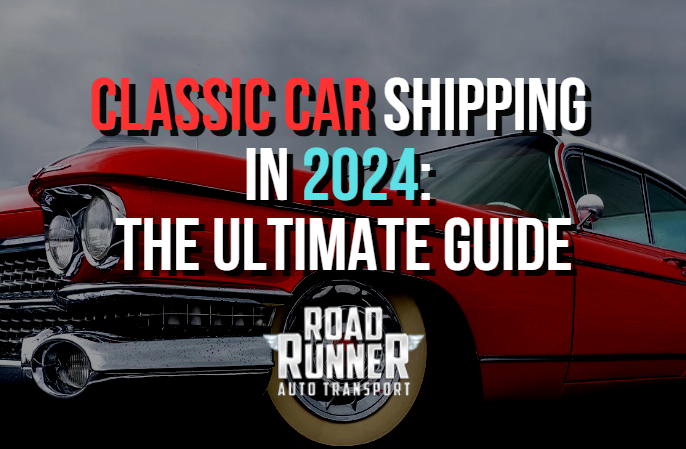 Reasons for shipping classic cars
For several reasons, classic car owners might decide to ship their prized collector vehicle rather than drive it somewhere. Overall, shipping a car, whether a classic car or not, will allow you to get it a long distance with maximum protection and no depreciation from added mileage. So, maybe you are a classic car owner who is moving across the country or several states away to a new home.
You also might consider classic car transport services because you are taking your collector car to a famous car show hundreds or thousands of miles away, such as Daytona Beach's Turkey Run. You may also be taking an extended trip and want to keep the car protected on the way there and back. Finally, maybe you bought a classic car online but it's located hundreds of miles away, and you do not feel like making the trip to pick it up and then putting all of that mileage on it during the trip home.
Regardless of your reasons for shipping classic cars, you can be sure that doing so is the best way to get your sought-after ride from point A to B with maximum protection and minimum depreciation.


Classic car transport cost
Classic car shipping cost will depend on several things. The biggest reason that shipping a classic car will typically cost more than shipping a more common type of car is because people typically choose to ship classic cars in enclosed car carriers. Enclosed car carriers are car carrier trucks with walls and a roof that protect the cars on board from outside elements such as road debris and inclement weather. This is a distinct advantage over shipping a car on an open carrier with no walls or roof. Typically, shipping a car in an enclosed car carrier in 2024 will cost about 50% more than shipping it on an open car carrier truck. However, with all of the added protection, most classic car owners would say it is absolutely worth it.
Other variables will also impact classic car shipping cost. This includes the time of year you are shipping your car and how much gas costs at that time. The time of year during which you are shipping your car impacts the overall cost due to simple supply and demand. When you ship during a busier time of the year, available spots on car carriers book much more quickly. The supply of available spaces on a particular car carrier truck will be at or near a minimum. Thus, car shipping companies charge more for each car shipped.


The best types of classic car carriers
When shipping a classic car, you will likely only want to do so with maximum protection. There are several types of classic car carriers to choose from during a car shipment, including open-air car carriers and enclosed car carriers. Still, only the latter will offer an absolute maximum amount of protection for the entire shipment duration. Enclosed vintage car carriers have walls and a roof to offer complete protection for all cars being shipped, from small rocks that kick up off the road, tree branches, birds and other animals, as well as inclement weather such as snow, hail, and/or rain.
You might be wondering why people choose to ship their classic cars on an open-air car carrier truck over an enclosed car carrier. Well, it comes down to exotic car transport cost in either. Generally, shipping in an enclosed car carrier will cost several hundred dollars, usually in the neighborhood of $600 to $800, in addition to the price of shipping that same vehicle on an open car carrier. However, when you weigh the potential cost of having your valuable classic car possibly scratched or otherwise damaged, it is a relatively small price to pay.
Consider the cost of potentially having your classic car depreciate or even damaged. The average cost per mile of depreciation of a classic car is approximately $0.10. So, if your trip was 1,500 miles, your car's overall value would decrease by approximately $150. The average cost to repair a scratch or ding on a classic car could be between $200 and $2000, depending on the scratch or dent's severity, size, and location. For classic cars, expect scratch or dent repair costs to be at that range's higher end. Plus, any repair that occurs will end up in the service records and/or CarFax, which means your car's potential future resale value will still be decreased even if the repair work is flawless.
Tips for shipping classic cars
If you have decided to ship one or more classic cars, you should be ready to do so by using the following advice:
Always ship in an enclosed car carrier – As we mentioned, enclosed car shipping offers your classic vehicle the greatest amount of protection when it is out on the road. These car carrier trucks have walls and a roof that completely protect all vehicles shipped from outside elements such as rain, snow, tree branches, small pebbles that kick off the road during transport, and more.
The lowest price likely isn't your best option – Whenever you are shipping a car, whether it is a classic car or not, you should be suspicious of any prices that are way lower than the rest of the competition. These tend to be bait-and-switch prices intended to trick potential customers into shipping their cars with that company over others.
Be prepared to clean the car – When you ship any type of car, whether it is a classic car or not, you will have to wash the exterior of the car first. This is because your car carrier driver will need to check out your car before loading it onto the carrier and document any damage that already exists. This is done so that unscrupulous individuals cannot fraudulently claim that any pre-existing damage took place to during transport. The elimination of fraudulent claims results in lower overhead for classic car hauling companies, leading to lower prices for customers.
Remove all of your belongings – Any personal items left in your car during classic car transport will not get covered by the car shipping coverage if they end up getting damaged or are lost in transit. This will include things such as sunglasses, gloves, and phone chargers.
Book your classic car shipment as far ahead as possible – Do not wait too long to schedule your classic car shipment. The longer you wait to book your car shipment, the less likely you will get your preferred classic car delivery and pickup times. You are also more likely to get a slightly lower price when you book early. We highly recommend booking your classic car shipment at least one month in advance. This is especially true when you ship in enclosed car carriers, which are in much shorter supply as they only make up about ten percent of the car carriers out on the road.
Ask about car shipping coverage for your classic car – You should always discuss what gets covered by your car shipping coverage in the very rare case that damage happens to occur during shipping. Some auto transport companies will have different levels of coverage, some of which may require a slight fee to be covered.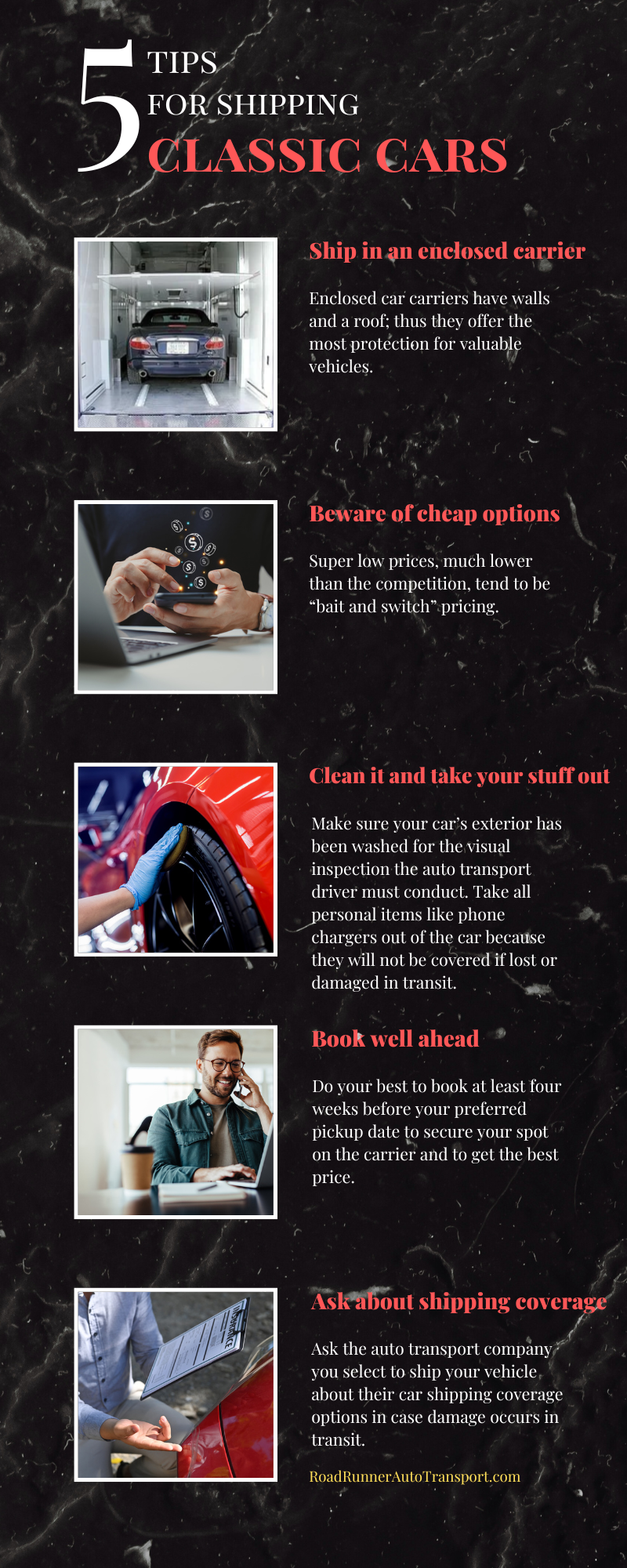 Conclusion
Shipping a classic car is a great way to prevent unnecessary wear and tear and the resulting depreciation on your classic ride. So long as you ship in an enclosed car carrier, it can also prevent would-be chips and scratches on your car from debris flying up off the road, tree branches, and inclement weather while the vehicle is in transit. Shipping a classic car in an enclosed car carrier will cost you a few hundred dollars more than shipping on an open car carrier. Still, the cost can be well worth it considering that you significantly reduce the risk of any depreciation or damage to your classic car. You can always call the classic car shipping experts at RoadRunner for a free quote or with any questions that you have at (888) 777-2123!
FAQ
How much does enclosed auto transport cost?
The cost of enclosed auto transport will depend on several things. This includes when you are shipping your car, how much notice you gave your auto transporter, and how expensive gas is at the time of your shipment. In general, you can expect enclosed vehicle shipping to cost an additional $500 or more.
What is the best car transport company for shipping classic cars?
The best car transport company for shipping classic cars will depend on your specific needs for a particular classic car shipment. You should only use classic car shipping companies with competitive pricing, scheduling flexibility, and the ability to ship a vehicle in an enclosed car carrier. RoadRunner Auto Transport offers all three of those.
What are the advantages of shipping a classic car in an enclosed carrier?
The advantages of enclosed classic car transport are that there is virtually no possibility of damage occurring from an outside element such as hail, tree branches, or birds, with the outrageously rare exception of a carrier truck being involved in an accident while in transit. Enclosed car carriers also offer the absolute highest protection from vandalism or theft while your car is being shipped.