If you plan on moving to another state or purchasing a car online or from out of state, you may wonder how to get it to your location. Car shipping is a common and convenient option, but there are important things to know before transporting your car. From understanding the car shipping process to cost factors and preparation tips, this article will guide you through the essential information you need.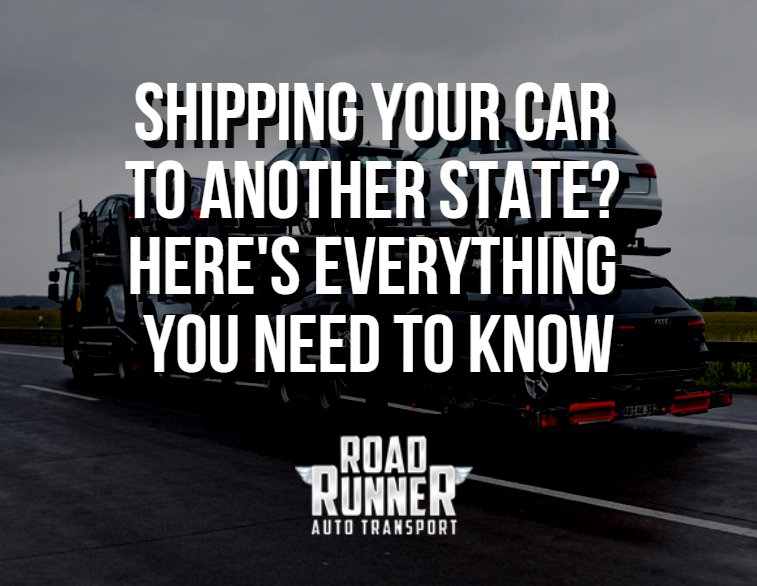 How Does Car Shipping Work?
Car shipping, also known as auto or vehicle transport, is moving a vehicle from one location to another using a specialized transport company. Many people use private car haulers when relocating, buying a new car from another state, or sending a vehicle to a family member. Choosing the best auto transport company can help you save time and money and ensure your vehicle arrives safely at its destination.
A few factors influence how car shipping works, such as the type of vehicle transport company or shipping service chosen, the distance and location of the pickup and delivery points, and the type of cargo insurance the shipping company offers. Here, we will take a closer look at the different aspects contributing to the car shipping process and what you should consider before choosing an auto shipping company for your needs.
Types of Auto Transport Companies
You can choose from two main types of auto transport companies: brokers and carriers. Brokers are intermediaries that connect customers with car shipping service providers. They typically have a vast network of auto transport carriers and can help you get competitive quotes for your vehicle shipping needs.
On the other hand, carriers are the actual transportation service providers that will pick up and deliver your vehicle. By working directly with a vehicle transport company, you may have more control over your car's shipping process and direct communication with the carrier responsible for your vehicle. However, finding a carrier that services your specific route may be more challenging without a broker's assistance.
Shipping Services
There are several options to choose from when selecting an auto-shipping service. The most common types are open and enclosed transport. Open transport is more affordable, but your vehicle will be exposed to weather and road conditions during transit. Enclosed transport will protect your car from the elements but is typically more expensive. Enclosed transport is ideal for luxury cars or any vehicle requiring extra transportation protection.
Additionally, door-to-door and terminal-to-terminal services are available. Door-to-door service is where a car or vehicle pickup is arranged from your home or chosen location, and the car is delivered directly to your chosen destination. On the other hand, the terminal-to-terminal service requires you to drop off your vehicle at a specified terminal and pick it up from the destination terminal. The door-to-door service offers more convenience but usually comes with a higher cost.
Insurance and Additional Protections
When selecting a car transport company, it's important to inquire about the type of cargo insurance they provide. Ensure that the vehicle shipping company covers any potential damages during transportation. Additionally, you may consider using a vehicle shipping service provider offering additional protections, such as gap insurance or a guarantee on pickup and delivery times.
Steps to Ship Your Car to Another State
Shipping your car to another state involves multiple steps. Here is a step-by-step guide to help you through the process:
Step 1: Research and Choose a Reputable Auto Shipping Company
Finding a trustworthy car transport company is crucial for a seamless and stress-free experience. Research various vehicle transport companies and compare their services, customer reviews, and pricing. You may want to contact your friends or family members who have used car shipping services in the past for recommendations. Evaluate each auto shipping company based on their experience level, customer service, and the shipping options they provide to select the best fit for your needs.
Step 2: Request Quotes and Compare Prices
Once you have narrowed your options, request quotes from multiple auto-shipping service providers. Pricing may vary based on factors such as the distance between pickup and delivery locations, your chosen vehicle transport service, and the time of year. Compare the prices and understand precisely what is included in the quote, such as insurance coverage and additional fees.
Step 3: Book your Car Shipping Service
After you have chosen a car transport company, contact them to book your car shipping service. Provide the necessary information, such as the origin and destination locations, vehicle details, and special requirements. The auto shipping company will arrange your vehicle pickup per your preferences.
Step 4: Prepare your Vehicle for Transportation
Before your vehicle pickup date, prepare the car for transportation. Remove any personal belongings, perform necessary maintenance, and document the condition of your vehicle by taking photographs. This will be helpful in case of any damages during auto shipment.
Step 5: Inspect your Vehicle upon Delivery
Upon vehicle delivery, inspect your car thoroughly for any damages that may have occurred during transportation. Compare the vehicle's condition with the photographs you took before shipping. If any damages are found, report them immediately to the car transport company and follow their instructions for filing a claim.
By following these steps, you can ensure a smooth and worry-free car shipping experience. Whether buying a new car from another state or relocating, choosing the right auto transportation service is essential. Always prioritize cargo insurance, customer service, and reputable carriers to ensure a successful auto shipping process.
Cost Factors for Car Shipping
When looking for a reliable vehicle shipping service to transport your vehicle, several variables come into play in determining the overall cost. Understanding these factors can help car owners make more informed decisions when choosing a car transport service. Some primary factors affecting vehicle shipping rates include:
Distance and Location
One of the most significant cost factors in vehicle shipping is the distance between the pickup point and the destination. Generally, the further the distance, the more expensive the auto transport service. The location also affects the cost, as heavily populated urban areas often have better accessibility and lower prices compared to remote or rural regions.
Vehicle Size and Weight
The size and weight of your car will also directly impact the cost of auto transportation services. Larger, heavier vehicles take up more space and require more fuel for transportation, resulting in higher charges. This is why shipping a compact car is typically cheaper than transporting a large truck or SUV.
Type of Auto Transport Service
Choosing the appropriate type of auto transport service can also affect the cost of shipping your vehicle. There are various service options available, such as open or enclosed carriers. Open carriers expose your car to the elements but are generally more affordable than enclosed carriers, which offer more protection and privacy.
Customer Service and Cargo Insurance
Selecting an auto transport company with top-notch customer service and comprehensive cargo insurance ensures a seamless car shipping experience. While companies that prioritize customer service excellence and provide cargo insurance may charge extra, the peace of mind of knowing your vehicle is in good hands is often worth the additional cost.
Time of Year and Demand
Finally, the time of year you need to transport your vehicle can impact the cost of auto transportation services. Peak seasons for car shipping, such as summer and early fall, can result in higher demand and, thus, higher prices. Scheduling your vehicle pickup during the off-season may yield better rates.
What You Can Do to Prepare Your Car for an Auto Transport
Preparing your vehicle for transport is essential in ensuring a smooth and efficient vehicle pickup and delivery process. Proper preparation helps protect both your vehicle and the car transport company staff, making their jobs easier and more streamlined. Here are some steps you can follow for effective car preparation:
Clean Your Vehicle
Start by thoroughly cleaning your car, both externally and internally. Cleaning the exterior can make spotting any pre-existing damage easier for you and the auto shipping company. On the other hand, a tidy interior helps prevent the accumulation of dirt, dust, or debris during transportation.
Inspect and Document Pre-existing Damage
Once the vehicle is clean, thoroughly inspect and document any pre-existing damage. Note any scratches, dents, or other blemishes, and take clear photographs as evidence. This information will be helpful during the vehicle pickup process or in case you need to file a claim with the car shipping company or insurance provider.
Remove Personal Belongings
Remove all personal belongings and valuable items from your car before handing them to the vehicle transport company. This prevents potential theft or damage to the items. Additionally, auto transport companies are not liable for any loss or damage to personal items left in the vehicle during transport.
Turn off the Alarm
Turn off car alarms, which may cause unnecessary delays or disruptions during auto transport. Inform the auto shipping company about any complications or conditions to turn off the alarm system.
Check Fluid Levels and Tire Pressure
Ensuring that your vehicle is in good working condition is crucial for transport. Check all essential fluid levels (oil, coolant, etc.) and ensure no leaks. Additionally, confirm that the car's tire pressure is at the recommended level. This provides a smooth vehicle pickup process, avoiding damage or complications during loading and unloading.
Leave a Minimal Amount of Fuel in the Tank
A full gas tank adds extra weight to the vehicle, affecting the shipping cost. It's generally recommended to leave only a quarter fuel tank in the car during auto transportation.
Provide Necessary Documentation
Lastly, gather all the required documentation, such as vehicle registration, insurance information, and other relevant paperwork. Provide these documents to the auto transport company upon request to facilitate a hassle-free pickup experience.
Additional Car Shipping & Moving Tips
When shipping your car, you want the process to be as smooth as possible. Vehicle shipping companies and auto shipping service providers aim to make your experience hassle-free, but planning in advance and considering some additional tips is essential.
First, do thorough research to find reputable car shipping companies. Look for customer reviews, ratings, and testimonials to help you make an informed decision. Car transport companies like American auto shipping have experience in providing top-quality transportation service while ensuring customer satisfaction.
Once you've shortlisted a few reputable auto shipping companies, request quotes from each. Compare prices, timelines, and any additional services they offer. Be wary of any auto shipping company offering meager prices, as it could be a red flag for substandard service or hidden fees.
Before handing over your car to a car shipping company, thoroughly inspect it for any pre-existing damages. Take pictures of your vehicle from all angles and keep a written record of any scratches, dents, or other damage. This documentation will prove any discrepancies while your car is in the hands of professional auto transporters.
Remove all personal belongings from your car, as auto transport companies rarely cover loss or damage to personal items during shipment. Keep your gas tank at about 1/4 total, as too much weight can affect shipping cars' efficiency, and your auto transport company may charge extra for heavy vehicles.
Finally, prepare your car for shipment by disabling alarms, removing antennae, and folding in side mirrors. Ensure you provide the auto shipping service provider with your car keys and a secondary set for emergencies. These simple steps can help ensure a smooth car transport experience and save you time, money, and frustration.
Other Methods to Move Your Car Between States
If you are moving to a new state and considering alternative solutions to shipping cars, several other ways can help you easily transport your vehicle. Car transport services from professional auto transporters are just one of many options. Here are a few more cost-effective and feasible alternatives for moving your car between states.
Drive it yourself: If you enjoy the open road and have time to spare, driving your car to your new location is an excellent choice. While this method can be time-consuming, it offers the advantage of a mini road trip and complete control over your car's transportation.

Hire a professional driver: If you lack the time for a cross-country drive but prefer the reassurance of personalized service, consider hiring a professional driver. Private car haulers offer experienced and insured drivers who will safely transport your vehicle from one state to another.

Train transport: Transporting your car via train can be an eco-friendly and wallet-friendly alternative to traditional auto shipping service. Auto transport services provided by railway companies, such as Amtrak, allow you to transport your vehicle on a train while you travel by train or fly to your destination. This method is efficient, safe, and often less expensive than working with vehicle transport companies.

Coast-to-coast carpool: If your move aligns with someone else's plans, you can opt for a coast-to-coast carpool. This option involves finding a trustworthy person who needs a ride to the same destination. They agree to drive your car in exchange for a free trip, saving transportation charges.
Each transportation method has pros and cons, so it's essential to consider your needs, budget, and timeline before making a final decision. A wide range of options are available, from auto transport companies to private car haulers, ensuring that you have the right transport company for your needs. So, whether you choose professional auto transporters or try one of these alternative solutions, you can have peace of mind knowing that you've carefully considered your options for moving your car between states.
Benefits of Professional Car Shipping
Whether you are relocating, purchasing a new vehicle, or need a safe and reliable transportation service for your car, professional auto transporters are the perfect solution. By entrusting your vehicle shipping to an auto shipping company, you can enjoy peace of mind, convenience, and numerous other benefits.
One of the main advantages of employing a car shipping company is their customer service level. Reputable vehicle shipping companies, such as American auto shipping and Nexus Auto Transport, pride themselves on offering top-notch customer service, ensuring a seamless and stress-free experience from vehicle pickup to final delivery. Communicating with these professionals during the shipping process is crucial in maintaining your confidence in their ability to handle your vehicle with care and expertise.
Another significant benefit of using an auto shipping service is the time and energy you save by not having to transport the vehicle yourself. You can avoid the potential hazards and complications of long-distance driving or car hauling when shipping your vehicle. By hiring a reputable car transport service, you can focus on other important aspects of moving or managing your daily life while the pros safely transport your vehicle.
Auto transport services offer shipping options, like enclosed and open trailers, door-to-door or terminal-to-terminal delivery, and express delivery for faster vehicle shipping. You can choose the best shipping method that suits your needs and preferences by opting for a professional car shipping company.
Perhaps the most compelling reason to select a car shipping company is the safety of your vehicle during transportation. Professional auto shipping companies are equipped with well-maintained, high-quality carriers and qualified drivers. They have extensive experience handling cars and are trained to respond to potential issues that may arise during transport. Furthermore, reputable auto shipping companies are insured and licensed, providing added security and peace of mind during shipping.
Different Car Shipping Methods
With the broad range of options available from auto shipping companies, it is essential to understand the different car transport methods to make an informed decision that suits your needs and budget. The most popular car shipping methods are enclosed vs. open trailers, door-to-door vs. terminal-to-terminal delivery, and express delivery.
Enclosed vs. Open Trailers
An enclosed trailer is a covered truck that protects your vehicle from weather elements, debris, and potential vandalism. This auto transport service is ideal for shipping high-value, luxury, or classic cars that require additional protection. However, enclosed trailers are typically more expensive than their open counterparts due to limited space and extra precautions taken during transportation.
In contrast, an open trailer is a more cost-effective option for shipping cars, which refers to the multi-level or single-level car carriers commonly seen on highways. Open trailers can transport more vehicles simultaneously, leading to lower shipping costs. While they protect from accident-related damage, they are exposed to weather elements and road debris during the journey. Open auto transport is the most commonly used method due to its affordability and compatibility with various vehicle types.
Door-to-Door vs. Terminal-to-Terminal Delivery
Door-to-door delivery is a popular auto transport service where the company picks up your vehicle from your preferred location and delivers it directly to your specified address. This method offers convenience and simplicity, minimizing the need to make other car pickup and drop-off arrangements. However, some residential areas may have legal restrictions or logistical challenges, making it impossible for large car carriers to access or navigate.
Terminal-to-terminal delivery involves dropping off your vehicle at a designated location or terminal, where it will be stored until a carrier picks it up for transport. The exact process is repeated at the destination terminal, where you need to come and collect the vehicle. This method offers cost savings, as you might share the transportation service with other customers. However, it may require more time and effort as you ensure your vehicle arrives on time at the terminal and deal with potential storage fees if you cannot pick it up immediately after delivery.
Express Delivery
When there is a high priority to receive your vehicle at its destination as soon as possible, express car transport services are the solution. These express shipping options usually require additional fees but expedite the auto shipping process, delivering your vehicle faster than standard shipping methods. It is essential to discuss your specific time frame and requirements with the auto shipping company to ensure your vehicle's timely and hassle-free transportation.
In conclusion, professional car shipping companies offer various services and methods to cater to every customer's unique needs. Whether you are looking for an enclosed or open trailer, door-to-door or terminal-to-terminal delivery, or express shipping for your high-priority vehicle transport, these companies have you covered. It's essential to carefully evaluate and compare the offerings of reputable auto shipping service providers to make an informed choice that best suits your requirements and budget.
Why Choose RoadRunner for Your State-to-State Auto Transport?
When shipping your car to another state, choosing the right car transporter can make all the difference in your car-buying experience. With many auto transport companies, selecting the most reliable and cost-effective car carrier is essential. RoadRunner is a top-tier vehicle transport company that provides seamless car pickup and delivery with exceptional customer service and cargo insurance coverage.
As a reputable auto shipping company, RoadRunner provides door-to-door private car transport services, safely delivering your vehicle from one state to another. With a vast network of car carriers and experienced drivers, we guarantee timely delivery and pickup at your convenience. Our auto transport solutions are tailored to meet your needs, ensuring a hassle-free and enjoyable car-buying experience.
RoadRunner's auto transportation services prioritize your vehicle's safe handling during transit. Our car carriers are equipped with inspection features to ensure your car's condition is well-documented before and after transport. Furthermore, our auto transport company provides cargo insurance coverage to safeguard your investment against unforeseen damages during shipment. Hence, working with RoadRunner guarantees the safe delivery of your vehicle, providing you with peace of mind throughout the entire process.
Contact Us Today to Learn More or Get Started
Begin your state-to-state auto shipment requirements with RoadRunner and receive unparalleled customer support and car transport expertise. Our dedicated team can guide you throughout the process, addressing your concerns and facilitating smooth vehicle transport. We invite you to contact us today to discuss your car transport needs. Whether looking for a personalized car carrier service or exploring cost-effective auto shipping options, RoadRunner is committed to exceeding your expectations.
FAQs
How much does shipping a car across the US cost?
The cost of shipping a car to another state varies depending on distance, vehicle size, and the transportation method. Additionally, seasonal fluctuations and fuel prices may influence transport costs. As a leading car transport company, RoadRunner offers competitive pricing tailored to your specific requirements, with no hidden fees, ensuring a transparent and cost-effective auto transportation experience.
What is the cheapest company to ship your car?
The cheapest auto shipping company might not always be the best choice, as low prices may compromise quality and customer service. Instead, look for a reputable car transporter, like RoadRunner, that offers reasonable rates and excellent service, ensuring a secure and seamless state-to-state auto shipment process.
What is the most cost-effective way to ship a car?
The most cost-effective way to ship a car is often through open transport, which involves transporting your vehicle on an open carrier. This method is widely used and is often more affordable than enclosed transport, wherein your vehicle is shipped in an enclosed trailer, offering added protection from weather and road debris. However, the most suitable shipping method depends on various factors, such as your unique car transport needs and budgetary considerations.
Is it cheaper to ship a car than drive?
Shipping a car can sometimes be more cost-effective than driving, particularly for long-distance state-to-state auto transport. By choosing a reliable vehicle transport company like RoadRunner, you can save on fuel costs, wear and tear on your vehicle, and potential accommodations along the way. Additionally, shipping your car alleviates the stress involved in long drives and reduces the risk of accidents, making it a safer and more convenient option for many car owners.