Are you planning to transport your vehicle within the US or to another country? Knowing the cost of car shipping is essential to planning your budget so that you can make an informed decision. This article will provide accurate car transport prices based on transport type, distance, and vehicle size. Additionally, we've included the best tips for shipping your car and answered frequently asked questions about auto transport for your convenience.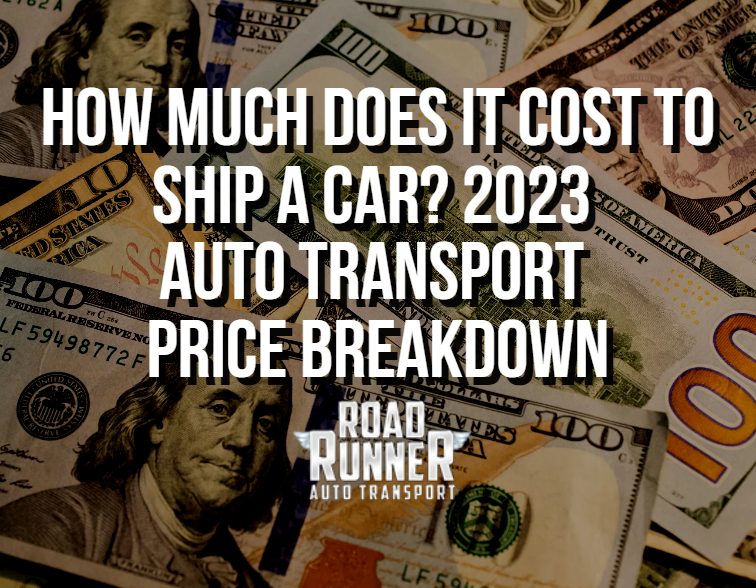 Average Car Shipping Price Based on Transport Type

When it comes to auto transport, there are several options available depending on your requirements and budget. To make the best decision for your car shipping needs, it's essential to understand the average car shipping cost by transport type. The most common transport types used by car shipping services are open, enclosed, and flatbed.

Open Transport

Open transport is the most popular and cost-effective method for car shipping. RoadRunner Auto Transport and other major car shipping companies use this method to transport vehicles nationwide. An open transport typically utilizes a multi-car carrier, accommodating up to ten cars in one shipment. Your vehicle will be exposed to the elements and road debris during shipping, but the chances of any damage are relatively low.

Using a car shipping cost calculator, you can easily estimate the average cost for an open transport service. A ballpark figure for open transport would be between $700 – $1,500, depending on the distance and other factors like seasonal fluctuations.

Enclosed Transport

If you want a more secure and protected environment for your car during transport, consider opting for an enclosed transport service. This type of car shipping protects your vehicle from weather, dust, and road debris, making it suitable for expensive, classic, or exotic cars. Professional car transport service providers provide enclosed transport services with specialized trucks and equipment to handle such vehicles.

The vehicle shipping cost calculator is useful for estimating the average cost of enclosed transport, which is generally higher than open transport. You can expect to pay between $1,200 and $3,000 based on distance, car makes, model, and season.

Flatbed Transport

Flatbed transport is another alternative for shipping your car. This method is typically used for oversized or unusual vehicles that cannot be accommodated on a standard open or enclosed transport. Flatbed transport services are also viable when you need expedited or door-to-door car delivery service, as they usually handle fewer vehicles or even a single vehicle at a time.

The car shipping cost calculator can help determine the average cost of flatbed transport, which also varies depending on the distance, vehicle size, and required timelines. A rough estimate for flatbed transport ranges from $1,000 to $3,500.

Average Shipping Cost Based on Distance

The distance between the pickup and drop-off locations is a significant factor affecting the total car shipping cost. Auto transport services may have pricing tiers based on the distance to help customers estimate the costs associated with car shipping. Generally, the longer the distance, the lower the cost per mile. However, remember that distance isn't the only variable, and other factors like transport type, vehicle condition, and seasonal demand can impact the final shipping costs.

Local Car Shipping (0 – 200 miles)

You might have more options for service providers when shipping a car within a relatively short distance. Local car transport service providers specialize in shorter routes and can more accurately estimate costs and timelines for short-distance shipping. The car shipping cost for local routes typically ranges from $100 – $500, depending on distance, vehicle type, and service level required.

Regional Car Shipping (200 – 1,000 miles)

Regional car shipping covers a broader area and may require an auto transport company with a more extensive network and resources. Regional routes include interstate moves or shipments between neighboring states. In this case, the car shipping cost calculator can provide an estimate that ranges from $300 – $1,200 for regional distances, depending on the factors mentioned earlier.

Nationwide Car Shipping (Over 1,000 miles)

For cross-country or nationwide car shipping, working with a reputable and experienced auto transport company is crucial. Nationwide moves require careful planning and coordination, and the car shipping process may take longer due to the distance covered. For these long journeys, auto transport services typically charge between $600 – $2,500, considering the length, service type, vehicle condition, and seasonal demand.

While the average car shipping cost may change based on different factors, leveraging a car shipping cost calculator and doing thorough research on a car shipping company can help you make an informed decision. Equally important is considering your requirements, timelines, and budget to ensure you get the best possible auto transport service tailored to your needs.

Average Shipping Cost Based on Vehicle Size

The cost of a car shipping service can vary significantly depending on various factors, including vehicle size. The size of your vehicle will impact the car shipping cost, as larger vehicles require more space and resources to transport. It is essential to understand these costs when choosing a professional car transport service.

To help you make an informed decision, we will discuss the average car shipping cost based on the vehicle size. We'll also provide some additional information on how the car shipping process works to give you a better understanding of what to expect when using car delivery services.

It is worth noting that car shipping companies often provide online tools such as a car shipping calculator, vehicle shipping cost calculator, or car shipping cost calculator. These tools are designed to give you a quick and accurate estimate of your car shipping cost based on your vehicle's size and other factors involved in the transportation process.

Below is a general breakdown of the average car shipping cost based on the vehicle size:

Compact cars are the smallest and lightest vehicles, making shipping generally more affordable. The average shipping cost for a compact car ranges from $700 to $2,500, depending on the distance and shipping method (open or enclosed trailer).
Sedans tend to be slightly larger and heavier than compact cars, leading to higher shipping costs. The average car shipping cost for sedans can range from $800 to $2,700, depending on distance and shipping method.
SUVs are larger and heavier than sedans, requiring even more space and transportation resources. The average shipping cost for an SUV can range from $900 to $3,000, again depending on factors such as distance and shipping method.
Pickup trucks are among the heaviest and largest vehicles, resulting in higher shipping costs. The average cost of shipping a pickup truck can range from $1,000 to $3,500, depending on factors like distance, type of truck, and shipping method.
Best Car Shipping Tips

When using auto transport services, choosing the right car shipping company and taking the necessary steps to ensure a smooth and successful car transport experience are essential. In this section, we'll share some of the best car shipping tips to help make the process as seamless as possible.

Research Car Shipping Companies: When looking for a reliable car transport service, conducting thorough research on various car shipping companies is important. Check customer reviews, ratings, and the company's reputation in the industry. Look for companies like Nexus Auto Transport, with a proven track record for providing top-notch auto shipping services.
Get Multiple Quotes: It's always a good idea to get quotes from at least three car shipping companies to compare prices and services. By doing so, you can make a more informed decision about which car shipping service best fits your needs and budget.
Plan Ahead: As with any other service, planning is crucial for car shipping. Book your car transport service well in advance, especially during peak seasons when there's a higher demand for auto shipping. Planning also allows you to find the best vehicle shipping companies at competitive prices.
Prepare Your Vehicle for Shipping: Before handing over your vehicle to the car transport service, ensure it's clean inside and out. Remove any personal belongings, loose items, and any accessories or modifications that could become damaged during transport. Additionally, ensure that your vehicle's tires are inflated, and the gas tank is no more than ¼ full.
Check for Insurance Coverage: Always inquire about the car shipping company's insurance coverage. Ensure they provide adequate insurance coverage in case of any damages during the auto transport process. Reviewing your auto insurance policy to verify if it allows additional vehicle transportation coverage is also a good idea.
Inspect Your Vehicle Upon Delivery: Upon receiving your vehicle from the car delivery service, conduct a thorough inspection of the vehicle to check for any damages that might have occurred during transportation. If you notice any damage, report it immediately to the car shipping company and document it with photographs and written descriptions.

By following these tips, you'll be well-prepared to find and use the best car transport services available, ensuring a smooth and hassle-free car shipping experience for you and your vehicle.

Auto Transport FAQs

In this article, we will answer some frequently asked questions about auto transport, focusing on transport costs, cost-effective methods, and saving money on car shipping. Read on to learn everything you need to know to make informed decisions when dealing with auto transport providers.

How much does it cost to transport a car in the US?

The auto transport cost varies greatly depending on factors such as the type of car, distance, auto transport company, and time of the year, among others. On average, the car shipping cost in the US ranges between $500 and $1500. Remember that this is only an estimate; the total cost can be higher or lower based on your specific circumstances.

To get an accurate car shipping quote, contacting an auto transport provider is crucial. They will be able to provide you with auto transport quotes based on the details of your transportation needs. Several online platforms offer a simple and quick calculation of car transport quotes.

While comparing auto transport quotes, it is crucial to know that the cheapest option might not always be the best. It is important to carefully examine the services offered and the reputation of an auto transport company in the auto transport industry before making a decision.

What is the most cost-effective way to transport a car?

The most cost-effective method of auto transport depends on your individual needs and preferences. Some popular car transport service options include open and enclosed car transport. Open car transport is considered the more affordable and cost-effective option.

In open car transport, vehicles are loaded onto a large open-air trailer, typically holding up to 10 cars simultaneously. This method is widely used in the auto transport industry, making finding a car transporter offering this service easier. However, there is a risk of your car being exposed to weather conditions and debris during transportation. This can be dealt with by selecting a reputable auto transport provider with experience in open car transport.

On the other hand, enclosed car transport provides extra protection for your vehicle by using a covered trailer. This option is ideal for luxury and classic cars but has higher auto transport costs. If you value the condition of your car over cost savings, enclosed car transport may be the better choice for you.

Is it cheaper to ship a car than drive it?

Sometimes, shipping a car can be less expensive than driving it. To determine whether auto shipping is cheaper than driving, you must consider the distance, wear and tear on your vehicle, and fuel prices. Ensuring that you obtain a clear understanding of the shipping cost will help you make an informed decision on whether shipping your car is the better option.

One of the main advantages of car shipping is the time and effort saved. Auto transport prevents long drives, potential road damage, and accidents. This can be particularly beneficial if you are moving to a new location, making a cross-country trip, or selling your vehicle.

Additionally, it is important to consider the costs associated with food, lodging, and other travel expenses that may arise during a long drive. Opting for auto transport can help you save money on these expenses while being convenient and stress-free.

How can I save cost on transport?

There are several ways to save money on car transport costs. The following are some valuable tips to keep in mind when seeking an auto transport provider:

Compare auto transport quotes: Gather car shipping quotes from multiple providers and evaluate the services offered. By doing so, you can find a car transporter that provides the best value for your money.
Choose open car transport: Open car transport is typically less expensive than enclosed car transport. Consider this option if you want the most cost-effective way to transport your vehicle.
Book in advance: Planning and booking your auto transport can save you money. Some auto transport companies offer lower rates for early bookings. Therefore, taking advantage of such offers can reduce the overall car shipping cost.
Be flexible with your schedule: If you can be flexible with your pickup and delivery dates, you may be able to save on transport costs. Car transporters may offer lower rates during less busy periods as they typically have more availability during these times.
Ask for discounts: When speaking with an auto transport company, inquire about any available discounts or promotional offers. Some providers may have seasonal promotions, military discounts, or special deals for return customers.

Transporting your car doesn't have to be expensive if you know how to save costs in the right places. By comparing auto transport quotes, opting for open car transport, booking in advance, and leveraging available discounts, you can make the auto shipping process smooth and cost-effective.