Jump to section:
Book now, not later
Do car shippers pause operations for holiday breaks?
Everything else you need to know about shipping a car for the holidays
Conclusion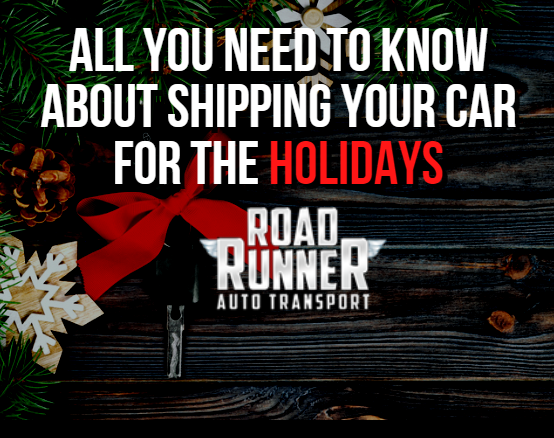 Book now, not later

The holidays are now upon us with the passing of Thanksgiving. Whether you are shipping a vehicle for your own use during a vacation or a vehicle you bought as a gift, you still have time to ship that vehicle for Christmas and/or New Year's as long as you book your shipment soon. Consider that in order to get preferred shipping dates for a typical vehicle shipment, you should book your shipment at least two weeks in advance of those dates. With slightly less than four weeks before the holidays, you should really consider booking your shipment as soon as possible. Car shipping companies do get busier during the holidays, so availability to ship will decrease at a faster rate especially as time goes on. Think of it like booking a hotel for a popular time during the year, it would just not be prudent to leave making the reservations until the last minute.

When you wait too long in order to book your vehicle's transport, you can miss out on your preferred dates for pickup and delivery. However, you might also end up with a longer transit time, a slightly more expensive cost and/or you could miss out on being able to ship with upgraded shipping options such as enclosed transport or top-loading. Shipping in an enclosed carrier is a more popular option during this time of year because of the possibility of snow while your vehicle is in transit. When you ship in an enclosed carrier, your car is placed on a carrier that has walls and a roof, which protects it from weather elements and small road debris.

Do car shippers pause operations for holiday breaks?

Whether or not a car shipping company pauses for a holiday or a holiday break will depend entirely on each specific company. As with companies in the business world at large, holiday schedules will vary greatly from one company to another. You can ask each individual company how this works by giving them a call and discussing it with a customer service or sales representative.

An auto transport company could have less employees and/or carriers available during a holiday or the week of a holiday because of individuals using vacation time. However, the human resources and operations management of these companies ensure that any employee who is vacationing will be covered during that time by another employee. This can be done through overtime incentives as well as through team leader coordination.

RoadRunner Auto Transport only ceases operations on Christmas Day and New Year's Day and that only applies to the sales and customer service staff. Any shipments in transit on those days will continue to ship as they would during any other day of the year.

Everything else you need to know about shipping a car for the holidays

One of the most important things to keep in mind when you ship your car for the holidays or during any other time of the year is that your pickup and delivery dates are periods of two-to-three-day windows. It is unfortunately not feasible to guarantee an exact date for the pickup or delivery of your vehicle due to impossible to predict variables including traffic and/or weather delays.

There are also the few simple steps of preparation for your shipment that you must take. The outside of your car must be clean, and you have to take any personal items out of the car that are not necessary for its operation. It is necessary to have these tasks completed before your pickup window begins or else you risk your shipment being slightly delayed when your auto transport driver gets there.

Finally, be prepared to possibly pay a bit more during this specific time of the year. From a supply and demand perspective, supply of carriers will likely be a bit lower with some auto transport drivers taking time off and demand for auto transport will be considerably higher due to the holidays. Your overall cost will be dependent on the exact details of your shipment such as the overall distance and method of transport you choose.

Conclusion

Shipping your car for an extended stay somewhere during the holidays and beyond can be a great way to make your vacation much easier. The most important thing for you to remember is that you should book your shipment as soon as possible as one to two weeks' notice generally tends to be the minimum notice to ship a vehicle during the holiday season. Always keep in mind that your pickup and delivery windows will be two-to-three-day windows. Finally, make sure you have your car ready for transport by the time your pickup window begins. If you need your car shipped somewhere for the holiday or post-holiday season, give us a call now to book your shipment at (888) 777-2123!