Jump to section:
Transporting your bike yourself
Shipping with a vehicle transport company
Other motorcycle transport methods
Conclusion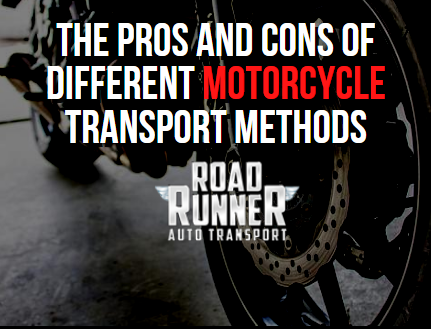 Transporting your bike yourself

You will have several options when you need your motorcycle transported over an extended distance. One such option will be to do it yourself. There are essentially three ways to move your motorcycle a long distance yourself. You can rent or buy a trailer and then haul it with a car or truck, you can haul it in the back of a pickup truck with enough room in the trucks bed, or you can ride the motorcycle the entire distance.

If you choose to haul your motorcycle in a trailer or in the bed of your truck, there are a couple of basic benefits. You will obviously have complete control of the transport and you will not need to put your bike on the road for even a mile. However, the downsides can easily outweigh benefits. If you are hauling the bike in the bed of your truck, you risk damage to the bed of your truck if you do not secure it correctly. You will also need to purchase a ramp, the appropriate tie down as well as other tools.

Whether you are hauling in your truck or in an attached trailer, you will need to drive more slowly throughout the trip. This means that you are going to spend even more time on the road transporting your motorcycle. If a trip in your car or truck would have typically taken two days, it will take about three while you are hauling your motorcycle. Finally, if you are not completely sure what you are doing and do not secure your motorcycle properly before you haul it, you risk serious damage to the motorcycle throughout the trip.

Riding your motorcycle the entire distance makes the least sense of any of these options. The main issue is safety. When you ride several hundred miles at a time on a motorcycle, it is much easier to reach the point of exhaustion since riding a motorcycle is much more physically demanding. It also requires a hyper sharp focus which will burn you out mentally much more quickly as well. If you spend to much time on the road on your bike, you will put yourself at a very unsafe risk of getting into an accident.

Motorcycles are not much different from cars when it comes to mileage and depreciation. The more mileage that you put on them the more they depreciate. In fact, the only difference is that motorcycles are considered "high-mileage" at about 50,000 miles whereas cars are usually considered "high-mileage" at 100,000 miles. So, you are putting a considerable dent in your bike's overall resale value from a depreciation standpoint if you decide to ride it eight hundred miles to get it somewhere.

Shipping with a vehicle transport company

When you decide to ship your motorcycle with a vehicle transport company, you will essentially be rectifying all of the issues we discussed with hauling or riding it yourself. You will not be risking any damage to a truck you own, you will not need to spend any time out on the road yourself, you will not need to worry about any damage to your bike and you will not be putting any mileage on it either.

In addition to not having any of the same downsides of hauling or riding a motorcycle yourself, shipping one will provide extra benefits. It takes all the work out of moving your motorcycle, which will allow you to focus on the rest of your move or trip. These extra hours or days can be invaluable. This also means you will have to miss less time at work. When you have your bike shipped with a vehicle transporter, the overall expense will always be low when compared to other options because a vehicle transporter will ship several motorcycles at a time, thus the volume of the business they are doing during each shipment allows prices to be kept low.

Other motorcycle transport methods

You also have the option of shipping your motorcycle via ground or air with a traditional freight company. The major drawback with either is the extreme expense. Shipping your motorcycle on the ground with a freight company will be at least twice as expensive as shipping it with a vehicle transport company. It also will almost never be any faster. If you ship by air with a freight company, it could be a bit faster, but the expense will likely be at least three times as much as shipping with a vehicle shipper.

There will also be an exhausting amount of preparation that comes along with using a freight company to ship your bike. You will need to figure out the exact weight and dimensions of your motorcycle. You will also have to crate the motorcycle yourself. Odds are you will not know how, so you will need to pay even more money to a crating company to do this for you.

Finally, you also have the option of shipping with an independent hauler. Independent haulers are usually individuals or small towing operations that can haul things like motorcycles an extended distance for you. On the plus side, you might be able to save some money this way. However, if your motorcycle is damaged or your shipment is delayed, there will be little to no recourse for you to take in order to rectify those issues. This tends to be the most unreliable of all your options.

Conclusion

Shipping your motorcycle for any reason, whether during a move or to a national rally, should not be complicated, stressful or overly expensive. When you do choose to ship a motorcycle, you have several methods to choose from including shipping it with a vehicle transporter, a freight company or an independent hauler. Each of these motorcycle transportation methods has its own unique pros and cons. Although, based on simplicity of the process, typical transit time and overall cost, you should really consider shipping your motorcycle with a legitimate vehicle transport company like RoadRunner Auto Transport.