Jump to:
The basics about shipping your car from the dealership
Having the dealership ship your car versus shipping privately
Tips for shipping your car from a dealership
Conclusion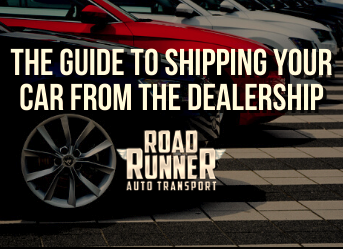 The basics about shipping your car from the dealership

Shipping a vehicle that you just purchased from a dealership, whether it is new or used, is easier than you might think. Something to remember is that most car dealers deal with car carriers on a routine basis because that is how newer models get delivered to their lots. Thus, coordination with a car shipment is second nature to most dealers. This also means that you will not need to worry about the car carrier being too large to pick your car up from the dealer. You also will not need to get your car washed prior to shipping because, new or used, dealers will always keep their cars spotless.

You will still need to have your temporary registration and possibly even a copy of your license presented to the auto transport driver upon pickup. Be sure to discuss this with both your car dealer and auto transporter before you agree to purchase your car. You will be able to send this to your dealer so they can give these to your transport driver.

Having the dealership ship your car versus shipping privately

Some dealers will have pre-existing relationships with a car shipping company. This will allow them to offer you shipping at what seems like a discounted price or even for free. What is really going on is that they are likely factoring the price of shipping into the cost of your vehicle, its warranty and/or service agreement. So, if you are considering buying a car from a dealer where you will need to ship it home, you should let them know up front that you are considering using a third party to ship your vehicle once the purchase is complete.

When you decide to ship with a company of your own choosing, you will have more options in terms of transport method as well as scheduling. It might make coordination of the pickup of your vehicle a bit more complex, but that will be worth having more overall latitude.

Tips for shipping your car from a dealership

If you are shipping a vehicle from a dealership, use the following tips to make your experience as easy and stress-free as possible:

Check out the car or get it checked out – You should never buy a car without taking an in-person look at it first. So, either travel to the dealer and check the vehicle out yourself or hire someone to do it for you. You can hire someone to do this for you by Googling "Prepurchase car inspection" and choosing a provider that can easily make it to the dealership where you are considering buying a car.

Make sure your vehicle is not oversized – You can absolutely ship an oversized vehicle from a dealer such as a n RV or tractor. You will just need to communicate that to your vehicle shipper prior to booking your shipment. Oversized vehicles almost always get shipped on flatbeds rather than typical auto carriers and there is less availability when it comes to these trucks. So, your shipper will need to make some special arrangements.

Have a conversation about the car shipment prior to agreeing to anything – Before you agree to purchase your car, make sure that you and your dealer are on the same page regarding shipping. Make sure that they have no issue with an outside company shipping your car. Also, be sure that they have flexibility in terms of when your car can be picked up.

Coordination is key – You must effectively coordinate not just between yourself and your car shipping company, but between yourself, your car shipping company and your dealer. Be sure that everyone is on the exact same page long before the day of pickup arrives. This includes the dates of pickup/delivery, hours when pickup can occur and that any rules/regulations from any of the sides are completely clear.

Be flexible – There is the possibility that the dealership you are buying your car from might be shipping another car to someone in your area or along your transit route. If this is the case, it is more cost-effective and efficient for them to ship those cars on the same car carrier. If you have some flexibility with your shipping dates and this allows the dealer to ship out multiple cars in fewer loads, you could see some savings as a result.
Conclusion

Shipping a car home that you have purchased from the dealership will be no issue regardless of whether it is new or used. There will just be a bit more of coordination since there will be three parties involved (you, the car shipper and the dealership) rather than just the typical two (you and the car shipper). Remember, be as flexible on your shipping dates as possible, make sure your vehicle is not oversized prior to contacting a transporter and be detailed in the conversations you have with both your dealer and transporter. If you ever need a car transported from a dealership, give us a call at (888) 777-2123 for a free quote anytime!