Jump to section:
How far in advance to book your auto transport
Some seasons are busier than others
Coordinating your car shipment with your move or trip
Conclusion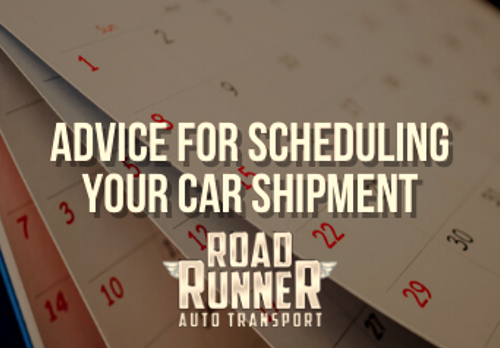 Scheduling your car shipment is arguably the most important part of the auto transport process which is within your control. It will dictate the pickup and delivery dates of your vehicle which can be crucial to the success of a move. Thankfully, scheduling the transportation of your car is easy but there are a few things to be aware of before you schedule your shipment.
How far in advance to book your auto transport

In an ideal world, everyone would get the exact pickup and drop-off dates they wanted one hundred percent of the time. This is unfortunately not the case. However, getting the shipping dates you desire is heavily influenced by you.

The reason the vast majority of the time that someone does not get the shipping dates they prefer is because they waited too long to schedule their shipment in the first place. Car shipping availability is based on demand. So, the closer you get to your preferred shipping dates, the less availability there will be. At a certain point, there might not be any availability left at all. This is why it is always a good idea to book your shipment in advance.

Typically, you really should book your shipment at least a month in advance of the date that you would like your vehicle to be picked up. However, the further in advance you book your shipment, the better. Not only do you have a much better chance of getting your preferred shipping dates, but you might even be able to save a few dollars on the shipment as a result. Scheduling your car shipment six to eight weeks in advance is the move to make if it is possible for you.

Some seasons are busier than others

As we have mentioned, the availability of particular car shipping dates is based entirely on the demand for auto transport at that particular time. During busier times of the year, you would be wise to make sure you book your shipment at least six weeks in advance even though that is always something to consider.

The typical "busy season" for shipping a car is from the late spring through the end of the summer. So, consider the highest demand for car shipping usually occurs from May through the beginning of September. If you plan on shipping during this time, two or three weeks' notice might not get you the exact dates you want.

Coordinating your car shipment with your move or trip

If you are moving or taking an extended trip, it will likely be quite important to have your car delivered soon after you arrive at your destination. You should start by planning your move or trip first. The recommendation from many moving companies is that you do so three or four months in advance of the actual moving date. Once you finalize all the details of your move, you can then schedule your car shipment. If you want to schedule your car shipment further than eight weeks in advance, that will obviously be no issue.

You will have to be present for the pickup of your vehicle. So, this means you cannot depart for your destination until your car is picked up. When it is picked up you will need to turn over the keys to your auto transport driver and sign off on the fact that the car has been picked up.

The same goes for delivery of your car. You will need to arrive at your destination before your car does. This is due to the fact that you will need to be there when the car is delivered to sign off on the completion of the delivery as well as receive the keys. You do have the option of having someone else that you trust receive the vehicle and keys as long as they are eighteen or older with a valid ID. If you choose to go that route, you will need to discuss it with your car shipping company prior to booking.

Conclusion

Scheduling your car shipment is as simple as calling a vehicle transport company and doing so over the phone or by visiting their website and doing so online. If you have any questions or have a circumstance that you might consider special, then you should consider calling and speaking to a company representative. The most critical part of scheduling your car shipment is when you do it. You should always do so at least one month in advance if the pickup and delivery dates matter to you. During busy season from May through September, do your best to book your shipment at least six to eight weeks in advance.

If you are in a situation where you cannot book that far in advance, you should still give your car shipping company a call and see what they can do. Odds are you can still get your preferred dates or dates close to it, but the risk of that not being the case is much higher than if you had booked four plus weeks in advance.