Jump to:
Summer
Winter
Which is right for you?
Prepare your car for shipping
Conclusion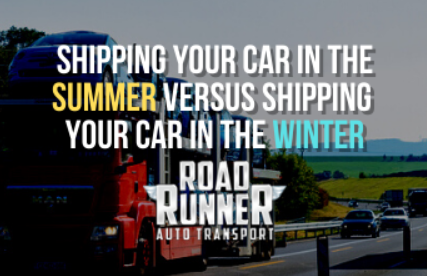 Season can be one of the less predictable factors in both the cost of vehicle shipping as well as the duration of the shipment. However, with other factors in mind such as the route or destination, either summer or winter could be a favorable time to
ship a car
.
Summer

In general, shipping your car during the summer months could cost slightly more , but the shipment typically takes less time to arrive because there will likely be more carriers available at any given point , as well as less inclement weather on the road in comparison to the winter. The main reason for the possibility of a slightly higher price is that demand is higher over the summer.

Thus, prices are increased across the auto shipping industry, not just at individual companies. Another reason is that fuel prices tend to be higher during the summer months. The extra cost of gas means that the overall price of auto shipping will be slightly higher as well.

Transit times are usually better during the summer as previously mentioned. There is considerably less obstructive inclement weather such as blizzards which can cause impassable roads. Therefore, it is easier for auto carriers to make their trips uninterrupted and on time in the summer.

Winter

Shipping a car in the winter will generally take a little longer, but it could possibly cost less in some cases. The demand for car shipping is lower then, thus there will be less carriers available or willing to take certain shipments depending on the price. This can decrease price but simultaneously increases overall transit times.

As we mentioned earlier, inclement weather also plays a role in the increase of transit times of auto transport in the winter months. Snowstorms and icy roads lead to drivers needing to drive more slowly or sometimes stop altogether and wait out the weather.

However, this is usually not the case if you are shipping your car within southern states in the winter. This is another demand driven occurrence, but a higher-than-average number of people end up shipping their cars south when they head south each winter. These people are typically referred to as "snowbirds". This increases demand and, as a result, the price to ship increases. This is why you should always plan your car shipments as far ahead as possible.

Which is right for you?

Whether you ship during the summer or the winter will come down to your budget as well as when you need your car delivered by. Figuring out a budget will also depend on the general distance you are shipping. Are you shipping your car a couple of hundred miles or across the entire country? The distance of your shipment could easily make the difference of several hundred dollars.

Overall, it is probably better to ship your car during the summer months rather than during the winter months. We say this because the shipment will more than likely be quicker , and there is less chance of a delay due to weather. Although weather related delays are always a possibility, they are less likely in the summer.

Prepare your car for shipping

No matter when you ship your car, you will need to properly prepare it for shipping.

Get the exterior of your car cleaned – You want to make sure that the exterior of your vehicle is clean before you ship it because the driver will need to inspect your car for existing damage. If it is not clean enough the driver may not be able to inspect your car in a timely fashion.

Remove any personal items – Any insurance you have regarding your car shipment will not cover any personal items lost or damaged in the vehicle during shipping. If you do decide to leave items in your car during transport, remember you do so at your own risk.

Be ready to be there for pickup and delivery – You will need to be present for both the pickup and delivery of your car in order to give/receive the keys and sign the bill of lading. You will also need to show a valid identification. If you cannot, you will need to make sure that someone over the age of 18 or older with a valid and unexpired driver's license or passport will be present in your place to do those things.
Conclusion

Shipping your car is always easy no matter when you ship it. There are just a few different considerations such as price and transit time that tend to fluctuate seasonally. Regardless of when you plan to ship your car, you should always get a free quote from any companies that you are considering before you do anything else. If you are looking to ship your car in the near future, you can get a free quote from us today online or by calling 888-777-2123!