Jump to section:
Busy season has come to an end
Shipping in the winter is typically cheaper
Helpful advice for shipping your car during the winter
Conclusion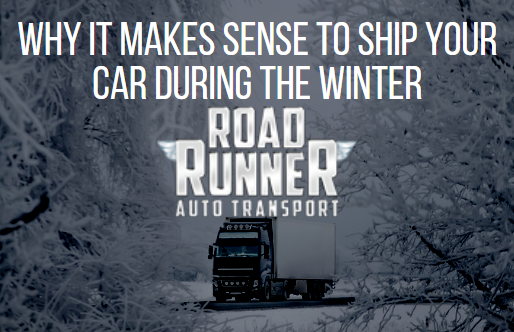 Busy season has come to an end
The typical "busy season" for car shipping is in the late spring through the beginning of the fall. So, you could ship later in the fall and earlier in the spring if you are looking to avoid the absolute busiest time of the year for shipping a vehicle. However, during those times it is still busier than it is during the winter months.

Make no mistake, you can ship your car without incident during any time during the year. It is just that shipping during the winter has some advantages. One of those advantages is that it is the least in-demand shipping time of the year. This directly translates to more carriers with open spots on their hauls. Thus, you will likely get your shipment scheduled slightly sooner than you would during any other time of the year.

Shipping in the winter is typically a little less expensive
Shipping your car during the winter will likely also be slightly less expensive than if you shipped during the summer. Consider it from a supply and demand perspective. If there is less of a demand for auto transport services, then the available supply available will be greater thus resulting in a lower average price to ship.

It also costs carriers a little bit less, in terms of expense, to ship during the winter because fuel prices tend to be at their lowest during that time. In a highly competitive environment, it benefits carriers to lower their prices when they can. Thus, when they see savings, so do you.

How much money will I save by shipping in the winter?

That does depend on several factors but using the example of shipping a 2015 Toyota Corolla from New York City to Los Angeles in January 2021 versus in July 2021 will cost approximately $100 less if you shipped in the winter and booked your shipment several weeks in advance. This is an estimate generated in November 2020, so the price could decrease or increase as time goes on and cost variables change.

As we mentioned, you should be aware that several factors can affect the final price of your shipment. The most important of which is the distance that you are shipping your car. Other factors such as the make and model of the vehicle and how far in advance that you book your shipment will affect the final price as well.

Helpful advice for shipping your car during the winter
If you do decide to ship your car during the winter, you should be aware of the following:

Winterize your car before you ship – The vast majority of auto transport occurs on open-air carriers. So, odds are that you will be shipping on an open-air carrier as well. If this is the case, you will want to be sure that your car is winterized prior to shipping it because it will be exposed to the winter elements during shipping. A few easy things you can do to winterize your car are:


Make sure that your antifreeze is full

Make sure that your tires are properly inflated

Get your oil changed and use an oil with a better viscosity for winter conditions

Understand that a weather-related delay is possible – It does not happen often at all, but a winter storm occurring along the shipping route could delay your shipment. Rarely, these sorts of delays could add a day or two to your overall shipping duration.

Check the battery – Your car obviously needs to be running in order for it to be driven onto and off of the car carrier. If your battery is particularly old, your car could have trouble starting after extended exposure to winter elements during transport. A new battery will be a great start in ensuring that this does not happen.
Conclusion
Shipping your car during the winter is a good way to ensure that your auto transport company can find an available carrier for your shipment as well as a good way to save a couple of bucks on your shipment. Although rare, you can possibly have a slight delay with your shipment due to inclement winter weather. So, if time is of the essence, shipping during the winter might not be the absolute best option. Either way, you can always call RoadRunner with any questions and to get a free quote at (888) 777-2123 today.