Jump to section:
Why so many auto transport companies have poor Yelp reviews
Why there is not much a car shipping company can do about their Yelp rating
Alternatives to Yelp
Conclusion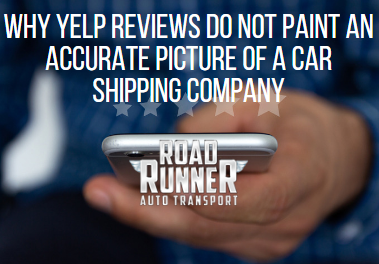 Why so many auto transport companies have poor Yelp reviews
To better understand the difference that you typically see between review scores on Yelp versus other sites like Google for many car shipping companies, you need to understand the purpose behind each of these sites. Yelp is a site that was originally intended for people to review restaurants and hotels. It has since grown beyond that but in a very imperfect way.

Other sites such as Google have always intended reviews to be for any sort of business under the sun. A site like Transport Reviews obviously has always intended reviews to be specifically for vehicle transport companies.

You might think "What is the problem with this? If Yelp was intended for hospitality businesses but has a listing for auto transport companies, how does that affect the legitimacy of a company's review rating?" Well, that is because Yelp now filters reviews based on several factors.

The primary factor is how many previous reviews a user has posted. So, if someone who has issued 100 reviews for restaurants and hotels then reviews a car shipping company, their review will likely stick. However, if someone who has few or no reviews leaves a review for an auto transport company, their review will likely be filtered and removed. The point is that one of Yelp's primary factors in determining the legitimacy of a review is how many previous reviews someone has posted, no matter how irrelevant those reviews are to the current review.

Yelp also considers other factors like the length of a review and how many "friends" a person has on Yelp for whether or not a review should be filtered and removed.

This poses a specific problem for auto transport companies because many of the thousands of people who have shipped their cars do not even have Yelp accounts. So, when they sign up for an account to leave a review for an auto transport company they recently used, Yelp views their one and only review as spam and removes it. So, only a small minority of a car shipping company's customers can actually have their opinion voiced on Yelp.

Yelp's uneven filtering of reviews
Furthermore, Yelp is extremely strict and vigilant with removing positive reviews. They rarely filter and remove negative reviews. This is because Yelp's primary objective is to make sure that businesses cannot inflate their own rating by posting or buying fake reviews. Sounds good, right? Well, one of the issues with this is how much easier it is for a legitimate positive review to get removed than it is for a negative review.

It has even gotten to the point that Yelp has been accused of deliberately suppressing positive reviews of businesses that do not advertise on Yelp in an effort to extort them to do so.

So, the primary reason you will see many restaurants and hotels with higher Yelp ratings and many car shipping companies with lower ratings is because the people who review restaurants and hotels have "trusted" Yelp accounts based on the subjective factors we mentioned earlier and do not get their reviews removed. These "trusted" accounts have all of their profile information completely filled out, have had their accounts active for years and have left many reviews over the course of those years.
Why there is not much a car shipping company can do about their Yelp rating
Yelp does not budge when a company asks them to reconsider positive reviews that they have removed. Thus, the positive reviews that you see on Yelp for a car shipping company are only from those Yelp accounts that are considered "trusted" whereas the negative reviews are from new accounts, incomplete accounts, trusted accounts – basically any account will not have a negative review filtered unless the review does something outrageous such as use profanity.

So, the overall situation is that more than half of the positive reviews that an auto transport company receives are likely to get removed while nearly none of the negative reviews are likely to get removed. Once this happens, there really is no course of action for a car shipping company to take that will yield any results.

Alternatives to Yelp
As we mentioned earlier, there are several extremely trustworthy sites that are much better gauges for auto transport companies than Yelp. These sites filter and monitor reviews with an objective lens rather than operating on the assumption that most positive reviews are fake as Yelp does.

Google – Google is a very unbiased and objective review platform. Plus, many more people have Google accounts than have Yelp accounts, so you get to see more reviews from a better variety of customers. RoadRunner Auto Transport boasts a 4-star rating on Google.
Consumer Affairs – Consumer Affairs has been a long-trusted platform for people to report consumer issues with various companies in any industry including car shipping.
Transport Reviews – Transport Reviews is specific to reviewing car shipping companies only. So, this is another great site to get relevant feedback about a company that you might be considering for your vehicle transportation.
Conclusion
Yelp is a good resource for businesses that are in the hospitality industry. Other than that, it can be very biased and unreliable. This is especially true for the car shipping industry. When you are researching auto transport companies, it is best to use other review sites such as Google to gauge which company might be the right fit for you and your shipment.