Jump to section:
Shipping your car during a move
Selling a car before a move
Advice for shipping your car during a move
Conclusion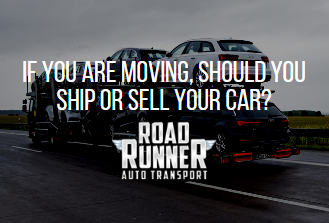 Shipping your car during a move
When you are moving, the last thing that you will want to worry about is driving hundreds or even thousands of miles. So, if you want to spare yourself that stress you have two options: you can ship the car where you are going, or you can sell it.

If you choose to ship the vehicle you can easily schedule the pickup and delivery of the car by going online or calling the car shipping company of your choice. In fact, some companies may even allow you to ship some of your personal items in your car so long as they collectively do not weigh more than seventy-five pounds and can remain below the window line.

Once you decide to ship your car and book your shipment, you just need to take a few steps to prepare, then you can start focusing on the rest of your move. In order to prepare for your shipment, you just need to make sure that the exterior of the car is clean, that you have your valid and unexpired license and that you will be ready to give away and receive your car during your particular pickup and drop-off dates.

Selling a car before a move
If you want to avoid driving across the country during a move, you do have another option: selling it. Selling your car does involve much more work on your end than shipping it does. It is also considerably more expensive if you plan on buying a car after your move.

If you have owned your car for several years, the value of that car has depreciated quite a bit. So, selling it will only get you a part of what you paid for it originally. In the end, you can expect to end up losing at least half of what you bought the vehicle for (assuming you did not buy the car in the past year).

Advice for shipping your car during a move
Before you get started with the auto transport process, there are a few things that you should know first:
Book your shipment early as you can – Booking your shipment earlier increases the chances that you will get the pickup and drop-off windows that you want. It also increases the likelihood of savings a few bucks because the closer you book to the actual shipping date the more expensive car shipping tends to be.

Get the car washed – When your car transport driver arrives, they will conduct a thorough inspection for pre-existing damage. If the car is dirty, this inspection will take much more time.

Discuss the pickup and drop-off locations with a car shipping rep – Sometimes local streets can be too narrow for car carriers to drive on, or local laws might forbid them from driving down a street. So, be sure that you discuss this with your rep and even your particular driver before you determine the exact pickup and drop-off locations for your shipment.

Remove your personal items – When you ship a car, if personal items are lost or damaged, they will not be covered by the car shipping insurance. You are much better off taking these things out of your car before it is picked up for transport. This includes things like sunglasses, jewelry, CDs, etc.

Try and book the shipment right after you get your quote – As we mentioned earlier, the price of the shipment will increase the longer you wait. If you think your quote is reasonable enough for you, you should book right away.
Conclusion
In the end, shipping your car during a move is much more efficient and cost effective than selling it and buying a new car once you arrive at your destination. When you decide to ship your car, you should take several steps to prepare for the shipment including getting the car cleaned, figuring out the exact pickup and drop-off locations and taking your personal items out of the car. If considering shipping your car, you can always get a free instant quote from RoadRunner today.