Driving your classic car a far distance is a risk due to the chips and scratches that can occur along the way. Keep your classic ride safe and ship it to your destination instead with the white glove car shipping experts at roadrunner Auto Transport.

Classic Car Transport 101
Tips for shipping a classic car
Mistakes to avoid when you are shipping a classic car
Final word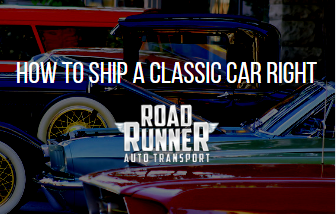 Classic Car Transport 101
Shipping any classic car is obviously a delicate process. You want your prized car to be shipped with the utmost care and safety. You will want to choose a company that has a good track record of moving classic and antique vehicles without damaging them during the shipping process.

People often have an incorrect view or opinion of classic car shipping. They either think it is much more complex or difficult than it actually is, or they think it is much simpler than it really is.

Tips for shipping a classic car
There are actually a few things that you can do in order to get your classic car shipped safely and efficiently to its destination. These are a few tips for shipping a classic car:

Choose enclosed car shipping – Enclosed car shipping is where your car will be shipped in a trailer that has walls and a roof. This is different from regular car shipping, otherwise known as "open auto transport", where your car is shipped on a trailer that does not have walls and a roof and is thus exposed to elements and small pieces of debris from the road.
Take pictures of your classic car prior to shipping – Before your classic car is picked up for transport, be sure that you take some time-stamped photos which will prove the pristine condition of the car as it existed prior to shipping. This is just in case that any damage does happen to occur during the transport of your vehicle. It is rare, but it does happen occasionally.
Research the companies that you are considering doing business with – It is critically important that you look into the companies that you are considering shipping your classic car with. You want to be sure that they have a good reputation for shipping cars on time and without damage.
You can still ship your classic car if it isn't running – If your classic or antique car is not running, you can actually still ship it. You will just need to book your shipment further in advance, because it will take a bit longer to find a carrier who will be able to get your inoperable vehicle on their carrier. The ones who will be able to do so will use a winch connected on one end to the auto carrier and on the other end to your car. Your car is then pulled onto the trailer.
Mistakes to avoid when you are shipping a classic car
There are also a few common mistakes that people often make when they are shipping their classic cars. You will want to avoid making them yourself:

They are not prepared when their driver arrives to pick up their car – Be sure that you are ready to have your car picked up when the time comes. Many people think the process of picking your car up is simpler than it actually is. You will need to have your keys and license ready. You will also need to have your car cleaned so that your driver can easily perform an inspection for pre-existing damage to the car which he or she will mark on the bill of lading.
They leave important personal items in their vehicle – When you are shipping your car, you should be aware that any personal items that are lost or damaged will not be covered by any insurance. So, it is a very good idea to remove all personal items from the vehicle before you ship your classic vehicle. In fact, many auto transport companies will not even allow you to ship personal items in your vehicle to begin with.
They forget to check the details of the insurance coverage – You should always check with your own car insurance company before you ship your car. It is not often the case, but your car insurance company could at least partially cover your car during shipping. Although, you will likely end up having to use the coverage from the auto transport company. Always ask a potential shipper to explain the insurance options you have before you decide to book with them.
Final word
Shipping a classic car is slightly more involved than shipping a regular car because you will want to ship in an enclosed carrier rather than on an open carrier. It gets more complex if the classic car that you are shipping is not running. However, the process is much easier than you might initially think. The important thing to remember is that to make your shipment as smooth and easy as possible, you should spend the necessary time preparing for your shipment.