Learn more about the auto transport process and speak the language of vehicle transport by reading the ABC's of car shipping.From the bill of lading through the vehicle condition report, this guide will define some common terms used in the car shipping industry so you won't feel lost.
Jump to section:
A through F
G through K
L through P
Q through U
V through Z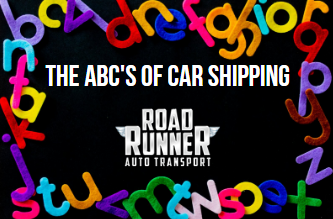 A through F
A – Auto Transport – Auto transport is one of the primary terms for shipping your car somewhere. Other terms include car shipping, vehicle transport and vehicle shipping.

B – Bill of Lading – The bill of lading is both proof that your car was picked up as well as a contract between you and your auto transport company for the shipment of your vehicle. The bill of lading will include several pieces of information including what car is being shipped, where it is being transported to and from, and who is transporting it. On top of that, it serves as a record of the condition that the car was in at the time of pickup as well as at the time of drop-off.

C – Carrier – The carrier is the name for the truck that your car gets shipped on. There are different types of car carriers. These include open-air carriers, enclosed carriers and flatbed carriers. Open-air carriers are the most frequently used for car shipping and have two decks of cars that are exposed to the outdoors.

D – Door-to-door – Door-to-door refers to the shipping method where your vehicle will be picked up at your home and dropped off at the exact address of your destination. This is in comparison to having to drop off and pick up your car at shipping hubs which could require hundreds of miles of driving on your part.

E – Enclosed transport – Enclosed transport describes shipping your car on a car carrier whose decks and cars are protected by a roof and walls. This form of car shipping is used much less frequently than open-air transport, is more expensive and is usually used for high value cars such as antique or luxury cars.

F – Fleet management – Fleet management refers to a car shipping company's ability to ship an entire fleet of vehicles for an individual or company. For example, if Amazon needs twenty delivery vehicles moved from one state to another, an auto transport company will be able to handle that.
G through K
G – Ground clearance – Ground clearance is the distance between the bottom of your vehicle and the ground. In car shipping, ground clearance is important because a ground clearance that is too low can be problematic for typical open-air transport. However, enclosed carriers will be able to handle a low ground clearance. Generally, your car will need four or more inches of ground clearance to be shipped on an open carrier.

H – Heavy equipment transport – Heavy equipment transport is when a car shipping company can ship oversized vehicles such as tractors, RVs, busses, construction equipment and more. These things are typically shipped on flatbed trailers.

I – Instant quote – Instant quotes are estimations of price and transit times for a proposed car shipment that you are considering. Some auto transport websites will take your shipment information and tell you that they will contact you later with your quote. That is not an "instant" quote. An instant quote is when you get your quote online as soon as you enter your shipment information.

K – Keys – Keys are important to a car shipment because your auto transport driver will need them to be able to drive your car on and off the car carrier. This includes the possibility of needing to move the car off and on the carrier in transit when other cars are being loaded or unloaded. So, your auto transport driver will need to have your keys for the duration of the shipment.
L through P
L – Lien – Liens are a part of a loan taken out to buy a car. If you took out a loan such as this and are still paying it back when you ship your car, you will need to present a copy of any liens on the car to the car shipping company. You can contact the bank you received the loan from to find out about any liens on your car.

M – Mimic sites – Mimic sites are websites that mimic car shipping websites to steal leads and personal information. If you want to be sure that a website you are considering getting a car shipping quote from is legitimate, give them a call first and speak to a representative.

N – Non-running – Non-running cars can still be shipped. They are sometimes referred to as "inoperable" cars. The only differences between shipping a non-running car and a car that is running correctly is that it will cost a bit extra, and you will need to schedule your shipment further in advance than normal. Car-carrier trucks that transport inoperable vehicles must be equipped with a winch to get the cars on board. There are much fewer of these types of carriers, thus, you need to book your shipment earlier than normal.

O – Open-air transport – Open-air transport is the most common type of car shipping. It consists of a car-carrier truck that has two decks. Both decks are exposed to the outside world as there are no roofs of walls. Approximately 90% of car shipments are made using open-air shipping. This is the easiest type of shipment to book and it is also the cheapest.

P – Pickup date – Pickup date is the date on which your auto transport driver will arrive to get your car and start the transport process. Pickup dates will not be one exact date from any reputable company. Instead, you will be given a "pickup window" of two to three days where your driver will arrive for pickup.
Q through U
Q – Quote calculator – Quote calculators are the online tools where instant car shipping quotes are generated. These work by analyzing your proposed shipment information, factoring in estimated shipping costs for the dates you chose as well as estimated transit times. They then give you an estimate of the price for the possible shipment, otherwise known as your quote.

R – Reliable – Reliable is a word that should be used to describe the car shipping company that you end up choosing to ship your car with. In order to determine if a car shipping company is "reliable" or not you should check online sites such as Google and/or Consumer Affairs to see what past customers have to say about a particular car shipping company.

S – Standard auto transport – Standard auto transport is another name for open-air transport with no extras such as "top loading".

T – Towing – Towing is different from shipping your car for a few reasons. First, tow trucks can usually only move one vehicle, so availability is much lower. Next, most towing companies will only move a car a few miles, possibly up to a hundred or so miles. Finally, towing will always cost more per mile than shipping a car does.

U – Unload – Unloading of your car will take place during delivery. This process may take a bit of time depending on how many other cars are also on the carrier. Generally, it will only take between thirty minutes and an hour.
V through Z
V – Vehicle condition report – Vehicle condition reports are how many auto shippers will document any pre-existing damage as well as the running status of the car and the mileage of the vehicle. This is typically part of the bill of lading.

W – Window – Window refers to "pickup window" and "delivery window" which is typically a two to three-day period in which your vehicle can be picked up or delivered.

Y – Year-round shipping – Year-round shipping is the reference to the fact that car shipping goes on twenty four hours a day, seven days a week, three hundred and sixty-five days a year. There is no "off-season" or holidays.

Z – Zip code – Zip codes are a critical part of information used in calculating auto transport quotes. The zip codes of your destination and pickup location are how distance is calculated. Thus, a price and transit time cannot be estimated without the zip codes.