Car shows are a fantastic experience for car lovers of all ages and levels of experience. In fact, you can even see some cars that you did not know existed and end up with a few new favorite cars. They also serve as a wonderful opportunity to talk to the owners of these cars.


Jump to section:
General info about car shows
The best car shows in the country
How you can get your car to a show
Tips for enjoying a car show
Conclusion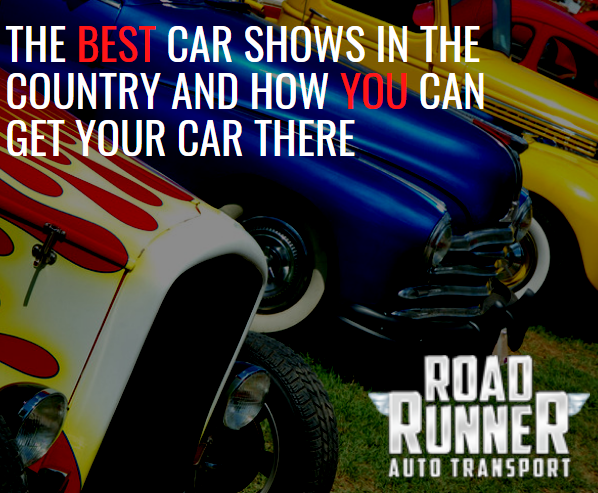 General info about car shows
There are car shows that occur all over the country at various times during the year. Different shows will feature different cars, so make sure that you do your research first. Odds are that there are some pretty good shows that go on wherever you are. However, the very best shows tend to occur in areas where cars are most popular, such as in southern states.

These shows also serve as an inexpensive option to spend a day. Usually, tickets to one of these shows will only run about $15. Plus, many of the shows offer discounted tickets for kids as well as seniors.

Most of these shows run for several days, so be sure to check out each show's particular website for details on what is going on during each individual day. You might want to attend for a day or two, or you could attend every day of the show. It is entirely up to you!



The best car shows in the country
If you consider yourself a car enthusiast, car shows are a fun way to spend a day. The following are some of the best car shows that you can attend in the entire country:


How you can get your car to a show
If you plan on having your car displayed at a show, you will want to keep it in perfect condition. Driving hundreds or even thousands of miles right before the show is an easy way to get the car dirty or even scratched. So, unless the show is local to you, you should not drive the car there.

Many people who display their cars in out-of-state car shows choose to ship their vehicles to the show. This will allow you to avoid driving all the way there yourself. It will also be much more likely that your car stays dirt and scratch free. You can even take this a step further and choose to ship on an enclosed carrier. This option provides complete protection from weather, dirt and small road debris such as pebbles.



Tips for enjoying a car show
If it is your first time heading to a car show, there are a few tips that you should be aware of before you do:
Get ready – You will definitely want to make sure that you prepare yourself properly before you attend one of these shows. We recommend that you do some research on the different types of cars that you expect to see in the particular show that you are attending. You should also check to see if the show that you are going to has an app that you can download.
Dress comfortably – You will likely be on your feet for a couple of hours for the duration of the show. So, you should wear some comfortable clothing and shoes. Many of these car shows take place outside, so be sure you dress appropriately for the weather that day as well.
Mind the rules – You will want to go online or call the particular show that you are attending before you head there just so you can make sure that you are a hundred percent clear on the rules first. For example, you do not want to get there and then you find out that pets are not allowed when you brought your dog.
Ask questions – The best way to get some great information and insights about your favorite cars is by talking to an owner. They can let you know about all of the ins and outs that owning a certain car will entail. This type of inside info can help if you are considering buying a particular car yourself.
Take pictures – You will likely want something so that you can remember the events, so take some pictures with your favorite cars. Be sure that you ask the owner's permission before you do. Keep in mind, some shows might not allow photography.

Conclusion
Car shows are a fun and exciting way to spend a day and to see some of the world's most incredible cars. If you think that you might want to attend one of these incredible shows you should check to see where and when it is held. You should then make whatever arrangements necessary to make sure you have tickets, hotel accommodations and whatever else you might need to have the best experience possible.

If you are planning on displaying your car at one of these shows, you should seriously consider shipping the car to the show.