In a recent survey, almost 70% of people said they would think about buying a car online. However, buying a car online can be a complex experience if you are not sure what you are doing. That is why you need to take your time and prepare before you do any sort of shopping or even browsing.


Jump to section:
What you need to know about buying a car online
How you can ship a car that you bought online
Tips for buying a car online
Conclusion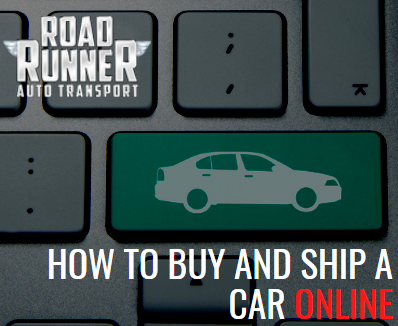 What you need to know about buying a car online
When you are considering buying a car online, you should not dive right into the process and buy the first car that you like. There are several things that you need to come to a decision on first.

The first thing that you should do is set a budget for yourself. It is important that you stick to this budget. You should search for a deal that is within the budget even if you find the car of your dreams and it only slightly reaches past the limit of your budget.

After that, you should sit down and put serious thought into what you are looking for in a car. This way, you will eliminate most of the work that you could possibly need to do. You should also figure out how many miles you are willing to accept on a preowned car if you are considering that option.

Next, you should start your search on reputable online car-dealer sites such as Autotrader. Keep in mind that you should always arrange to see any car that interests you in person. Do whatever you can to take the car for a test drive as well. If you are traveling somewhere to see a car, be sure to try and schedule any other viewings in that area on the same day. This way you will not have to end up traveling back to the same area later on.

Before you travel to see any car that piques your interest, you should always check the CarFax report. This will let you know what has happened to the car during its history on the road.



How you can ship a car that you bought online
Shipping a car that you purchased online will reduce the stress and complexity of buying a car online. Now, you will not need to take off from work, get on a train or plane, and then drive your new car hundreds or even thousands of miles back to your home.

It is quite easy to ship a car that you bought online. You just need the vehicle's information so you can book your shipment. Specifically, you need the make, model and vehicle year.

The auto transport process will involve a few more steps after that including the preparation for your shipment, the actual pickup process, the actual delivery process and what you need to do after delivery is complete. You can read more about that here.

If it is a used car, you also need to find out if there are any important pieces of information about the car's condition. The car needs to be running in order for you to ship it on a traditional auto carrier. You can still ship an inoperable car. You will just need to mention that it is not running when you are booking your shipment so that a special type of carrier can be assigned.



Tips for buying a car online
Before you commit to buying a car online, read the following tips:

Take your time – There is absolutely no need to rush through the car-buying process. Take your time, make sure that the car is what the seller says it is and do your best to get a deal.
Shop around before you make any commitment to buy – It is possible that you see a great deal right away. However, you should spend at least a few days looking at other options, you just might come across a better deal.
Get it inspected – If you are buying from a private seller, odds are that they will not offer to spring for an inspection by a mechanic. However, it is likely that they will allow you to get an inspection if you pay for it. Do this for any car that you are about to commit to.
Remember the CarFax – Do not forget to peruse the vehicle history report. It has all the information about the car's history organized into one easy-to-read report.
Research any dealers – If you are buying the car from a dealer, be sure that you read online reviews on sites like Google before you commit to anything. You will want to be sure that the dealer has a good reputation among its past customers.

Conclusion
Shopping for a car online can be both a fun and frustrating experience. It can also be a great way to find a great deal on the car that you have always wanted. Just be sure that you take your time during the process and you do the right research for any vehicle that you are considering.

Always check the car out in person and, if possible, have a mechanic look at the car as well. Finally, you should seriously consider shipping your car to you. Doing so will save you time, money and stress.