Some people wonder whether they should ship their vehicle with a local vehicle transporter or a national car shipping company. There is a lot to consider. How far will you be shipping your car? How soon do you need your vehicle shipped? The following guide will give you all the information that you will need.
Jump to:
Which is best for you?
Local car shipping companies
National car shipping companies
Conclusion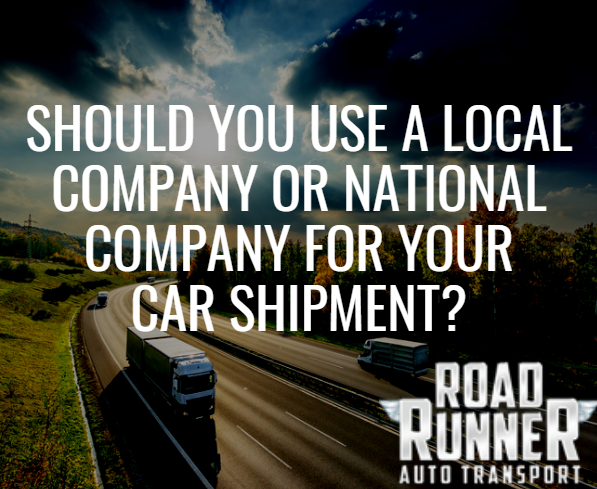 Which is best for you?
Both local and national car shipping companies play important roles in the overall auto transport landscape. When it comes time to choose a vehicle shipping company, there are a few things that you should consider.

First, you should consider how far you are shipping your car. Is it more or less than a hundred miles? Is the vehicle being shipped out of state?

You should also think about your budget and timetable for shipping your vehicle. How much can you spend on your car shipment? When do you need it picked up and delivered by?

There are a bunch of things to consider before you choose a company, whether local or national, to ship your vehicle. In the end, you need to do what is best for you.

There are many more differences between local and national auto transport companies. Below, we will break them both down so you can make a more informed decision about your car shipment.



Local car shipping companies
Local car shipping companies tend to be much smaller in scale. In fact, the majority of local car shipping companies that you will come across will just be individual carriers with a truck or two of their own that they drive themselves during the shipment.

These auto shippers have limited ability to ship long distances as they rely on a full haul to be able to take a longer shipment. Make no mistake, these carriers regularly ship cars a few hundred miles but anything beyond that would be difficult. This is because they would need very advanced notice because they need to book other cars being shipped in the same direction along the same route depending on what type of car carrier they have. In order for a cross-country or any longer distance shipment to make sense, at least a few cars must get shipped so that the carrier can make a legitimate profit.

The issue is that with only one or a couple of carriers, these companies only have the ability to travel and ship on a very limited number of routes.

Their pricing might be a bit lower occasionally because they have incredibly low overhead with an extreme minimum of employees and equipment. However, when the price is compared to a national company with things like transit times, reputation and car safety, the very small level of savings is easily not worth it.

The insurance offered by auto transport companies is generally to scale. This means the smaller the company the smaller and less reputable policy they will have. Be sure you ask a lot of questions regarding the insurance policy if you choose a local car shipper.

So, if you are considering a local auto transport company for your car shipment, remember that they likely aren't the best choice for a longer distance shipment as well as the fact that you are assessing a higher level of risk than you have to in terms of the safety of your car.



National car shipping companies
National auto transporters constantly deal with a high volume of customers. More importantly, they have a ton of drivers and seemingly endless amounts of routes that they regularly ship on. They might have slightly higher prices than a local auto shipper but that directly translates to increased flexibility with scheduling, higher carrier availability and much greater route diversity.

A national carrier will also have a much more reputable and trustworthy insurance policy so that you can rest easy when shipping your car.

The customer service department at the larger national auto transport companies deals with a much higher call volume because of the higher customer volume. However, national car shipping companies handle this by employing a higher number of customer service representatives. So, you can expect the wait to speak to someone at a national company or a smaller local carrier to be the same.

There are two types of national companies, direct carriers and brokers. Direct carriers are precisely what they sound like, companies who own trucks and directly employ their own drivers. Brokers are companies that contract many carriers both large and small. Brokers then use this vast network to get the best prices for a shipment as well as the lowest transit times and most direct and efficient routes.



Conclusion
There are reasons for using either a local or national car shipping company. Both are structured quite differently, however, they will both get your car to its destination safely.

Overall, a national car shipping company will provide you with the most options in terms of scheduling, pickup and delivery, and price. Realistically, you should use a national auto shipper for any shipments longer than a hundred miles or so. It just makes sense as scheduling and transit times will almost always be better than a local company. However, the choice is yours.

If you are ready to ship your car, you can use our free online quote calculator any time you want to get an idea of the price and transit time for a particular shipment. You will be given the option to book as well, if you are ready to. You can also feel free to call anytime in order to talk to a live representative at (888) 777-2123.