If you have a car that is not so near to you but is very dear to you and it is not drivable, it will be a tough situation to work out. You obviously will not be able to drive it home unless you get it towed, then repaired and you can't ship it because car shipping requires that the car is running, right? Wrong.


Jump to:
Your car doesn't need to be running in order to ship it
How do inoperable cars get shipped?
How to ship a non-working car
Conclusion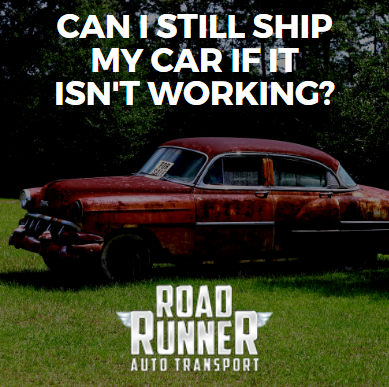 Your car doesn't need to be running in order to ship it
You can still ship your car without issue if it is not running. Maybe you bought a car at auction without an engine and you need it shipped to you. Maybe you bought a classic car from a private seller that just needs a little bit of work to get up and running.

Regardless of the situation, this will cost slightly more than a regular car shipment but that is due to the additional work that is required to get the car onto and off of the carrier as well as the special equipment that is needed in order to do so.

Generally, the additional cost for an inoperable vehicle can range from $50 to $200 depending on the distance you are shipping the car and the auto transport company that you are shipping with.

This sort of shipping is known as inoperable car shipping. But what makes a car "inoperable" or "non-working"? Any car that can't be driven onto or off of the carrier is considered to be inoperable.

So, whether it is because your car has multiple flat tires or because it does not have an engine, if they cannot drive it onto the truck, it is inoperable and will cost a little bit more to ship. Body damage won't affect your shipping method unless the damage impairs the cars ability to drive straight without extreme measures being taken.

However, not having a key will qualify your vehicle as inoperable. If there is something fairly simple and/or inexpensive to get your car up and running before shipment, you should do it – you will need to get your car fixed eventually and this way you will save on the extra fee for shipping an inoperable car. Sometimes, it is as simple as changing or charging a dead battery.



How do inoperable cars get shipped?
This is a much more complex process than normal auto transport is. The process usually involves a forklift moving your car onto the trailer. Getting an inoperable vehicle onto the trailer also involves the use of a winch. Only certain car haulers are equipped with a winch. There is also a certain amount of special safety training required for the drivers that facilitate these special shipments.

The actual shipment itself is the same as any other shipment. It is just the loading and unloading that is completely different and much more of a hassle at that. Keep in mind, once your car is dropped off you will likely need a tow truck to bring it to your preferred auto shop to get fixed, unless you are an auto mechanic yourself.

With all of these costs in mind, you should crunch the numbers and consider getting your car fixed prior to shipping it. That way you will save the added cost of shipping a non-working car versus a working one. If it is a classic car and you want to be extra careful shipping it, we recommend that you use enclosed auto transport as well.



How to ship a non-working car
Just like a regular car shipment, you will need to carefully research the companies which you are considering using. The most obvious and most important thing to make sure of is that the company can even transport inoperable vehicles. If so, make sure they can ship YOUR specific inoperable vehicle.

Next, you will want to make sure you check out online reviews from sites like Google and Consumer Affairs. If they have the ratings and reviews that are up to your standards, then you should feel comfortable choosing them.

Also, be sure to choose the company with the best value. This means do not just choose the company that is offering the lowest price. Choose the company that offers the best and most efficient service at the most reasonable price.

Be sure that they do not require a full payment up front either as that is a sure sign of a bad or scammy car shipping company.



Should I ship my car or tow it?
If you are shipping your inoperable car a short distance, you're probably thinking "Shouldn't I just get it towed by a local towing company?" And you could do that. The good thing about towing companies is that they work primarily with non-running cars, so they are always prepared to move an inoperable vehicle as their trucks all have winches. Unfortunately, though, there are a ton of drawbacks to using a towing company.

Believe it or not, shipping your car will very likely cost less. This is because towing companies charge absolute premium prices to come to you immediately. If you can wait for a few days, you can save well over half the price of towing by shipping your car.

Towing companies can also be unreliable and inconsistent with pricing as well. Unfortunately, price gouging is a part of the towing industry and, depending on your situation, you could easily fall victim to it.

Your car will also be at a higher risk of being damaged because these tow trucks are less secure than auto carriers and the drivers tend to be less experienced than auto carrier drivers.

There is also the issue of volume. These tow truck drivers make the bulk of their money with volume which means the more pickups they have – the more money they will make that day/night. This means they might be motivated to rush loading your car in order to go to another pickup sooner. Which could, possibly, result in damage to your vehicle.

Some of you might choose to tow your car yourself. This is fine if you know what you are doing. Although, the relative cost of towing your own car over an extended distance will come pretty close to the cost of having it shipped the only difference being that you will be doing all the work and taking the long trip yourself.

If you do not have much experience towing your own car, we highly recommend against it. There are a bunch of things which could cause trouble during your trip. Depending on your set up, you might not be able to go in reverse or have a complete view out of your mirrors. You also might not even set the trailer up correctly which could be disastrous. In short, do not try to tow your car yourself unless you absolutely know what you're doing.



Conclusion
Once you find a company to ship your non-running vehicle, they will take care of most of the details, so all you will need to do is prepare your car for shipping. Remember, the usual rules still apply like not shipping personal items inside of your vehicle and making sure it is ready for inspection by the driver when they come to pick it up.

Be sure to make your decision to ship your car as soon as you can so that you can book sooner thus allowing you to ship and receive your car sooner.

The process with an inoperable car is considerably more complex so the actual length of time from pickup to delivery might take longer than usual. Expedited shipping will take about three days for a pickup instead of the usual 24-48 hours because it is much more difficult to find drivers on short notice who operate an auto hauler equipped with a winch.

However, it will be worth it as it is much easier and cheaper than trying to fix it and then driving it the whole way yourself or getting overcharged by a towing company.

If you need help shipping an inoperable vehicle, give us a call today at (888) 777-2123.