When you are considering shipping your car, you will eventually need to decide what kind of auto carrier that you want to ship your car on. There are several options to choose from including open or enclosed carriers. Which one you choose depends on the details of your shipment as well as your preference.


Jump to section:
How an auto transport carrier works
The different types of car shipping carriers
Which should you use?
Conclusion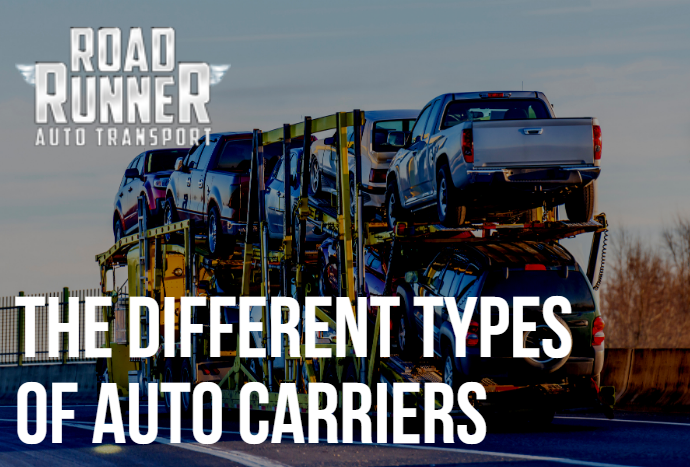 How an auto transport carrier works
Car carriers are designed for one purpose and one purpose only, to transport cars. So, they are designed to do exactly that as a result. A typical open-air car carrier will have two decks, this way they can maximize the number of cars that they can move at a particular time. Some enclosed carriers will even have two decks as well.

When your driver arrives, they will go through the usual motions of checking your ID as well as inspecting your car for damage. After that, they will get into your car and carefully drive it onto the carrier.

Once that is done, the driver will lock the car to the carrier. Cars are attached to the auto carrier at four different spots. The driver will use a series of chains and straps to secure the vehicle to the carrier. Most vehicles are made with precise tie-down holes in their frame. Chains with specially made hooks to fit these holes are connected tightly in order to secure the cars to the auto carrier. The drivers are even required to hook up the angle of the chain a certain amount of degrees from the vehicle to the trailer so that the cars cannot possibly move during the transport process.

The different types of car shipping carriers
This might surprise you, but there are actually multiple types of car carriers that exist. Depending on your car transport needs, you could choose to use anyone of them.

Open Air Transport – This is the most traditional form of car shipping. This is the type of car hauler that you typically see out on the highway. It is a big truck, much like an eighteen-wheeler minus the large boxed trailer. Instead, it has a trailer which consists of two levels of dual metal treads which are wide enough to accommodate car wheels. Cars are loaded onto the trailer by the driver driving the car onto these treads and then using chains and straps to secure the car to the trailer via the cars' wheel wells. These carriers can hold between five and ten cars depending on the model. Open-air carriers tend to have the shortest transit times and lowest shipping prices due to the high availability of these types of trucks.






Enclosed Transport – This is much rarer of a sight than the typical open-air transport. This sort of carrier does have a typical boxed trailer – this means any hauls on these trailers will have a roof and two walls of protection. Although that trailer does tend to be a bit larger than most eighteen-wheeler hauls. Vehicles get loaded onto the trailer by driving up to the back of the trailer and then parking on the open and flattened trailer door. Then, hydraulic lifts raise the door and the car so it can be easily driven on to the trailer. These trailers allow cars to be shipped while preventing any exposure to elements such as weather as the cars are enclosed inside of the trailer.






Single Car trailers/Towing – Single car trailers and towing are the rarest form of shipping a car. This is likely because of how much more expensive it is than shipping a car traditionally. These are simply just truck with a trailer big enough to fit one vehicle or when someone uses their truck to tow a single vehicle. Cars get loaded on these sorts of transport carriers by being attached to the truck for towing or by driving up the ramp of the trailer. This type of car shipping is the least convenient and most costly.

Which should you use?
Whether or not you should choose open air transport or enclosed transport is entirely up to you and your situation. Open air transport is used and chosen the vast majority of the time. In fact, it is used for ninety percent of car shipments.

However, enclosed transport has its place for certain car shipments. Typically, enclosed transport is used for those with classic or antique cars that do not want to take any risk of weather or small road debris making contact with the car. However, the latter is an incredibly rare possibility with open air transport. You will also need to pay an extra couple hundred dollars with enclosed transport.

Single car trailers are pretty rare too. They are also very expensive. They also are the most difficult to schedule a shipment with. We recommend avoiding this method of auto transport, especially for shipments over a hundred miles.

Conclusion
Shipping your car is the best way to avoid the big hassle of driving your car across the country. When you do choose to ship your car, you will have a few different options available to you. Nine times out of ten, people choose to ship their car on an open-air transport carrier. That is because it is the cheapest and most convenient option available. However, enclosed auto transport also has its place for certain shipments.

Either way, you are always free to choose whichever option works best for you. If you are not sure which option is best for you, you can always get a free online quote to see what the transit time and price would likely be for each option. You can also always call us anytime at (888) 777-2123 and talk to a live car shipping expert and ask whatever questions you might have.