If your child is heading off to college you can save the trouble of having to drive all the way there by shipping their car to campus. Doing so can help you save a considerable amount of time energy and money. Plus, you will get to spend a little more one on one time with your child before they leave for school.


Jump to:
Shipping versus driving
The benefits of shipping a car to college
Tips about shipping your car to college
Conclusion: Why choose RoadRunner Auto Transport for your college car shipping needs?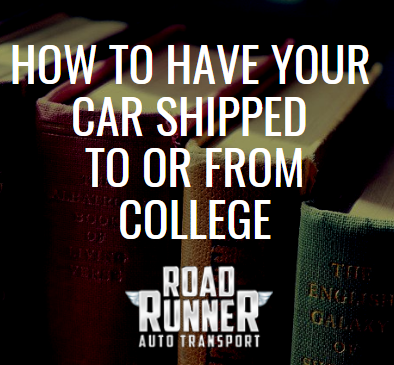 Shipping versus driving

Most parents don't want their children making the long-haul driving to or from college by themselves. Too much can go wrong – even if you trust your child's driving ability, what about other drivers? Many parents also want to spend their last few hours talking with their child before they leave them at college or catching up after not seeing them for a while on the drive home. When you ship your car to or from college instead of driving it there or back, you can easily solve both of these problems.

Consider too that by foregoing driving you can decrease your drive time by a day or more. Also, don't forget the danger involved with driving either. Normally, driving to college means traveling on large and crowded interstate highways which pose some of the highest risks of a car accident. What is more important than your child's safety and well-being?


The benefits of shipping a car to or from college

With the obvious benefits of less travel time and circumventing your child driving hundreds of miles by themselves already being stated, it's important to understand all the other benefits of shipping your car to college. Now let's say they do drive their car to college and do get in an accident but don't suffer any injuries. Great, as long as they're okay that's all that matters, right? Well, the problem is you might end up paying for the damage to your car AND the other vehicle involved in the accident. Moreover, if that's the case, your insurance premiums will skyrocket because a newly licensed young driver (your child) caused the accident.

By shipping your child's vehicle, you will be saving on gas, tolls and rest stop expenses – with the cost of shipping as low as it currently is, you're practically breaking even as far as cost. If you were planning on making the trip there with them, you could now also save the cost of the hotel stay as well. On top of that, this will also allow your child to have a car at school which, as you likely already know, will make their lives considerably easier and more convenient.

It will also help them save on the cost of transportation which is important when they're already spending all sorts of money on tuition and books. Shipping the car will also help keep the car in better condition because your child will end up avoiding the long trips to and from college which would likely result in some sort of small road debris, such as rocks, hitting the car at various points in the trip.

Consider too that when you ship your child's car to college, they will always have additional storage space if need be. All around, it only makes sense to ship your child's car to college. Yes, there are a couple of drawbacks such as the cost of gas and parking costs on campus but the positive greatly outweighs the negative.


Tips about shipping your car to college
Book your shipment early – If you do choose to ship your child's vehicle to their campus be sure that you allow enough time for the process to take place. From start to finish, auto shipping can take up to a couple of weeks depending on the distance of the shipment. So, if they're coming back from school in December for the holidays, start coordinating your shipment in November. However, you can always call an auto transport company to inquire if they can accommodate your request even if you are late. Be aware that unforeseen circumstances such as larger weather events like hurricanes or blizzards could possibly delay your shipment.

Find out if the car can be picked up from your home – Door-to-door shipping is offered by most car shipping companies. However, there are restrictions in some residential areas that prevent the drivers from getting to someone's house whether it's the street being too small or local laws and regulations. So, there's a chance you might have to coordinate to meet with your driver. These meets are best set for a large parking lot like at some sort of a mall or shopping center. Your driver will be knowledgeable enough to make some suggestions if you cannot. The good thing is that the drop-off should be somewhere close to your kid's school – most college/universities have large commuter parking lots which will serve as a perfect spot to drop the vehicle off at. You will want to contact the school to be absolutely certain that this is okay before-hand.

Personal items – Unfortunately, you won't be able to ship too much as far as personal items in the car. The general rule of thumb is you can have up to a hundred pounds of personal items in the car as long as they are kept below the window-line. So, this could be useful in terms of shipping smaller things like bedding, school supplies, or toiletries. Larger things like furniture won't make the cut. If you do choose to ship any personal items in your car, make sure you discuss it with your driver before-hand.

Get ready for inspection – Make sure your car is completely ready for inspection. This means that the car's exterior should be cleaned thoroughly so that your driver can easily check for any pre-existing damages or scratches.

18 and over – Remember the car can only be dropped off to someone over the age of eighteen. So, if your child is starting college at the age of seventeen the car won't be able to be released to them – you will need to be there.

Have the proper ID – If your son or daughter is eighteen or older, they can have the vehicle released to them. However, they will need to have their photo identification to present to the driver (either a valid non-expired driver's license or valid non-expired passport). They should also have a copy of the Bill of Lading with them as well as the ability to check the car to make sure no damage was incurred during transport. Overall, we do advise that you are there to receive the car but its fine to have your child do so if you choose.

Make sure they're ready to drive – Make sure that all your insurance and registration is current well before shipment occurs. This doesn't just help facilitate a successful shipment, but it also is crucial to your child's ability to be able to use the car once it's dropped off at school.

Have the parking passes ready – Your child will inevitably need a parking pass for their school. This will run another couple of bucks but it will allow them to park near class and arrive on time. If you want to be extremely detailed oriented, try to have these passes/window stickers already on the car by the time it gets picked up for shipment. This way your child won't have to worry about it when they get their car.

Detachable parts – Remove any detachable non-essential parts such as roof racks before the river arrives to pick up your car.

Remove any valuables – Finally, make sure that you remove all valuables from the car prior to shipping. The auto carrier's insurance will not cover it if valuables are damaged or lost during the transport of your vehicle.
Conclusion: Why choose RoadRunner Auto Transport for your college car shipping needs?

RoadRunner Auto Transport can ship your vehicle to or from any college campus in the continental United States with ease. We've been in the business of successfully shipping cars for years and are experts in the auto shipping industry. You don't have to take our word for it though, you can check out a ton of satisfied customer reviews on Google!

We also have a super easy to use free quote calculator to help you figure out your budget for all of your car shipping needs. Once you choose to ship with us, we also have a dedicated customer service team to help answer any questions that you might have regarding your shipment.

RoadRunner also gives you several shipping options including enclosed auto transport and top-loading. So, whether you're in a hurry or you want to just take extra special care of your car during shipment RoadRunner has you and your child covered for college.