Are you in need of reliable car shipping services in Massachusetts? Whether you're moving to or from the state, transporting a vehicle can be a hassle.
In this article, we explore the top-rated Massachusetts car shipping experts, the cost and time it takes to ship your car to different locations within Massachusetts, and the various types of car shipping services available. We also provide tips on how to save on car shipping and how to properly prepare your vehicle for transportation. The more you know about car shipping and what to expect, the better prepared you'll be.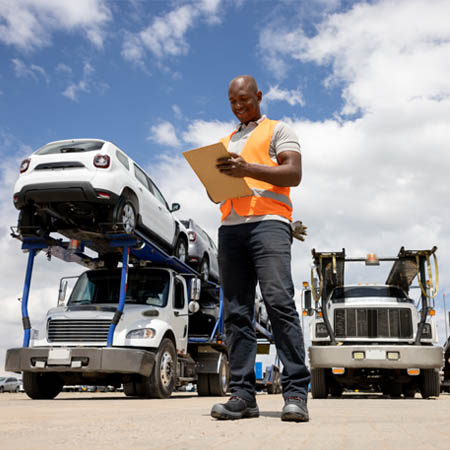 Guide to Auto Transport Services in Massachusetts
The days of driving your car across the country for a move, or if you've recently purchased a vehicle from another state, are gone. You can now opt for auto transport services like those provided by RoadRunner Auto Transport. These car transport companies offer a seamless process to ship your auto to your desired location, whether it's within Massachusetts or to another state.
Top-Rated Massachusetts Car Shipping Experts
When it comes to Massachusetts car shipping, you can trust the experts at RoadRunner Auto Transport. Our reputation as one of the top auto transport companies in the industry stems from our commitment to providing unparalleled auto shipping services.
We prioritize your vehicle's safety and ensure it reaches your desired destination within the stipulated time frame with our car transport service.
Our carriers are equipped with high-tech equipment, which aids in the proper securing and handling of vehicles during transit. So whether you need to transport a classic car or an SUV, our open and enclosed auto transport services have you covered.
Massachusetts Car Shipping Cost & Time To Ship Your Car
If you've decided to invest in auto transport, you're probably curious about cost and timeline. The average cost for Massachusetts car shipping is influenced by several factors such as distance, type of vehicle, time of the year, and type of transport service chosen (open or enclosed auto transport).
To give you a basic idea, the cost of shipping a sedan from Boston to Miami could range from $900 to $1200 using open transport. However, for enclosed auto transport, which provides additional protection, the cost could be 30% to 40% higher. The shipping time usually takes around 3 to 7 days, depending on the distance and the transport method. However, remember that there are many factors influencing cost and timeline and the best way to get answers to your questions is to ask a transport company.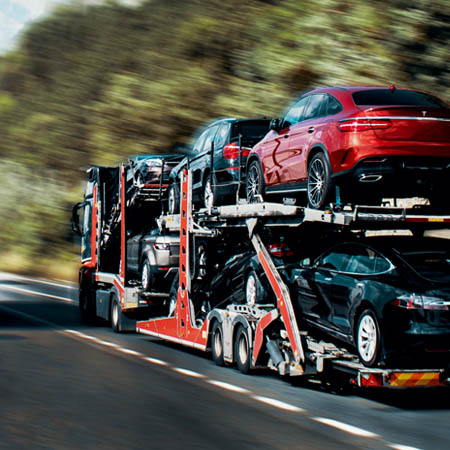 Massachusetts Car Transportation Companies Near Me
When it comes to Massachusetts car transport, it's important to find a reliable auto transport company near you. RoadRunner Auto Transport is a trusted company providing a wide range of car transport services in Massachusetts. Our commitment to providing professional and customer-oriented service sets us apart from other auto transport companies.
Residents often choose us for their car shipping needs due to our stellar reputation. Our customer testimonials and high ratings reflect our dedication to providing a seamless car shipping experience. Additionally, our competitive pricing and comprehensive services make us the go-to car transport service in Massachusetts.
Types of Car Shipping Services in Massachusetts
At RoadRunner Auto Transport, we offer various types of auto transport services to meet the needs of every customer. From open car transport to enclosed auto transport and expedited options, we have you covered.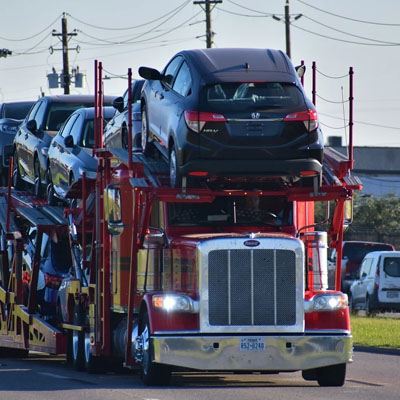 Open Car Transport
This is a popular and economical choice for many of our customers. Your car is transported on an open carrier, which means it may be exposed to weather conditions and road debris. Despite this, open car transport is a safe and reliable option for shipping vehicles over long distances.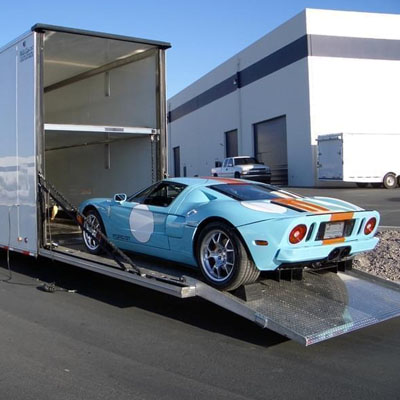 Enclosed Auto Transport
Enclosed auto transport provides an extra level of protection for your vehicle. It's the perfect choice if you have a high-end vehicle or classic car that needs extra protection from the weather and potential damage from debris on the road. Enclosed car shipping services ensure that your car is completely shielded from external elements during transport.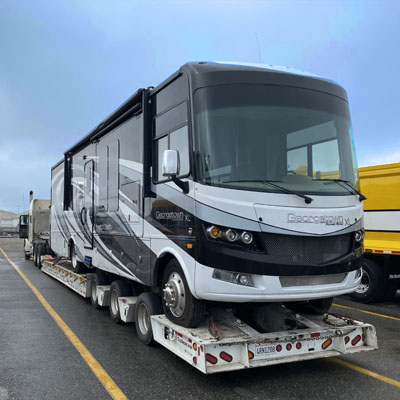 Door-to-Door Car Transport
Door-to-door car shipping is a service that picks up and delivers your vehicle as close to your desired locations as possible without requiring you to meet the transporter at a hub or terminal. It provides a convenient solution for people relocating, purchasing vehicles from out of state, or needing car transportation for any reason. RoadRunner proudly provides door-to-door services for your convenience.
No matter the type of service you choose, our team is committed to ensuring a safe and smooth car shipping process. We're one of the top car shipping companies in Massachusetts and are proud to provide comprehensive services to our customers.
Guide to Car Shipping in Massachusetts
Saving on car shipping doesn't necessarily mean opting for the cheapest service. Instead, it involves getting the best value for your money. Below are a few tips specifically designed to help you save when using Massachusetts car transport services.
Tips for Massachusetts Car Shipping Services
Consider the Type of Transport: Auto transport companies provide different types of transport methods, including open and enclosed auto transport. Open transport is typically cheaper because it is less protective, making it an ideal option for everyday vehicles. On the other hand, enclosed auto transport is more expensive because it offers better protection, making it suitable for high-value vehicles. Therefore, choose the auto transport type that gives you the best value based on your vehicle's value.
Prepare your Vehicle: Preparing your vehicle for shipping can save you money. It includes emptying your car's fuel tank to about a quarter full and removing personal belongings. By reducing your vehicle's weight, you lower the car transport service's cost. If the transport company needs you to perform specific preparation steps before shipping your vehicle, they should let you know in advance.
Select the Right Company: Choosing the right car transport company is crucial. Look for companies that offer competitive prices without compromising the service quality. Car shipping companies like RoadRunner Auto Transport offer quality services at affordable rates.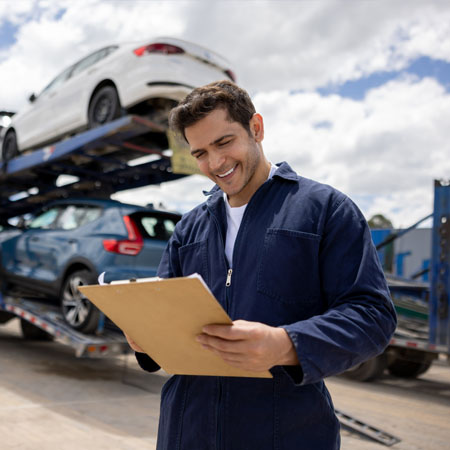 How to Prepare Your Vehicle for Massachusetts Car Transportation
Properly preparing your vehicle for Massachusetts car transport can protect it from potential damage and help you avoid unnecessary costs. Here are several steps to follow.
Empty the Vehicle: Remove all personal belongings and non-permanent car accessories. Auto transport services aren't liable for personal items left in the car, and they may cause damage during transit.
Maintain a Low Fuel Level: Keep your vehicle's gas tank about a quarter full. This amount is enough to load and unload your car onto the carrier without adding unnecessary weight to the vehicle.
Conduct a Thorough Inspection: Document your car's condition before shipping. Take pictures and note down any pre-existing damage. This evidence will be necessary if you have to make a claim with the car transport company for damages that occurred during transit.
Deactivate the Alarm: Deactivate any alarms to prevent them from going off during transportation. Unwanted alarm triggers can cause delays and incur extra charges from your auto shipping services provider.
In conclusion, finding the right Massachusetts car shipping service is essential for a stress-free experience. Take time to research and compare different auto transport options, prepare your vehicle for transit, and understand how the car shipping process works to save on costs and ensure safe delivery of your vehicle.
Receiving Your Vehicle in Massachusetts
After your car is delivered, the transport process isn't quite over. It's important to properly inspect your vehicle to ensure you got the value you paid for. Here are some steps to follow once your car is delivered.
Inspection for New Damage
Always look out extensively for any cosmetic or mechanical damages that might have occurred during the transit. An ideal Massachusetts car shipping experience provided by auto transport companies delivers your vehicle in the same condition it was picked up.
Checking for Missing Accessories or Belongings
While the rule of thumb with auto transport services is to avoid shipping personal belongings, any installed accessories should be intact. Massachusetts car transport companies, and even nationwide car shipping companies, are liable for missing accessories.
Signing Delivery Paperwork
It is crucial to understand what you're signing at delivery. If everything is in order, you can sign confidently. Remember, your signature confirms that you received your vehicle in acceptable condition from the Massachusetts car transport company involved.
Massachusetts Car Shipping Distance & Time to Ship Your Car Examples
Top Massachusetts Shipping Locations
Distance
Estimated Transit Time
Massachusetts to California
3,020 miles
7 - 9 days
Get Quote
Massachusetts to Florida
1,306 miles
3 - 5 days
Get Quote
Massachusetts to Texas
1,949 miles
4 - 6 days
Get Quote
Massachusetts to New York
168 miles
1 - 3 days
Get Quote
Massachusetts to Washington
3,094 miles
7 - 9 days
Get Quote
Massachusetts to Illinois
1,141 miles
3 - 5 days
Get Quote
Massachusetts to Arizona
2,679 miles
6 - 8 days
Get Quote
Massachusetts to Georgia
1,073 miles
3 - 5 days
Get Quote
Massachusetts to Virginia
543 miles
2 - 4 days
Get Quote
Massachusetts to Ohio
761 miles
2 - 4 days
Get Quote
**It is important to note that the prices and times listed are only estimates and will vary depending on factors such as the season and the type of vehicle being shipped. Use our car shipping calculator to get an instant price quote for your exact type of shipment.
About RoadRunner Auto Transport
If you're looking for reliable auto transport services in Massachusetts, RoadRunner Auto Transport is the team for the job. Our team of shipping experts works tirelessly to provide you with a quality experience that gives you peace of mind. Whether you've used auto shipping before or are new to the experience, we are here for you.
Our team is composed of experts, including:
Transport Coordinators: Our knowledgeable transport coordinators help assist with the planning of your shipment. They work with thousands of shippers on a daily basis and have the experience to help you with pricing, availability, and new reservations.
Shipment Support Agents: Once your reservation is booked, our support agents will provide updates and answer any questions you have. They can be reached by phone or through your shipment tracking portal and are always ready to help.
Dependable Drivers: With over 25,000 certified carriers in our network, our drivers are some of the most qualified in the industry. We take pride in offering you a range of options, and we treat each vehicle as if it were our own.
Dispatch Specialists: Our dispatch specialists work behind the scenes to connect with drivers along your route to secure space on the carrier that accommodates your shipment needs.
If you're ready to work with one of the most trusted names in auto transport, contact RoadRunner today.