Are you in need of car shipping services in Indiana? Whether you're moving to or from Indiana or simply need to transport a vehicle within the state, finding a reliable and efficient auto transport service is crucial. In this article, we will explore everything you need to know about car shipping services in Indiana, including the cost and time it takes to ship your car, the different types of car shipping services available, tips for saving on car shipping, and more. We also provide information about preparing your vehicle for transportation, receiving your vehicle upon delivery, and review a trusted Indiana car shipping company. Read on to discover how easy it can be to ship your car in Indiana!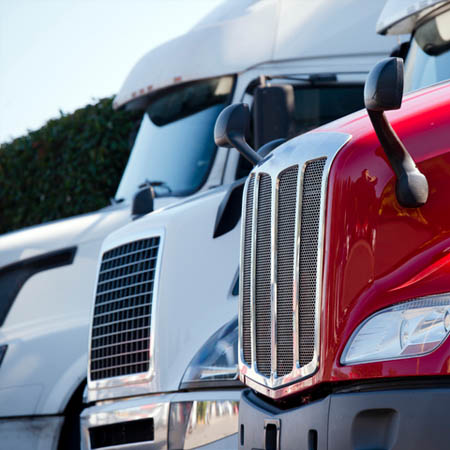 Auto Transport Service: The Easy Way to or From Indiana
Considering relocating to The Hoosier State or moving out? There's a lot to plan – and transporting your vehicle shouldn't contribute to your worries. With car shipping services in Indiana, smoothly moving your vehicle is easier than ever.
Whether you're settling in the bustling hub of Indianapolis, the vibrant city of Fort Wayne, the multinational city of South Bend, or the surrounding areas, top-rated auto carriers are at your service. At RoadRunner Auto Transport, we understand that each vehicle transport requirement is different, offering both open carrier transport and enclosed options for distance auto transport.
Top Rated Indiana Vehicle Transport Experts
Employing the most skilled and experienced drivers, companies like RoadRunner Auto Transport are committed to ensuring the absolute safety of your vehicle during transit. Our process includes thorough car inspections, a myriad of shipping options, and the delivery of your vehicle right to your doorstep.
By choosing car shipping experts, you can convert the grueling task of vehicle transportation into a hassle-free experience. Don't take our word for it, though – the reviews, testimonials and repeat customers speak volumes about the quality of auto transport services in Indiana.
Indiana Car Shipping Cost & Time to Ship Your Car Examples
While planning for car shipment, understanding the cost and time involved is crucial. At RoadRunner Auto Transport, our pricing is transparent and determined by factors such as the vehicle's weight and size, the season, and the distance of transport.
For example, open carrier transport option from Fort Wayne, Indiana, to Denver, Colorado, a distance of approximately 1150 miles, could cost around $800-$1000 and take about 1-3 days. On the other hand, an enclosed, climate-controlled transport for a luxury or classic car may cost more, but reinforces the safety of your valuable vehicle.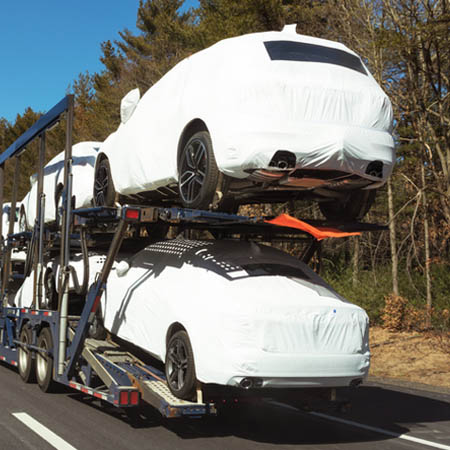 How does Indiana Auto Shipping work?
Whether you're a first-timer or a regular user of car transport services, understanding the process can always provide an added sense of security. In a nutshell, Indiana auto transport involves an easy three-step process – Getting an instant quote, vehicle pick up, and delivery. With RoadRunner Auto Transport, you're guaranteed complete transparency and timely updates throughout the process.
Indiana Car Transportation Companies Near Me
When you are looking to transport a car in Indiana, you might be wondering, "Where can I find reliable car shipping near me?" The answer lies with Indiana's top car shipping services like RoadRunner Auto Transport.
RoadRunner is known across the country for our excellent service. We offer open carrier transport, enclosed carrier transport, cross-country car shipping, and more. So whether you are living in South Bend or any other city in Indiana, you can rely on us to handle any type of vehicle transport with care.
Types of Car Shipping Services in Indiana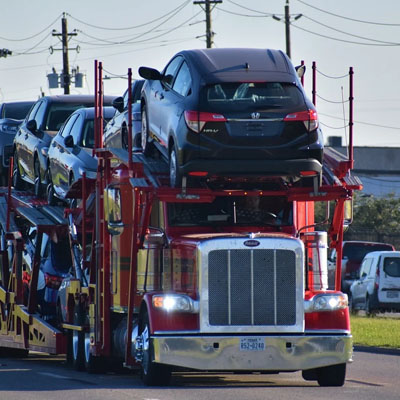 Open Carrier Transport
Open carrier transport is the most common method for car shipping. This type of vehicle transport involves loading cars onto an open trailer. It is a cost-effective and reliable way to transport your vehicle over long distances.
One of the benefits of open car transport is its affordability compared to enclosed car transport. Open transport also allows for more vehicles to be transported at the same time, making it a popular choice for many individuals and businesses.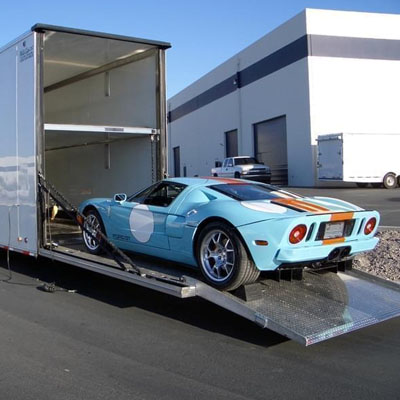 Enclosed Carrier Transport
Enclosed carrier transport offers a higher level of protection for your vehicle. The car is transported in a fully enclosed trailer, protecting it from the elements and road debris. This is a premium service typically used for high-end, classic, or collector cars.
If you value your vehicle's protection, you may opt for enclosed auto carrier services. Keep in mind that this type of service comes at a higher price than open carrier transport.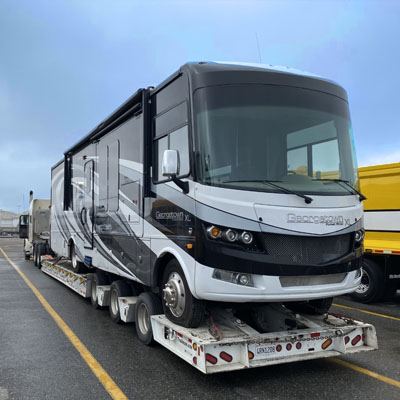 Cross-Country Car Shipping
Cross-country car shipping offers a convenient and efficient way to transport your vehicle to any destination within the United States. With RoadRunner Auto Transport, you can trust that your vehicle will be handled with care throughout the entire shipping process. Our experienced team ensures that your vehicle is properly secured and protected during transportation to prevent any damage.
We provide door-to-door service, picking up your vehicle from your desired location and delivering it directly to your chosen destination. This eliminates the need for you to drop off or pick up your vehicle from a terminal, saving you time and effort.
Choosing the Right Indiana Auto Transport Services
When choosing an auto transport service in Indiana, consider factors such as your budget, vehicle type, timing, and specific needs. Also, don't forget to check customer reviews for any company you are considering.
For example, standard auto carriers are ideal for most customers, but if you have a high-end model, you may want to opt for enclosed car transport. On the other hand, if you are moving house or relocating to another state on a budget, you might consider using an open carrier from a cross-country or state to state auto transport service.
How to Save on Car Shipping in Indiana
The cost of shipping a vehicle may vary depending on the distance of the trip, the type of vehicle, and the type of carrier used. However, there are several ways you can save on car shipping in Indiana.
Choose Open Carrier Transport
Open carrier transport comes at a lower price than enclosed auto transport. While it doesn't provide as much protection from the elements, it is suitable for most vehicles and driving conditions in Indiana.
Be Flexible on Pick up and Delivery Dates
Auto transport services may offer lower rates for customers with flexible dates. It helps them optimize their route and deliver vehicles to Fort Wayne, South Bend, and surrounding areas more efficiently.
Tips for Indiana Car Transport
Selecting the right auto carrier services is crucial for easy and safe car shipping in Indiana. Here are some tips to help you make the best choice for your needs.
Consider the Type of Service
The two main types of auto carrier services are open and enclosed. Open car transport is cheaper and suitable for most vehicles, while enclosed is ideal for luxury or classic cars that need extra protection.
Review The Service Provider
It's essential to review the reputation of auto transport services in Indiana before choosing one. Look for reviews on their website or third-party sites and check their safety records.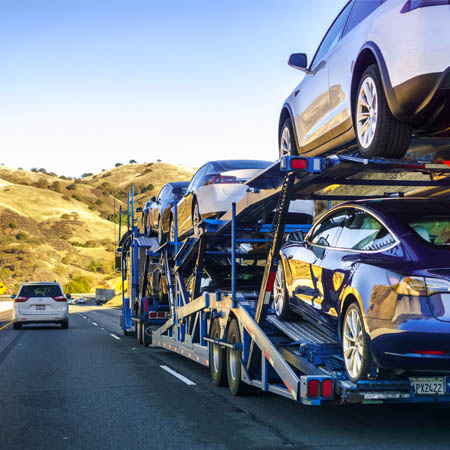 How to Prepare Your Vehicle for Indiana Car Transportation
Proper preparation of your vehicle is crucial for a smooth transport process. Here are some efficient ways to ensure your car is ready for shipping.
Clean your Car
Clean your vehicle thoroughly before it gets picked up for shipping. This will help the carrier inspect it properly and note any existing damages before transportation.
Remove Personal Items
Auto transport services are not responsible for personal items in your car, so make sure you remove all personal belongings before shipping.
Check Fluids and Battery
Make sure all fluids are at their appropriate level, and the battery charge is full. This helps the auto carrier service move and load the car for transport.
Turn off the Alarm
Turning off your car's alarm system will prevent unnecessary disruption or delays during transport.
With these tips, you can make the most out of your Indiana car transport service and ensure a smooth delivery process. No matter where you're shipping to or from, being prepared will always save you time and money.
Receiving Your Vehicle in Indiana
When you use an auto transport service in Indiana, there are a few steps you should take upon receiving your vehicle.
Inspection for New Damage
After your vehicle has been transported, thoroughly inspect it for any new damages. Most Indiana car shipping services ensure that your vehicle is protected during transport, but it's always a good idea to check.
Checking for Missing Accessories or Belongings
When receiving your vehicle from an auto carrier service, check for any missing accessories or belonging. Vehicles transported by reputable auto transport services should remain in the same condition before and after car delivery.
Signing Delivery Paperwork
Once the vehicle reaches its destination and is offloaded, don't forget to sign the delivery paperwork. This document serves as your proof that the auto transport service delivered your car successfully.
Indiana Car Shipping Distance & Time to Ship Your Car Examples
Top Indiana Shipping Locations
Distance
Estimated Transit Time
Indiana to California
2,169 miles
5 - 7 days
Get Quote
Indiana to Florida
775 miles
2 - 4 days
Get Quote
Indiana to Texas
1,096 miles
3 - 5 days
Get Quote
Indiana to New York
782 miles
2 - 4 days
Get Quote
Indiana to Washington
2,306 miles
5 - 7 days
Get Quote
Indiana to Colorado
1,083 miles
3 - 5 days
Get Quote
Indiana to Georgia
533 miles
2 - 4 days
Get Quote
Indiana to Arizona
1,744 miles
4 - 6 days
Get Quote
Indiana to Virginia
619 miles
2 - 4 days
Get Quote
Indiana to Oregon
2,289 miles
5 - 7 days
Get Quote
**It is important to note that the prices and times listed are only estimates and will vary depending on factors such as the season and the type of vehicle being shipped. Use our car shipping calculator to get an instant price quote for your exact type of shipment.
RoadRunner Auto Transport
RoadRunner Auto Transport is a highly endorsed Indiana auto transport company that offers efficient vehicle delivery services, from open carrier and luxury vehicle enclosed transport to military shipping and college transport.
The Trusted Indiana Car Shipping Company
RoadRunner Auto Transport guarantees a trustworthy and reliable car shipping experience. With their range of services, you can find the vehicle transport solution that meets your specific needs in Indiana.
Information About The State Of Indiana
Indiana is centrally located in the U.S., making it a popular place for auto transport. It is the 17th most populous state and covers an area of approximately 36,418 square miles. The state is known for its diverse landscape, characterized by rolling hills in the north and flat plains in the central and southern regions. Indiana's economy is driven by manufacturing, agriculture, and services such as healthcare and education. The state also boasts a rich history, with iconic landmarks like the Indianapolis Motor Speedway and the historic city of Indianapolis, which serves as the state capital.
Indiana is home to several prestigious universities and colleges, including Indiana University and Purdue University. With its vibrant culture, friendly communities, and a strong sense of Hoosier pride, Indiana offers residents and visitors a unique Midwestern experience.
Whether you're shipping a car to Indiana for relocation or purchasing a car from another state, Indiana auto transport services can easily accommodate you.
Still have questions about shipping a car?
Our customer support team is available to address any additional questions you might have about auto transport services in Indiana. Contact us to learn more.