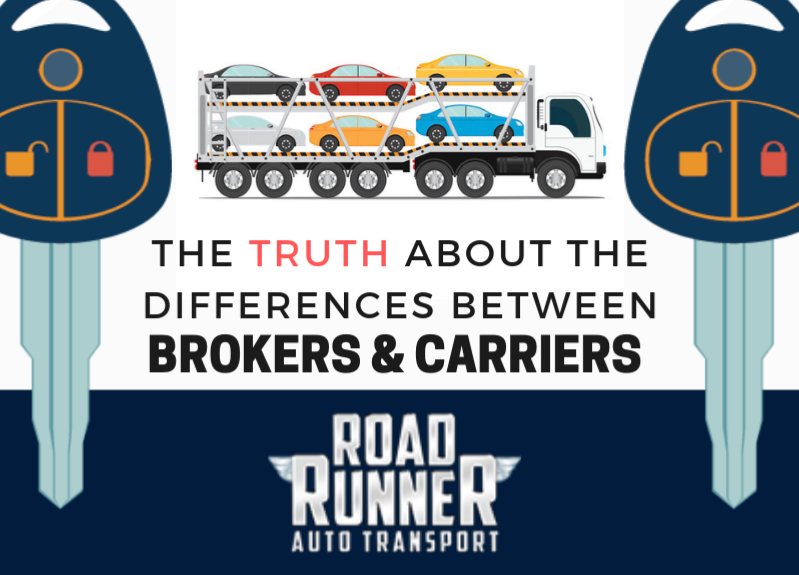 Jump to section:
Introduction
Carriers
Brokers
The main differences between a broker and a carrier
The main similarities between a broker and a carrier
Which should I choose?
Conclusion
Introduction

There's often a lot of confusion regarding the difference between brokers and carriers in the auto transport industry. Many people struggle to understand why brokers are necessary and why it is so difficult to find the right carrier.

The most important thing to understand is that brokers and carriers work together to make the auto shipping process work as efficiently and easily as possible for the customer.

As a very general overview, you can look at it this way: carriers are the companies that have the actual trucks that ship the cars while brokers coordinate shipments and connect customers with the best carrier out of, potentially, thousands of options.

Carriers

Carriers are the companies who actually own the trucks and employ the drivers that make the car shipments. In fact, 80% of the entire car carrier fleet in the United States are single owner operators. This means that each of these carriers are just one person with one or two auto haulers.

So, there are hundreds of these types of carriers out there. Most of them maintain "designated routes" which are certain routes that make them the most money most efficiently and, because of this, these carriers do not divert from these handful of limited routes.

The carriers receive their car shipment orders via brokers or shippers at a price they find sensible through a combination of evaluating their own costs and consulting national dispatch boards. They essentially set the market price for auto transport this way.

Now, that means that 20% of carriers in the country are part of larger companies. In fact, some of these larger carrier companies figured out that if they also acted as a broker and sub-contracted out the orders that they couldn't fill to smaller carriers they could at least still make some money on those shipments.

The point is that even when you deal directly with a carrier, you might actually still be dealing with a broker and not even be aware of it.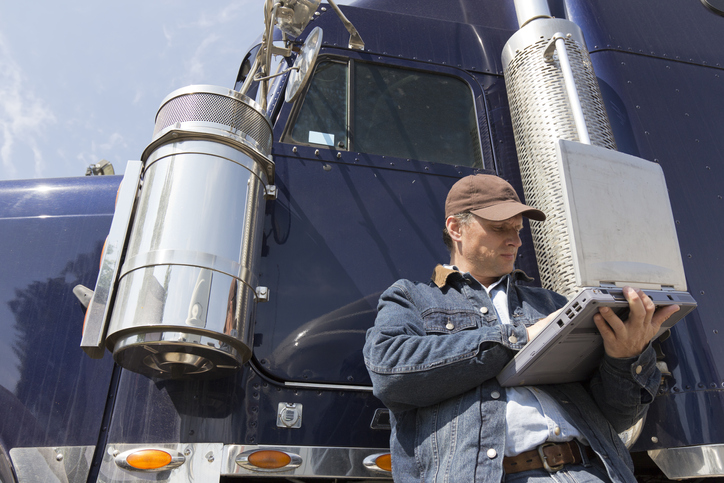 Brokers

A negative sentiment has always existed regarding car shipping brokers. Some people even refer to them as "middle men." However, the role they play in vehicle shipping is essential to the vast majority of car shipments on the market.

In short, a broker facilitates, coordinates and negotiates the transaction between the customer and carrier. Something that wouldn't occur, more often than not, if a customer and carrier were dealing with each other directly.

The long version is that brokers are the transport simplification partner to the customer, and a business partner to the carrier. They offer a platform for communication and provide the most accurate quotes based on real-time market conditions in the auto transport industry.

Brokers mediate pricing and conditions on the customer's behalf and ensure they and the carrier are on the same page throughout the course of shipping.

If customers dealt with carriers directly, they wouldn't be able to successfully negotiate rates or terms that they wanted. If carriers dealt with customers directly, they wouldn't be able to maximize the amount of shipments they would be making every day.

Most of the time a broker can offer a slightly lower price because they have multiple carriers competing to under-bid each other for each shipment.

Sometimes, you might hear brokers referred to as non-asset-based carriers or intermediaries. These are just alternate names some people in the auto transport industry use when they talk about brokers.

Imagine, as a customer, trying to find the quickest route at the highest cost efficiency between hundreds of carriers. Just gathering the information about pricing and routes from all these carriers would be a monumental task alone. Then imagine, doing all that work and not saving any money by doing so. That is the difference a broker makes and the job they perform.

You can watch the following video to get a concise idea of how a car shipping broker can help you:


The main differences between a broker and a carrier

You might be aware of some of the main differences between brokers and carriers but some of them might also surprise you:

A broker finds the best price and most efficient shipping route for a customer from a network of hundreds of carriers while carriers physically transport the vehicles. Many carriers rely on brokers for customers and many brokers rely on carriers to physically ship the customer's vehicles.

A broker can work in upwards of twelve hours a day while carriers work days generally tend to be a strictly regulated eight hours.

A broker can arrange a shipment for a car anywhere in the country whereas many carriers only use specific routes limiting their range of shipment.

A broker is highly experienced at reaching customers while carriers tend to sit and wait for orders to come in. Carriers invest most of their time on fulfilling actual shipments rather than looking for customers.
The main similarities between a broker and a carrier

Before we jump into the list, something important to note is that neither a carrier or broker can guarantee pick-up or delivery dates (If you come across a company that says they can – it's a scam). Some carriers may claim to be able to guarantee a specific date for pick up or delivery but in reality, they know that weather, traffic or customer-related delays can easily cause shipments to be late.

Both can deal directly with customers although it makes more sense for brokers to do so.

Both must register with government agencies such as the Department of Transportation and Federal Motor Carrier Safety Administration and get licensed.

Both can offer you a quote for your shipment before you book it

Both can offer door-to-door shipment, but local restrictions might apply.
Which should I choose?

It can be quite difficult doing all the work necessary to find a carrier yourself. Carriers tend to have the same difficulty finding customers. Remember, there could be hundreds of options for you to choose from – all with multiple facets of auto shipping to consider like price, transit time, reputation and more.

When you book with a broker, they do all that work for you. Yes, a broker adds a small fee to the price but that's after they find you the carrier willing to ship your vehicle in the time frame you want for the lowest price relative to what other carriers are charging.

In short, these carriers will need to lower their prices to a more reasonable rate in order to get your business when you book through a broker.

If you were to try and book direct with a carrier, odds are they have no reason to lower their initial rate. So, when you book through a broker you actually end up with a lower rate even with the broker's fee added on top.

It's also much more difficult to find all of these carriers. We said earlier that many carriers are just an individual with one or two trucks. Many of these types of carriers don't even have any sort of web presence. That's because they use brokers the vast majority of the time to find customers and invest their time and money into making the shipments rather than any sort of marketing or advertising for themselves.

In the end, it's completely up to you to figure out what's best for you and your car shipment. However, our recommendation is that you ship with a broker so that you don't end up wasting any time, effort or money.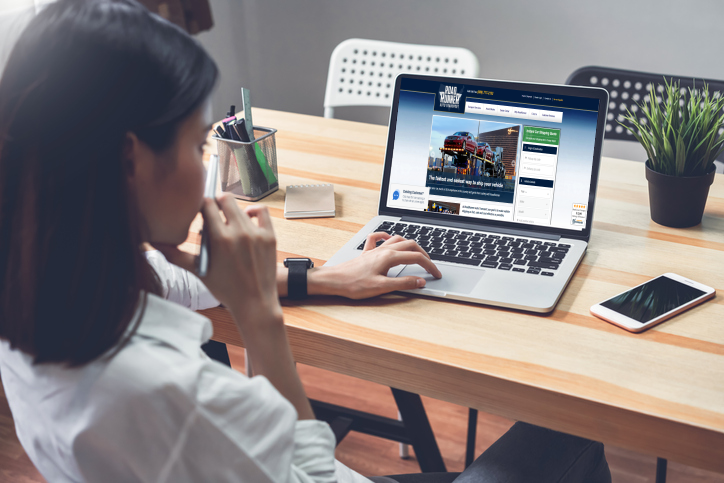 Conclusion

Brokers would not exist without carriers. Carriers could exist without brokers but would only do a fraction of the business and many would cease to exist quickly.

Brokers and carriers are separate parts of the auto transport industry and play different roles, but they are both integral to the industry as a whole.

You can choose to book with a broker or directly with a carrier. Both play necessary roles in the auto transport process. There are pros and cons to doing either.

We recommend booking with a broker because it takes almost all of the leg work out of finding and coordinating with a carrier. Plus, the price could even be lower if you go with a broker because several carriers might be competing to give the broker the lowest price for a particular shipment.

If you would like to know what it might cost to ship your car you can use our free quote calculator or you can always give us a call at 888-777-2123.